Opened in 1864 in its prime location right across from the Casino de Monte-Carlo, the Hôtel de Paris Monte-Carlo has all the makings of a flagship hotel – not just of a brand, but in this case, of an entire country. A recent $280 million renovation has well and truly catapulted this iconic property into the 21st century, though behind its chic veneer, a sense of history and legend remains as palpable as ever.
Upon ascending the stairs that lead up to the front entrance of the Hôtel de Paris Monte-Carlo, you can practically feel your picture being taken from behind. Virtually every camera-wielding visitor to Monaco visits the Place du Casino opposite the hotel at least once, though unless you just so happen to be a Hollywood beau or a supermodel, it's not you who's responsible for all those pictures being taken. That honour goes to the hotel itself, which enjoys the kind of celebrity you wouldn't normally associate with a mere 'building'. But then, the Hôtel de Paris Monte-Carlo is arguably more than that: it's an idea, and a remnant of a period in time when Monaco was the undisputed home of the world's glitterati.
The jet-set has long spread out, of course, though the principality retains two spots on the annual social calendar of ultra-high-net-worth individuals, and those who can't find a place to dock their mega-yachts in the marina (mon dieu!) will undoubtedly choose to bed down here. Stepping into the hotel's lobby, we immediately understood why: Venetian mirrors, a shining chandelier and an equestrian sculpture embellish a vast space topped by a glass cupola set into a vaulted ceiling which itself rests upon gilded columns. Despite its scale, which feels particularly monumental in a country that's petite to say the very least, there's a weightlessness to the space that can be felt throughout the entire hotel.
We also sensed this in our 70 sqm/750 sqft 'Sea-view Suite', one of the hotel's 208 rooms, almost half of which are suites. While it certainly delivered on the 'sea view' promise, its location within the hotel paired with large windows also revealed views of the Opéra de Monte-Carlo and the adjoining, famous casino. There was plenty we adored about our suite, much of which was no doubt thanks to the 2019 concluded renovation of the Hôtel de Paris Monte-Carlo: smart lighting with intuitive brightness controls, a bed as generously sized as it was comfortable, a phone with a large, interactive display, turndown service with immaculate attention to detail and a gift for upping the cosiness, and even our luxuriously lined, blue velvet slippers with a golden HP emblem were of the kind hotel aficionados would rather keep as a souvenir than walk a single step in.
Much like the hotel's lobby, our suite proposed a coffee-table take on opulence, with each feature feeling airy and thoughtful. Lines are soft and surfaces champagne-coloured, not unlike how we'd imagine a Parisian couturier's atelier to look. We found the matt, light wooden flooring noticeably contemporary; and elegant features like our coffee and tea station, which was cleverly hidden within a sideboard yet easy to bring out with a single pull, attested to the hotel's stance on offering a decidedly more modern guest experience than you might expect to find in Monaco. Our white marble bathroom with black accents was equally fashionable, and we liked the inclusion of a fragrance dispenser as well as, somewhat curiously, a display next to our double basins, that told us all about the sustainability initiatives of the Hôtel de Paris Monte-Carlo (why not – it gives you something to read while brushing your teeth!).
That said, disposable flacons of Guerlain amenities, regal as they might look, are clearly at odds with the property's green ambition, and we personally found them to be so perfume-heavy and old-fashioned that we barely used them at all. Mind you, after the malfunctioning fridge on our suite was replaced by two workers who entered our private lodgings smelling like ashtrays, we couldn't get our hands on that bath foam fast enough. The hotel management later left a small note and chocolates on our suite to apologise for the inconvenience, a much appreciated gesture to turn things around in the elegant manner we'd come to expect from the property at this point. Next time we stepped out of our suite and into the hotel's scented hallways, we did so with a smile on our face (bonus points if the chocolates match our dietary requirements next time… not that we didn't appreciate the gesture nonetheless).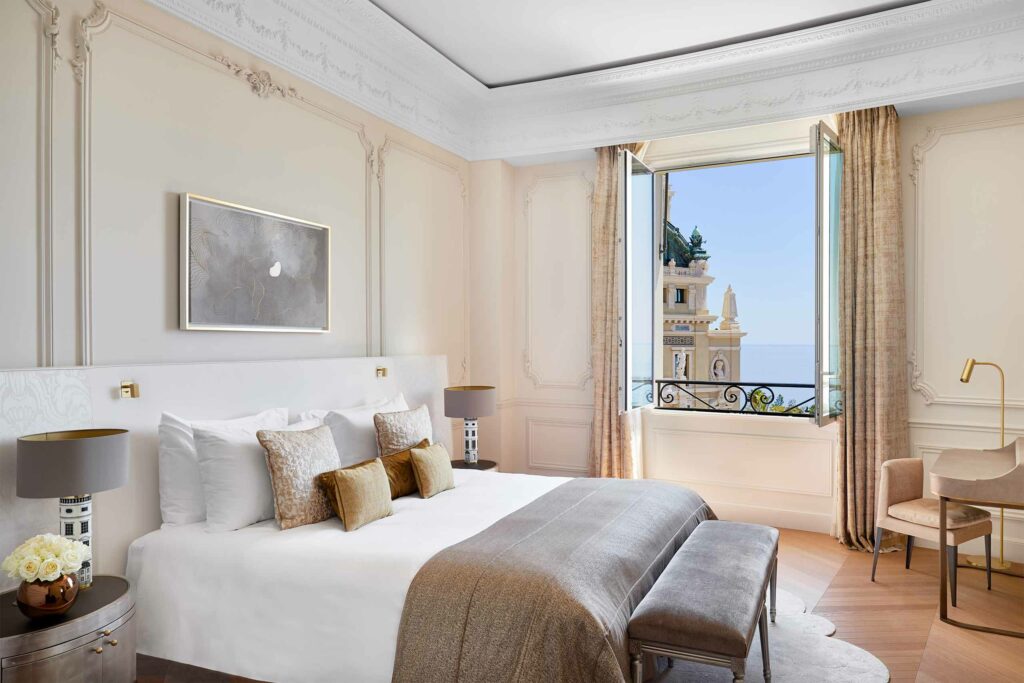 | | | |
| --- | --- | --- |
| Perfect for | Fly into | Right on time |
| The Sophisticate | NCE | GMT +1 |
While you're Out There
You hardly need reminding that Monaco's single most famous (and infamous) attraction, the Casino, is right across the street from the hotel, and a visit is of course obligatory. But beyond a good gamble, we really enjoyed our trip to the Principality's New National Museum, which is split across two separate buildings – Villa Paloma and Villa Sauber – that sit at opposite ends of the micro-state. Note that the two take turns being open to the public and showing an exhibition, meaning you'll likely only be able to visit one during your stay… All the more reason to return in the future!
To relax, guests can make their way to the 500 sqm/5,380 sqft rooftop Wellness Sky Club, where a heated outdoor counter-current pool lined with cabanas and an adjacent Technogym fitness room will vie for their attention during the summer opening times. But there is also the Thermes Marins Monte-Carlo, which hotel guests can access directly through a network of underground lifts and hallways leading straight to its reception area. At a whopping 6,000 sqm/64,600 sqft of wellness space, the Thermes far exceeds what you'd expect from a regular hotel spa. Its 25×13 metre pool is filled with Mediterranean seawater sourced some 400 metres off Monaco's coast; there are saunas and steam rooms, a second gym, beauty and hair salons, a total of 30 stunning treatment rooms (we opted for a 60-minute facial, which left us feeling perfectly pampered and seriously refreshed), clean-eating L'Hirondelle restaurant, as well as an exclusive sun-worshipping terrace all set with an outdoor jacuzzi offering views of the marina and Monaco's old town, Le Rocher. In one word: show-stopping.
When it's time to dine, guests can choose between a whole array of restaurants, from the jazzy Bar Américain to a Monaco classic, the Café de Paris, or the three-Michelin-starred Le Louis XV by Alain Ducasse. We can't recommend Em Sherif, which serves up elegant Lebanese cuisine by Executive Chef Yasmina Hayek, enough. It's a welcome change from the heavy French foods dished up across most of the principality, with a warm flavour profile and delectable textures. There's also the Michelin-starred Le Grill on the hotel's rooftop and you can thank Maria Callas for its existence: during her whirlwind affair with Aristotle Onassis, one-time owner of the hotel, the famed opera singer insisted he build a restaurant from where she could see Monaco, France and Italy all at the same time – which, if you're Maria Callas, probably isn't an unreasonable demand to make.
The views from up here are truly something, though guests with dietary requirements will find dining at Le Grill rather clumsy. There being no vegan-friendly options, our waiter went back and forth between suggesting different dishes before eventually changing our 'compromise order' of pasta with vegetables to 'something more exciting'… which turned out to be pasta with mushrooms. Breakfast was equally confusing, as the hotel has no menu, and anything we ordered as a result of a lack of what's available from the buffet – say a simple avocado toast – was prepared differently each day of our stay. With a breakfast buffet that's not particularly diet-inclusive, we'd argue a few staples should be available from a designated menu: scrambled tofu, plant-based yogurts or even vegan-friendly croissants have long made their way into similar hotels. Don't get us wrong; everything we had during our stay was tasty and beautifully executed, but the lack of options made it hard to indulge in the culinary excellence the Hôtel de Paris Monte-Carlo takes great pride in.
Other aspects of our stay were decidedly easier to relish and, in fact, it'd be impossible not to notice all the particularities that lend this property its palatial panache. Whether it's the velvet bench in a lift you step into or the hotel's imposing inner courtyard, where jewellers rub shoulders against a backdrop of black marble walls, mosaic floors and golden details. Layer upon layer surprise and delight even the most distinguished of travellers, and we hear the hotel's seven Diamond Suites, which include the €45K/a night Prince Rainier III Suite have to be seen to be believed. Accommodation type aside, however, one thing that's consistently excellent for all guests is service. There wasn't a query too small or seemingly insignificant for us to make during our stay that the hard-working team at the Hôtel de Paris Monte-Carlo didn't jump at with enthusiasm and, dare we say, style: bien sûr, le monsieur is the order of the day here… so much, in fact, that for the duration of our stay, we felt almost as famous as the hotel itself. One can dream!
Photography courtesy of Monte-Carlo Société des Bains de Mers