If panoramic views of Monaco's famous marina and pretty old town, Le Rocher, are what you've travelled to the world's second-smallest country for, no place to stay could be more warmly recommended than the Hôtel Hermitage Monte-Carlo: from the balcony of our south-facing room, we marvelled at mega-yachts during the day and twinkling city lights at night.
A stone's throw from the Principality's legendary casino and around the corner from its sister hotel, the Hôtel de Paris Monte-Carlo, this five-starred address is about as conveniently located within the Principality as any hotel could possibly hope to be. You could argue that nowhere is ever really far from anywhere in the micro-state of Monaco, but even so, the Hôtel Hermitage Monte-Carlo sits on absolute prime estate. It's all the more remarkable seeing as this lavish property isn't exactly small: behind its ornate Belle Époque facade on Beaumarchais Square, guests will find a total of five wings that branch out into several dining outlets as well as an impressive 227 rooms.
Some 88 of those are suites, among them 13 Diamond Suites, including the two-bedroom 'Princely' Diamond Suite, the creme de la creme of what's on offer at the Hermitage. We opted for a more humble Exclusive Sea View Room for our stay, although there certainly wasn't a lack of luxury across its 31 sqm/334 sqft: from a fully fitted marble bathroom with double basins, a large tub and Acqua di Parma amenities to a beautiful, large-scale landscape painted across a wall against which our kingsize bed was set, the room was generously laid out and felt particularly spacious due to its remarkable ceiling height. Although the decor was a tad tired and could do with a touch-up in places, several features added much appreciated comfort and convenience. Our intuitive touch screen phone and a safe with a built-in socket, for instance, were rather practical, and our mini-bar doubled as a mini-boutique, with items such a scented candles available for purchase – now that, we adored!
The most memorable feature of our room at the Hôtel Hermitage Monte-Carlo, however, was no doubt its floor-to-ceiling glass door, which opened up to a small French balcony that put us in a prime position to watch yachts cruising around Port Hercules to our left, admire Monaco's semi-high-rises to our right, or wait until the very last light in the palace straight ahead would go out at night (to the dismay of our inner royal reporter, there was little scandal here, as the Prince appears to bed down rather early). It was in the evenings nonetheless that the views were at their most intriguing, not least thanks to the visiting yacht-owners who would return to the comfort of their private vessels anchored in the marina below, to host extravagant celebrations just in time for the Monaco Grand Prix on deck: once, we even witnessed a 'woohoo'-ing party-goer jump off a yacht and into the brightly lit waters below… don't do this at home.
Beyond our room, we rather enjoyed exploring the rest of the property, with several points of interest conveniently located along the main arteries that run through the building, wide and seemingly never-ending hallways embellished with statement vases and mirrors, beaming chandeliers and stucco that in turn featured marble inlays. The interiors feel stately but they're a far cry from the sometimes overbearing pomp you'll routinely find in other grandes dames. Paired with the pleasant floral scent that wafts through the entire Hôtel Hermitage Monte-Carlo, they made it a real joy to get 'lost' on our first day, as we tried to find our way back to the front entrance of the hotel, only to realise mid-way that there was a convenient back entrance near our room, on the aptly named Avenue de l'Hermitage (a circumstance that made us wonder just how many gambling royals and other famous faces might have slipped through said doors throughout the years).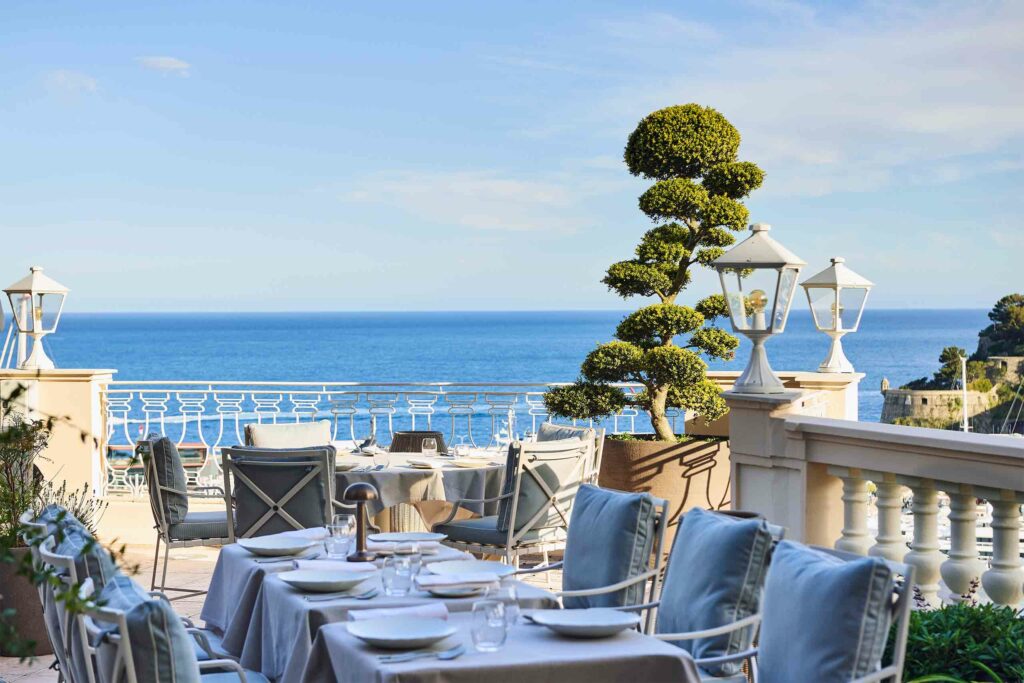 | | | |
| --- | --- | --- |
| Perfect for | Fly into | Right on time |
| The Sophisticate | NCE | GMT +1 |
While you're Out There
There isn't much that's 'under the radar' or exclusively for those 'in the know' in Monaco, as you'd struggle to hide anything in a place so small. However, one point of interest that's a lot less frequented than others is the Plage du Solarium: a tiered, brutalist-style cement structure at the very tip of Le Rocher, this artificial and impressively constructed 'beach' is a meeting point for serious sun worshippers and hobby photographers alike. Happy snapping!
It would have been impossible to miss the nearby glass cupola of La Mezzanine, designed by L. Jacques Galland of the Gustave Eiffel school. Everyone from Josephine Baker to Alicia Keys has enjoyed breakfast beneath the eye-catching construct and frankly, with a location this spectacular, you'd have to be a fool (or seriously hungover) to want to have your croissant and morning coffee on your room, instead. While we found a few options to appeal to guests from different parts of the world, with Chinese dumplings looking particularly tasty, as vegans, we didn't feel quite as well catered to: it wasn't exactly bad, as we could fill up on potatoes, mushrooms and soy yogurt on the side, which is more than we'd enjoyed at some other hotels in this part of the world. But for a five-star hotel, we'd hoped for something more nutritious, or even just exciting – plant-based omelettes, scrambled tofu, or perhaps pancakes? Dream big, they say.
If you're looking for a place to dine, the hotel welcomed an outpost of Pavyllon by Yannick Alléno (who currently holds a whopping 15 Michelin stars) in 2022. We didn't get to try this, although we've very much enjoyed Alléno's work before. There's also Le Limùn, which serves finger foods and coffee, as well as Crystal, where champagne is practically on tap. Wanting to venture out, we dined at Le Train Bleu, which is under the same ownership as the Hôtel Hermitage Monte-Carlo and arguably serves as an extension of it.
While its interiors immersive you in the golden age of train travel and we enjoyed how intimate of a setting the restaurant proposed for its fine-dining approach to Italian cuisine, Le Train Blue was thoroughly unprepared to cater to our requirements, with staff clueless as what actually constitutes a plant-based diet, once serving us fish and another time having to double-check with the kitchen so many times that our main had actually been adjusted to be vegan-friendly (which already meant we had to make a compromise), that we watched it get cold right in front of us. We skipped dessert, as there didn't seem to be anything for us. Frankly, we didn't feel as though the restaurant wants to cater to diners with dietary restrictions – other places in the Principality are fortunately more welcoming.
One of these is the clean-eating destination of L'Hirondelle, located within the Thermes Marins Monte-Carlo, a vast and polished wellness complex accessible to guests of the Hermitage. The 6,000 sqm/64,600 sqft Thermes is truly head-turning, featuring a spectacular 25×13 metre seawater pool, salons, a fully equipped gym, saunas, steam rooms and 30 treatment rooms with views of the marina so pretty, we had to force ourselves to close our eyes during a luxurious facial that took some five years off our face in 60 minutes: not bad at all. It'd be hard to overstate just how much value we thought the Thermes added to our stay at the Hôtel Hermitage Monte-Carlo… Whenever we returned from a day out exploring, we wasted no time and headed straight down to this haven of tranquility for a few laps in the heated pool, a dip in the outdoor jacuzzi or simply to kick back on the loungers and bask in the glorious afternoon sun of the Riviera, a Monaco Spritz in hand and a book in our lap. It's not that you needed the Thermes to warrant a stay at what's no doubt an iconic hotel – but this being Monaco, who would complain about anything quite so fabulous?
Photography courtesy of Monte-Carlo Société des Bains de Mers