Of all there is to see at Monaco's stately Hotel Metropole Monte-Carlo, the property's somewhat juddery lift is perhaps its most charming feature, reminding high-flying guests and glitterati that this isn't just another five-starred palace on the Côte d'Azur, but a veritable institution with plenty of history on its back.
With all the hedonism that takes place within the walls of the Hotel Metropole Monte-Carlo today, it's hard to believe that the very ground the property stands on was once owned by Pope Leo XIII. Although perhaps that was a lucky coincidence, as the Catholic Church of course isn't exactly known to turn its back on a lot of money – and so, when the Monte-Carlo Hotel Company Ltd. voiced interest in the estate, it took little convincing for the Pope to sell. Not that it was a particularly smart deal on his part, for when the company constructed the Hotel Metropole Monte-Carlo on said grounds in 1886, the premises' value arguably increased exponentially.
Built in the then prominent, and still magnificent, Belle Époque style, the hotel (which is a member of the Leading Hotels of the World, a collection of +400 of the world's most renowned, independent luxury hotels) was bought by Lebanese developer Nabil Boustany nearly exactly a hundred years later. Since then, it's undergone a major renovation spearheaded by French architect Jacques Garcia, who has decked the property in an appropriately splendid manner that nods to the building's heritage. Garcia's classic handwriting features prominently across the hotel's portfolio of 125 rooms, including 64 suites, and several other spaces, although it's the designated spa and gastronomic outlets of the Hotel Metropole Monte-Carlo that are its biggest eye-catchers – but more on those later.
That the service standards at an address as prestigious as this would be exemplary shouldn't come as a shock, but we were still pleasantly surprised by just how many staff members remembered our name. From check-in (during which guests are asked to take a seat on a comfortable couch while a fruity mocktail makes its way to them and the receptionists do all the pesky paperwork) to our visit to the Spa Metropole by Givenchy, which upon opening in 2017, was only the fashion and cosmetics giant's third-ever spa. The space is exceptionally stylish, with a golden reception area and alternating black and white surfaces juxtaposed with entire walls covered in digitalised panels depicting a gently flowing jungle backdrop. Chic is an understatement.
Beyond aesthetics, the Spa Metropole by Givenchy also features a well-equipped gym, ten treatment rooms and a fully-fledged 'Heat Experience' that entails everything from a sauna, a steam room, an ice fountain and sensory showers, all of which are conveniently (and most beautifully) accessed via a large caldarium. The collaboration with Givenchy means you'll find a lot of branding on small items, as well as a dedicated retail space in the spa, which we thought made a trip here feel rather commercial. That said, guests can snap up products only available in a handful of locations here, and Givenchy perfumes await in the changing rooms – not a bad perk at all. It'd be a crime not to mention the spa's much sought-after mani-pedi studio run under the brand of foot virtuoso and manicurist-to-the-stars, Bastien Gonzalez, where our therapist (who knew exactly when to chitchat, and when not to) worked absolute magic on our nails while also throwing in a tension-releasing massage… pure bliss.
Our Superior Room was equally apt for relaxation, featuring a Carrera marble bathroom with double basins, a large bathtub and massage jet showers. Its classic interiors feel homely and comfortable, although we thought a refurbishment would do wonders in contemporising and overall elevating the hotel's private lodgings, which look downright old-fashioned at this point. In all fairness, rooms do come with some modern amenities like designated iPads and master switches, and they feature French balconies with views of the tree-lined and atmospherically lit 'Tuscany path' at the Hotel Metropole Monte-Carlo. For the ultimate luxury, book yourself into the property's 240 sqm/2,500 sqft Carré d'Or Suite, which is quite simply on another level (literally, being on the top floor!) and a true stand-out accommodation option not just in Monaco, but anywhere on the Côte d'Azur.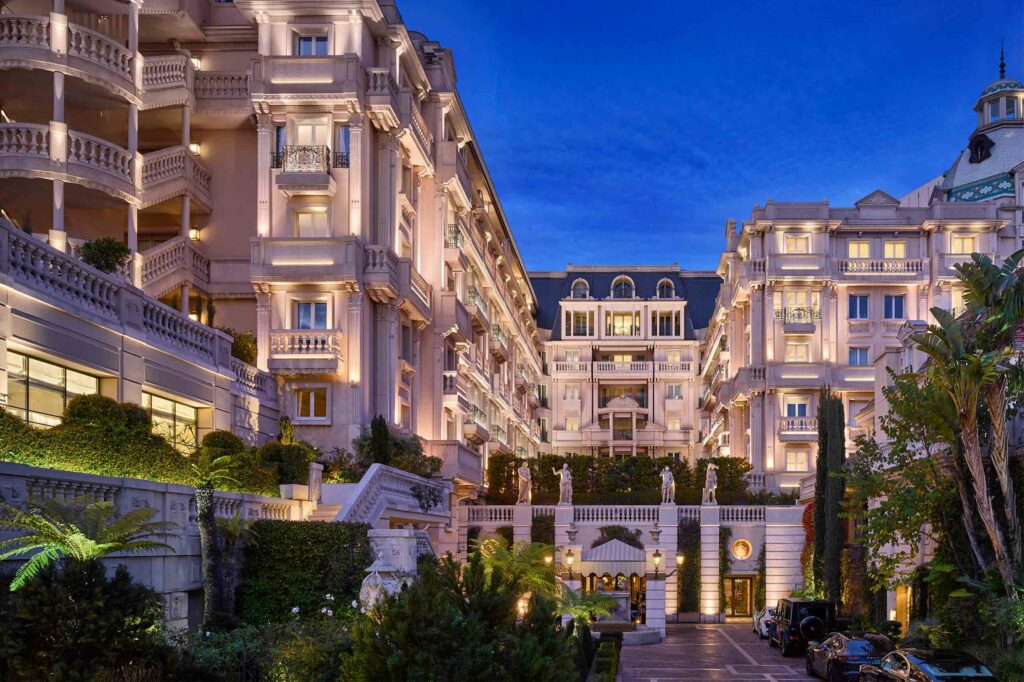 | | | |
| --- | --- | --- |
| Perfect for | Fly into | Right on time |
| The Sophisticate | NCE | GMT +1 |
While you're Out There
Monaco being the size it is, virtually half the Principality is around the corner from the hotel. But one under-the-radar place to explore is particularly close, and we thoroughly enjoyed visiting: the Japanese Garden, which has been designed with strict adherence to Zen principles. A stroll around it is as escapist as things get in the concrete jungle of Monaco. If you're looking to drop some cash during your stay instead, there's a rather ritzy subterranean mall just beneath the Hotel Metropole Monte-Carlo. Convenient, that.
When the time comes to explore the hotel's gastronomic offering, guests are spoiled for choice: there's the recently opened Les Ambassadeurs by Head Chef Chistophe Cussac (a former student of gastro-legend Joël Robuchon), the Lobby Bar, Yoshi and Odyssey. The latter is a real treat on a sunny day, being located adjacent to the property's heated saltwater pool, which is itself set against the backdrop of a glass fresco depicting Greek Gods and Goddesses. Designed in 2012 by none other than former Principality resident Karl Lagerfeld, the installation is among the hotel's most original features. We loved taking lunch here, and also appreciated staff being aware of our dietary requirements, for instance when serving an amuse-bouche that had been adjusted to be vegan-friendly.
The menu at Odyssey, however, was of the 'we-can-veganise-this-or-that' type, featuring no naturally plant-based options, much less a dedicated veggie section, which meant that we ended up ordering two 'leave-out-this-and-that' starters alongside an off-menu vegan steak – all of which were absolutely exquisite, which left us all the more bewildered when at breakfast the following day, veggie options like oat-based yogurt, avocado toast and even vegan-friendly cake were again very enjoyable, yet had to be specifically enquired about and asked for as there was no trace of them on the menu or at the buffet. With dietary preferences becoming ever-more important, we'd hope that the Hotel Metropole Monte-Carlo will offer dietary-inclusive options more proactively in the future; it certainly can deliver on them, which is more than we can say about some other hotels in the region.
Dining at Yoshi, which just so happens to be the only Japanese restaurant on the Côte d'Azur to have been awarded a Michelin star since 2010, was a lot more intuitive, as the team had prepared a specially curated tasting menu for us (now that's bespoke luxury!). As we sat by the sushi bar, watching chef Takeo Yamazaki and his team prepare one delicacy after another in the restaurant's open kitchen, we took a moment to appreciate the sleek and sexy interiors courtesy of Didier Gomez, who created a bolthole-style space where diners sit beneath a large-scale, showpiece light fixture backed by floor-to-ceiling windows that open up to a tranquil Japanese garden beyond. As you'd expect, Yoshi can get very busy and mildly put, waiting times can be challenging if you walk in with an empty stomach – but no visit to Monaco would be complete without some serious buzz and a sense of mingling with the local 'scene', both of which you're guaranteed here (plus, Yoshi's pistachio-based ice cream with almond foam is worth the wait).
There's a whole lot to love about the Hotel Metropole Monte-Carlo, of course. At times, it was apparent to us that the property isn't at the forefront of the conversation when it comes to modern luxury hospitality – like, when you discover plastic bottles left on your room at turn-down, despite the hotel priding itself on a 'Green Attitude'. But then, Monaco as a whole is a bit of a bubble and shaking things up when your long-established clientele is used to them being one way rather than another, can take a sweet while here. The Metropole is a spectacularly handsome hotel nonetheless, with colonnaded hallways, shiny chandeliers, one of the chicest spas we've ever set foot into, and an ever-obliging team to help you make the most of your time on property. With so much going for it, you might find yourself wanting to stay longer than you really need to explore the world's second-smallest country.
Steffen's stay at the Hotel Metropole Monte-Carlo was arranged with the help of Leading Hotels of the World, of which the hotel is a member.
www.metropole.com | www.lhw.com
Photography courtesy of the Hotel Metropole Monte-Carlo