The lakeside getaway of Milan's (and, in fact, the rest of the world's) rich and famous, Lake Como is a place where nobility and unparalleled style run deep in the water, in the blood of its people, and in its palatial villas. When in search of rural Italian glamour, look no further than this place of exceedingly great beauty, with a population of escapees from the nearby fashion capital. Como's winding shoreline is dotted with gorgeous villages, exquisite architecture, fabulous residents and mouth-watering Italian and international cuisine. At the heart of it all is one of its most sumptuous places to stay, the Grand Hotel Tremezzo.
The Grand Hotel Tremezzo is an enchanting property, with an imposing lakeside location that instantly transported us to the bygone era of the Grand Tour – arguably one of Italy's finest. As we entered the imposing Art Nouveau reception, we instantly felt like royalty or a movie star on the silver screen. It's hardly surprising, as the hotel has been the home-away-from-home playground of aristocrats, Maharajas, Hollywood icons, Tsars and other nobility for over a century, immortalised in the 1930s film Grand Hotel, in which Greta Garbo refers to Tremezzo as, 'that happy, sunny place'.
As we were on a grand tour of our own, it's fitting that we were surrounded by the kind of Italian splendour that is lost in today's quest for minimalist modernity. The reception lounge is dotted with jewel-coloured velvet sofas and sumptuous courting benches, perfect for gazing out onto the vistas of Lake Como. It seems that romance is ingrained into the very fabric of the place, but not in a stuffy, old, grande dame kind of way. While the hotel harks back to that era of Italian decadence, it fully embraces the modern needs of today's luxury traveller. All quarters are filled with old-school elegance in the furnishings to set the scene and mood, yet the facilities are undeniably contemporary.
We visited for a very special reason, to shoot a fashion story to celebrate the property's opening of the magnificent 18th-century Villa Sola Cabiati, just along the Riviera della Tremezzina – for private, high-end events – the perfect spot for a wedding, or milestone birthday party. Once the private summer residence of an Italian Duchy, the villa is a breathtakingly beautiful piece of architecture, with frescoed rooms by the Tiepolo school and perfect gardens that blend into the landscape. Disembarking the Grand Hotel Tremezzo's own Riva motorboat (she's called Ruy) at splendid moorings, we walked up a set of majestic steps bordered by old sycamore trees and immediately fell in love with the place.
The villa is an absolutely beguiling building, flanked by two side wings, a large imposing staircase, marble balconies and lake-blue shutters. Inside, the magic continues: magnificent stuccos and fabulous frescos are brought to life by extraordinary tapestries, majestic chandeliers and period furnishings. But the beauty was not just in the stylings, but also in the stories the place told… From tales of countless, debauched parties hosted by the villa's noble owners, to that of a fine bedstead slept in by Napoleon and his wife Josephine.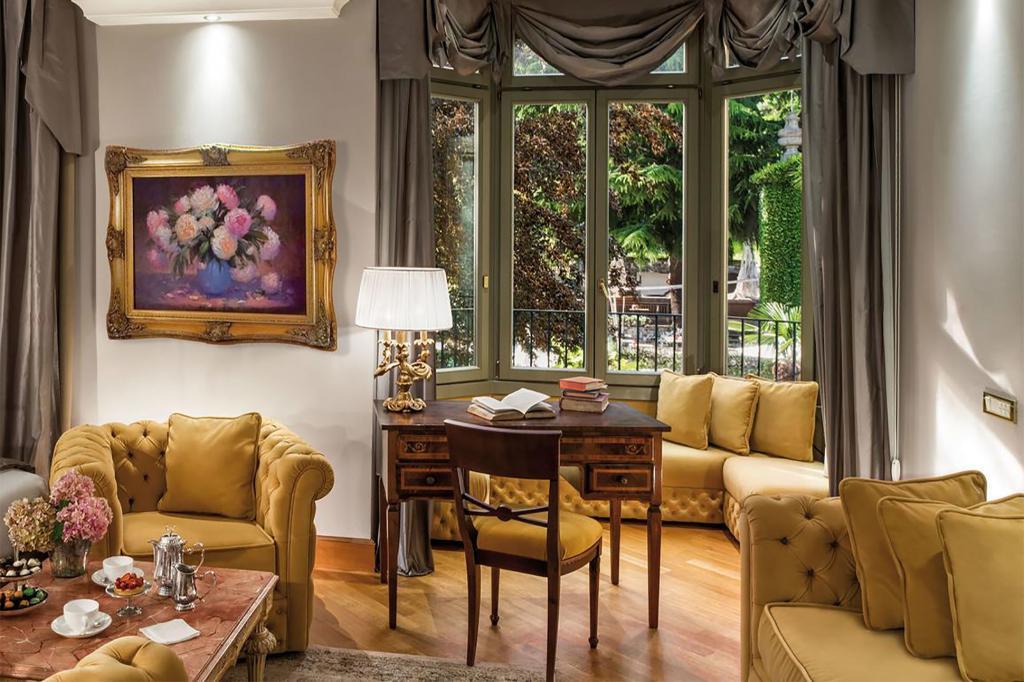 | | | |
| --- | --- | --- |
| Perfect for | Fly into | Right on time |
| The Culturalist | MXP / LIN | GMT +1 |
While you're Out There
Take an excursion to Bellagio and beyond on the Grand Hotel Tremezzo's own Riva speedboat. It's a must-do, unforgettable experience. There is nothing more stylish than experiencing the lake from your very own vintage boat with a glass of bubbles in your hand.
Back at the Grand Hotel Tremezzo itself, we fancied a swim and were spoilt for choice of swimming pools. The thermal waters of the property's modernist spa are a great option for colder days, but for an iconic Tremezzo experience, we opted to try the hotel's 'private beach'. Floating on a cleverly designed pontoon, a champagne bar comes complete with a sandy beach, sun loungers, and beach huts. However, the show-stopper here is a pool that literally floats on the lake, something that needs to be seen to be believed. For a more romantic and secluded swim, the ornate Italian 'garden' (a twenty-acre park with wonderful flora, sculptures and fountains) at the back of the hotel is home to an inviting, jade-green pool.
Back indoors the soaking opportunities continued. Our Bellagio Corner Suite had a glorious terrace and hot tub with a view of the village across the water that gives it its name, not to mention a beautiful bathroom with a tub overlooking the lake.
Dinner downstairs in La Terrazza was a culinary delight, be sure to try the tasting menu showcasing the masterpieces of celebrated Italian chef, Gualtiero Marchesi.
The Grand Hotel Tremezzo is simply magnificent and we don't need a reason to return. But now with the Villa Sola Cabiati open for business, it has doubled, if not more, in charm. Perhaps a little bit of Greta Garbo has rubbed off on us, but we certainly know that this is going to forever be our happy, sunny place.
The Villa Sola Cabiati is primarily hired as an event space but is also available for stays by special request, minimum tenure being three nights. You can book the villa at [email protected]. The Hotel Grand Tremezzo is a member of the Preferred Hotels and Resorts family, a global portfolio of carefully curated OutThere hotels. The property is seasonal, opening from March to November each year.
Photography courtesy of Grand Hotel Tremezzo