Passalacqua in Lake Como is far more than just a luxury hotel, but a sensorial and experiential 'casa ideals'. It's a luxurious (and grand) home-from-home rooted in lavish Italian 'accoglienza' (hospitality): a warm embrace of a space that invites guests to come and make it their own.
Passalacqua invokes the nostalgic 'good old days on the lake' spirit of Lake Como. Long the escape of the Milanese nobility and fashionista, Lago di Como's picture-postcard little villages and historical villas *many of which converted into hotels) is a time capsule of old-money ascendency, combined with new-money ostentation.
But Passalacqua takes a big side-step from the ways of the grand dames of the lake, instead offering something entirely different, an opulent but boutique escape… not just from your everyday lives, but from the stereotypical Lake Como experience.
The original 1787 villa itself is spectacular, set at the top of seven acres of estate land that cascades down through aromatic gardens of fountains and ancient trees, all the way to the glistening lake. Manicured to within an inch of its life, it expresses and pays homage to the 18th- and 19th-century aristocrats' love for gardens. The only thing that seems out of place (but is much needed and welcomed) is the glorious pool deck that sits on one of the terraces, adjacent to a 200-year-old greenhouse and now pool den. The whole area was designed by the Milanese-American brand La Double J, adding contemporary colour, curated creativity and modern glamour. Perhaps it may have been them too that suggested deliberately parking a bright orange Fiat 500 'Jolly' in the centre of the garden. You know, for Instagram… we certainly indulged.
---
This Basecamp review is an extract from a longer feature article, first published in print. To read the full article, click here.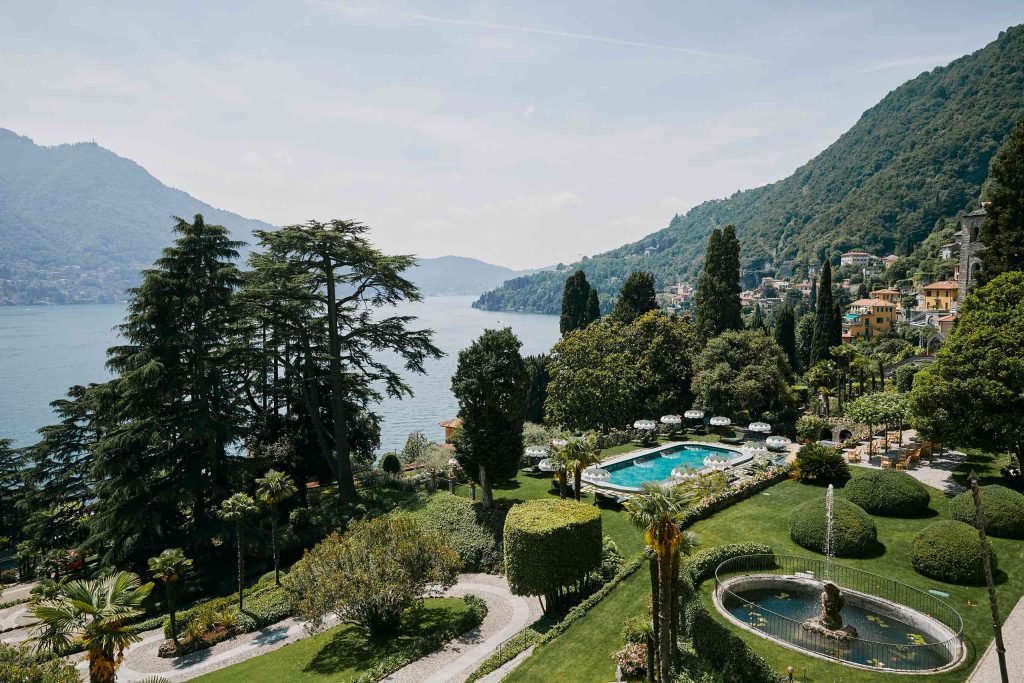 | | | |
| --- | --- | --- |
| Perfect for | Fly into | Right on time |
| The Sophisticate | MXP / LIN / BGY | GMT +1 |
While you're Out There
Passalacqua can provide a number of unique experiences during a stay. At the property's private marina, we boarded an elegant Cantiera Nautico Colombo Leopoldo boat (a homegrown, Italian boatbuilding brand that has made handcrafted pleasure crafts for three generations, right here on the lake) for a tour of other magnificent villas and sights. It got us back in time just for "Aperitivo", where the property's head mixologist took us on an 'Art of the Cocktail' Negroni journey, tracing the origins of the drink and its subsequent spin-offs.
The clever refurbishment of this villa embellished its period features in a way that allows Passalacqua to wear its revived grandeur understatedly. It's an extravagant refit, but it has been done with impeccable taste. Murano chandeliers and Bronzetto crystal wall lights illuminate original painted frescos and restored stuccos. Old portraits share space with antique furniture and a hand-picked collection of objet d'art and Chinoiserie. Giant urns cradle floral displays picked daily by an in-house florist, and waiters in stylish, vintage-esque tuxes float from room to room carrying pewter cake stands stacked with maritozzi (whipped cream buns).
Our lakefront suite (each of the accommodations at Passalacqua is named after a character from one of Vincenzo Bellini's operas – he wrote two of his most famous when staying here) is an ode to the property's original 18th-century styling. An ornate, gilded headboard, more antique ornaments and portraiture, elaborate carpentry, Barbini Specchi glass and mirrors, Fortuny lampshades, Beltrami linen and Bottega Conticelli furniture all feature: a celebration of Italian artisanship, past and present. The attention to detail was simply mind-blowing: every little piece, old or new, collected or custom-made, had been placed where it was deliberately and thoughtfully… intended to be artistic, functional or both.
The villa's suites are housed in three buildings. We'd recommend booking a room in the main villa, they offer stunning views of the lake. Down by the water, the four rooms of the Casa al Lago can be taken as a completely private residence. There are also rooms in the Palazz (the property's converted stables), where the hotel's Spa is housed in the original vaults (once part of a complex escape-tunnel network) which is Moroccan/Arabesque in its decor.
The hotel's dining offering offers meticulously-prepared, wholesome and heavy Northern Italian cooking. the food was a bit rich for us, but portions are generous and we ended up sharing mains, making things lighter. The service was to match, far more formal than at breakfast which is incongruent with the whole 'home-away from-home' ethos. The morning sessions in the same dining room was a much more casual, friendlier affair; as was lunch in the sunshine on the terrace overlooking the water, paired with a glass or three of Italian wine and the ambient noise of the local village as the soundtrack.
Photography by Enrico Costantini, Ruben Ortiz, Ricky Monti, Enrico Costantini and Stefan Gifthaler, courtesy of Passalacqua