We are thrilled to be a media partner of PROUD Experiences, the travel networking event where experience makers, hoteliers and destination marketers meet with the LGBTQ+ travel community to pave the way for greater belonging in the industry (and consequently, a more inclusive guest/visitor experience when you visit/stay).
PROUD Experiences is the international travel trade show attended by LGBTQ+ travel advisors (and/or travel designers from across the globe who have an LGBTQ+ clientele). There, they meet the show's exhibitors: luxurious properties, destinations and experiences worldwide who are passionate about and committed to enhancing the LGBTQ+ guest experience and safeguarding the well-being of queer travellers. Together, this network of LGBTQ+ travel experts and allies exchange knowledge and create significant and inclusive value for us OutThere travellers, working together to improve the guest experience and deliver new, tailored products with us in mind.
This year's edition will be held for the first time in Los Angeles, California, on the sparkling ruby glitter heels of previous successful events in New York City and London, UK.
When we talked to Adam Burke, President and CEO of the Los Angeles Tourism and Convention Board, he couldn't contain his excitement.
'As one of the world's most inclusive and welcoming destinations, I believe that L.A.'s diversity is our greatest strength as a community. With just how diverse we are, hosting PROUD Experiences is a natural extension of what it means to be an Angeleno. That said, we are aware that there is still work to be done to build a more equitable travel and tourism industry, but we're committed to 'moving from 'intent to impact''.
It's extremely encouraging that L.A. is taking this stance, given a rapidly polarising political tide moving against the community in other parts of America and the world. Rather than approaching this as a theoretical discussion, the team at Discover Los Angeles believes that engaging in the kind of meaningful dialogue and self-reflection that PROUD Experiences fosters will help them better meet the diverse needs of different and deeply intersectional LGBTQ+ audiences.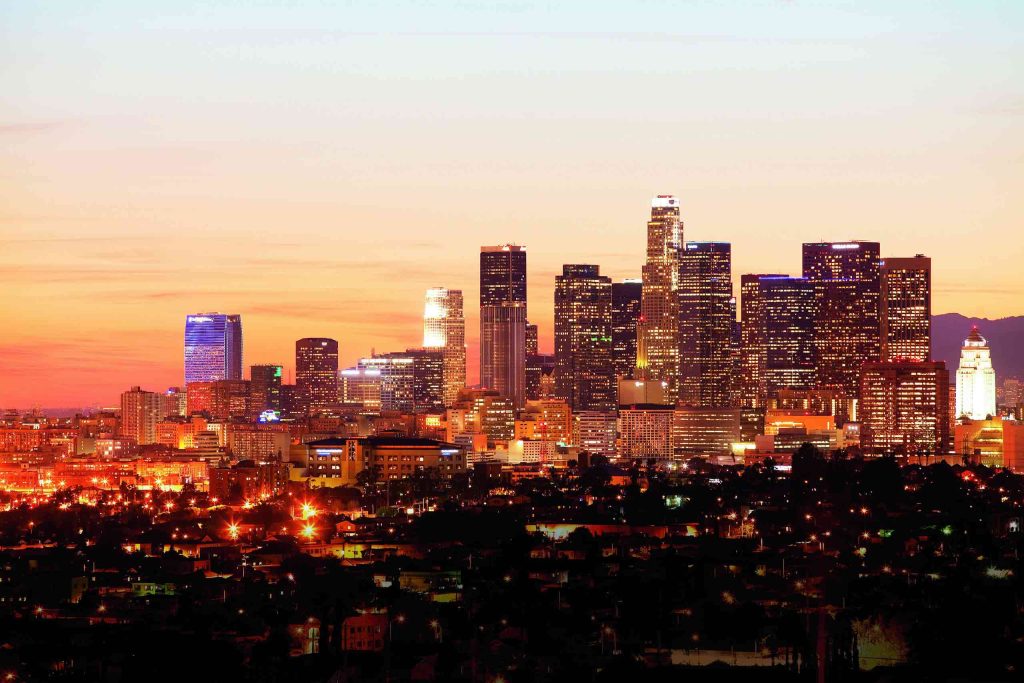 From urbanity to the mountains, the coast and everything in between, Los Angeles prides itself on just how diverse and inclusive a city it truly is.
'The community isn't any single thing, so it's important that we invest the time to dig deeper and understand the complexities of the market. Beyond that, we want to actively support the LGBTQ+ community by letting them know that they are both welcomed and embraced by Los Angeles' adds Adam.
Truly understanding and embracing the community is something shared by many of the hotel exhibitors attending PROUD Experiences. Global hospitality giant Accor's upscale, global collective of entrepreneurial and founder-built brands Ennismore looks forward to the opportunity to connect with other like-minded travel providers at the show to find better and more purpose-driven ways to foster a sense of belonging for all.

'It is something we do every day at our hotels' says Michelle Bearman, VP of Sales for Ennismore. The LGBTQ+ traveller has long been a valued guest across our 14 brands, and they know that we are a welcome oasis and home for acceptance and love' she adds.
We recently had the pleasure of staying at one of the brand's flagship 21c Museum Hotels – part of a rapidly expanding portfolio of what is currently ten hotels – in Lexington, Kentucky. The brand is innovative in the way it uses art as a voice to elevate and embrace the community. It's part of how Ennismore in its own way is, to quote Adam, 'moving from intent to impact'. Much of the art that we experienced at the Lexington property was decidedly queer. It is also refreshing to see their avant-garde approach extend beyond the physical space to the brand's marketing, communications, social and digital realms.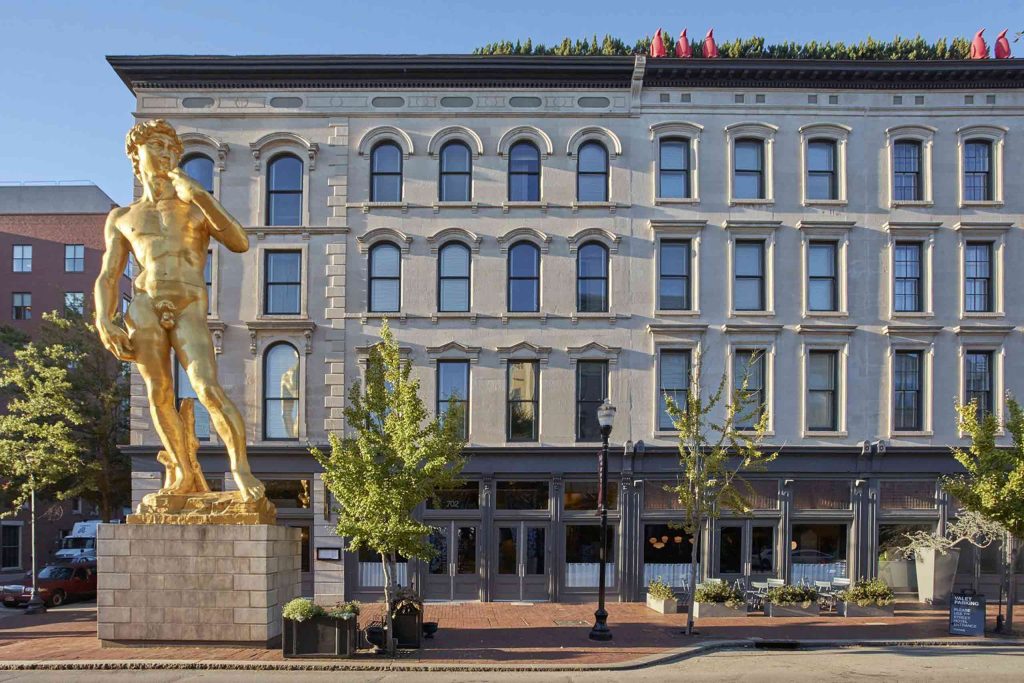 Contrasting in approach, but quite similar in ethos, Ennismore's 21c Museum Hotels and De L'Europe Amsterdam activate through cultural currency and creativity.
Fusing together both Los Angeles' and Ennismore's philosophies is Amsterdam-based property, De L'Europe Amsterdam, a member of Leading Hotels of the World. De L'Europe is a cultural and creative hub in the Dutch capital and a destination for those seeking the authentic spirit of the city. It's a home-from-home for travellers who have a passion or interest in design, fashion, gastronomy, art and culture.
'With the liberal spirit of Amsterdam, De L'Europe offers a true, original, Amsterdam luxury experience' says Robert-Jan Woltering, Managing Director of the hotel. 'At De L'Europe we pride ourselves on creating a welcoming environment for all guests. Our team undergoes bespoke training to ensure they understand the importance of personalising each stay to the individual and acknowledge the unconscious bias that inadvertently makes LGBTQ+ travellers feel unwelcome. But beyond that, we feel we're a great fit. As an icon and Grand Dame of the city's hospitality scene, we are committed to embracing creativity, culture and communities, both locally and from around the world'.
Later this year, the hotel will premiere a new collection of suites, curated by some of the Netherlands' most celebrated and innovative creatives. It will open in the hotel's 't Huys wing: 't Huys being the old Dutch word for house or home. It is a space where the city's icons of art, style and luxury will come together – to belong – under one roof. Robert-Jan believes that a stay in 't Huys promises a unique immersion into their in-house community, surrounded by Amsterdam's most boundary-pushing designers, contemporary artists and cultural creatives, something that will definitely resonate with much of the LGBTQ+ community.

Caroline Goux, VP of Sales for The Peninsula echoes De L'Europe and 21c Hotels' zeal for harnessing creativity as a key selling point to LGBTQ+ travellers.
'Inherent creativity has contributed to the success of our 11, soon to be 12 worldwide, luxury hotels. With The Peninsula London opening this year in the heart of Belgravia, it is the ideal location to discover the cultural heart of London, right in the thick of all the major landmarks, not to mention the West End theatre district and the bars and clubs of the gaybourhood of Soho' says Caroline.

The hotel's team members' attire is designed by Jenny Packham, whose fashion collections are favoured among international celebrities and the jet-set. Experientially, guests of The Peninsula London will immediately feel like they're in the front row of London's fashion week and will be dazzled by a non-stop runway show when they stay. One value-added benefit that the brand is proud to introduce (and one that will resonate with the LGBTQ+ community… it certainly does with us), is 'Peninsula Time', a guest experience innovation which offers travellers the choice to check in as early as 6:00 am and depart as late as 10pm, without any extra charge.

But Caroline also insists that all this flair mustn't be all 'smoke and mirrors', detracting from the importance of delivering a truly inclusive product for LGBTQ+ OutThere travellers.
'The Peninsula is wholly committed to inclusion. However, I think we might have a small advantage in the fact that Mark Kobayashi, Senior Vice President, Sales & Marketing and his husband Masa travel often among our hotels. Mark shares feedback with our hotels on how we can try and make LGBTQ+ travellers feel more welcome and comfortable, whether it is getting the basics right like ensuring there are the proper size slippers and bathrobes, properly addressing welcome letters, offering information on the destinations LGBTQ+ friendly businesses and history, and more' Caroline adds.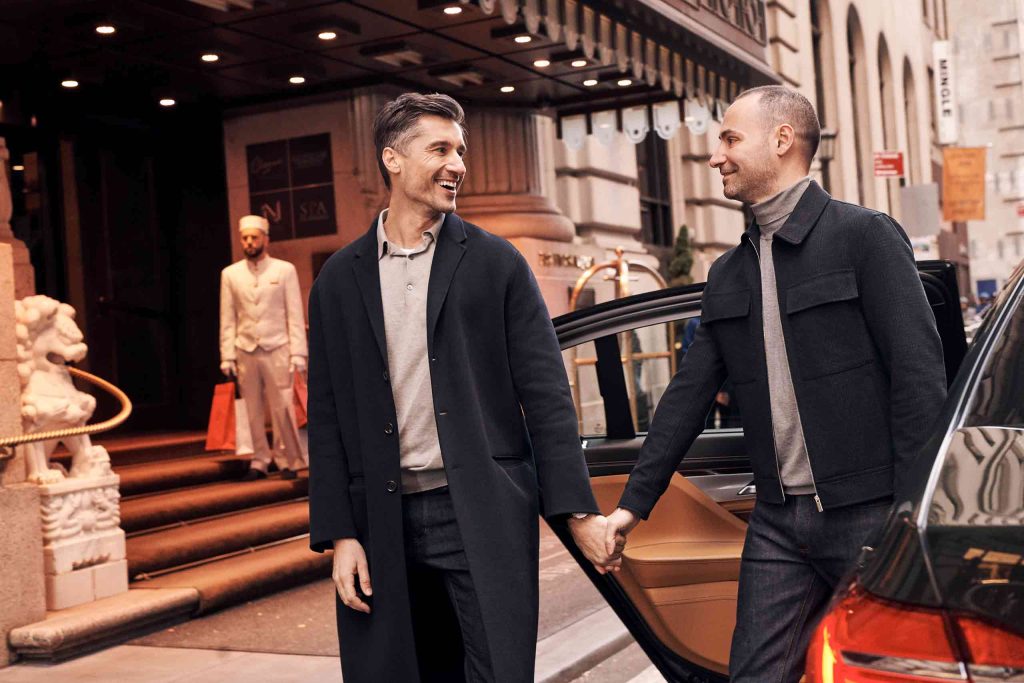 Both The Peninsula Hotels and Explora Journeys believe in fostering belonging by delivering a truly inclusive product.
Waterborne, ultra-luxury experience makers Explora Journeys concur. Although they have yet to set off on their maiden voyage at the time of press, this year will be the second time the brand has participated in PROUD Experiences – because diversity, inclusion and belonging are core to their brand ethos.
Chris Austin, the Chief Sales Office of Explora Journeys (and an out and proud member of the community) tells us 'Explora Journeys understands that our discerning traveller will come to us from all walks of life. We welcome and celebrate every guest that chooses to journey with us, but specifically for LGBTQ+ guests and allies, we have created a platform called Prism. Prism takes the form of specially curated gatherings, social hours, events and activities on board that occur on each and every journey. There will be entertainment surprises thrown in, whether a private mini-set from a guest artist (who we call our Prism-focused Shining Star) or a culinary treat or two by our amazing food and beverage team. And while we understand some people come with their own tribe, we've created Prism as a means of sociality and connection for our diverse guests, who represent a spectrum of humanity'.
Personally, we can't wait to reconnect with these amazing OutThere brands in L.A., many of which we already work with, know and love. But beyond the coming together at PROUD Experiences, we're rather excited to return to the City of Angels. In anticipation, we ask Adam Burke what he is doing to ensure that LGBTQ+ visitors continue to feel that they belong in Los Angeles…
'On the one hand, it's important to recognise that this audience is looking for destinations that are authentically open and welcoming to them. At the same time, L.A. already has a diverse and vibrant LGBTQ+ community, including so many of our friends, family members, and colleagues in the travel industry', says Adam. He adds that 'when we say that 'everyone is welcome', it's not a tagline. It beautifully sums up our community. Our goal is to make it as easy and convenient to take full advantage of all that Los Angeles has to offer. This said we recognise that simply celebrating Pride Month isn't enough. We strive to create an environment where a diverse range of visitors can feel truly welcome all year long'.
To that end, Los Angeles Tourism Board is blessed to have the insights and guidance of a Community Advisory Board, with five subcommittees, including one focused on the evolving needs of the LGBTQ+ traveller. These business and community leaders volunteer their time and talents to ensure that the city's efforts are holistic, inclusive and evolve over time.
Welcome to Los Angeles
Adam Burke serves as President & CEO of the Los Angeles Tourism & Convention Board / Discover Los Angeles, overseeing global brand marketing and sales strategy for one of the world's most diverse, unique and innovative destinations – Los Angeles. We asked Adam what he felt we should get our teeth stuck into when we visit in June.
---
---