There is no doubt that the quirky, unique, contemporary art hotel that is the 21C Museum Hotel Lexington is distinctive. But it is part of a Kentucky-founded and based chain of fun-focussed properties that has expanded across the USA and is now a proud member of the ACCOR family. A lifestyle hotel, cultural centre, museum and art gallery, this eclectic place to spend a few days captures the vibrant spirit of the city of Lexington.
When we tell you that this hotel is set beyond the old colonnades of what was previously Lexington's Fayette National Bank and Trust Co., the first image that comes to mind might be an old-world revival property. But peer through the building's large windows and you'll see something altogether different: colourful, fluorescent light spheres, contemporary furniture and a curated collection of vivid, contemporary artwork.
You'll also come face to face with the brand's mascots, iconic, 'Cracking Art' life-sized fibreglass penguins – an Antarctic juxtaposition in a city where horse sculptures are the in thing. But of course, because this particular 21C is in Lexington, the penguin is bluegrass blue, in tribute to local racehorse legend Big Lex himself. 
The art and cultural programming at the 21C Museum Hotel Lexington may change and rotate, but the spirit of the hotel does not. It prides itself on being eclectic, particularly in its 650 sqm / 7,000 sq ft of exhibition space, which sometimes spills onto the sidewalk outside.
The hotel's architect, Deborah Berke Partners not only had to navigate the design of the old heritage building but had to make ample room for the art. Art is everywhere here, including in our suite. Our large, comfortable room was aesthetically pared back, minimalist almost… to make way for artwork. A series on-canvas of a bird in flight, hung over our large, comfortable, stark white bed. At the end of it, sat a large, eye-glaringly fluorescent pink sofa, reminding us that this is indeed a 21C. 
This quirky theming continues across the 88 rooms of the 21C Museum Hotel Lexington, but the hotel isn't shy of going even further. For example, they often do pop-ups. Their Harmon Room was bedecked in mid-century retro décor features, including an abundant, green, chess-themed wallpaper, designed in partnership with the Netflix hit series The Queen's Gambit, which was set in Lexington.
The 21C Museum Hotel Lexington is a flamboyant choice, but it's not all style with no substance. Overlaid is carefully considered hospitality and great, efficient service – everything we could ask for and more, from our stay in this remarkable Kentuckian city.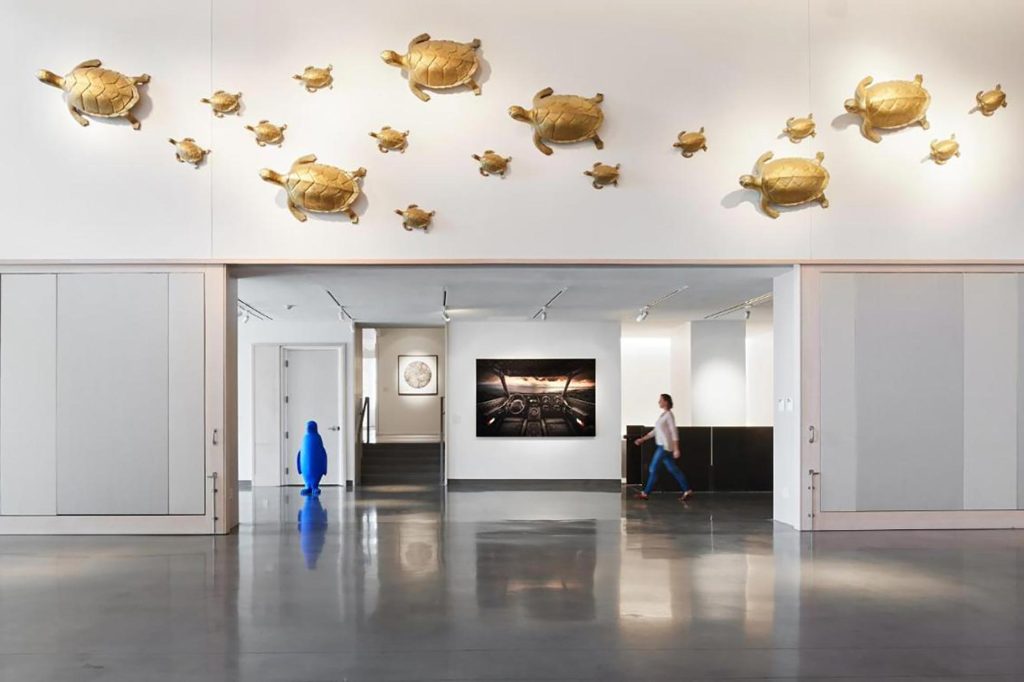 | | | |
| --- | --- | --- |
| Perfect for | Fly into | Right on time |
| The Culturalist | LEX / SDY | GMT -5 |
While you're Out There
Lexington offers up some great places to eat and drink, but we didn't need to wander very far as just downstairs at the 21C Museum Hotel Lexington is Lockbox (named in tribute to the building's past life as a bank), which offers a seasonally changing menu of delicious, unfussy home-cooked food using sustainable, local ingredients. Or right next door, in Lexington's old courthouse, you'll find fabulous foodie installations Zim's Café and The Thirsty Fox – both by local celebrity chef, Ouita Michel.
Photography courtesy of 21C Museum Hotels