An 80-villa resort in the UNESCO Biosphere Reserve of the Baa Atoll, the Anantara Kihavah Maldives Villas promises a quintessential island-life experience that begins the moment you walk down the hotel's arrival pier. Staff sing, clap and drum as guests are handed young coconuts ('kihavahs') as a welcome. If like us, you're staying in The Residence, which ranks as the world's single largest two-bedroom overwater villa, prepare for your jaw to drop to the bottom of the sea.
Stress is never on the agenda at the Anantara Kihavah Maldives Villas, and even the most strenuous of journeys is quickly forgotten upon first setting foot on the resort's pretty island. That's not least because this particular Maldivian islet feels a whole lot more green and untamed than some others we've come across. There's plenty to discover between the thick foliage of mango and papaya trees, and when we visited, the views from the island's narrow, winding jungle paths revealed an interior straight out of Jurassic Park – wild, ample, alive. Enthusiasm having rushed to our heads, we asked Ismail, our personal villa host, who was keen to indulge our every whim during our stay, for a golf-cart tour around the resort.
As we drove on to the O-shaped pier that leads to the hotel's overwater residences, we were greeted by a dramatic change of scenery. The size of everything is astonishing, and the turquoise sea in the centre of this vast, ellipse-shaped walkway built on an underwater sandbank fulfils a coliseum-like function for the villas constructed around it (just wait for something big to swim across the shallow waters, and you'll see). Our personal abode was at the very end of the pier. At 1,500 square metres, The Residence ranks as the world's largest two-bedroom overwater villa, which goes some way in explaining why the guests who had checked out just a few hours before our arrival were members of an Emirati royal family.
Under its Kajan-thatched, Maldivian-palm roof, this most elaborate of villas features everything from a private gym, a couples massage room, walk-in wardrobes, a sea-view swing the size of a double bed, stairs plunging directly into the sea and a Sukabumi-stone-tiled infinity pool offering views of what looked to us not unlike the edge of the world. The furnishings are inspired by the ingenuity of nature and include rattan bedheads, petal-shaped fans and woven lampshades. They bring the outside in while adding a barefoot-luxury element to the hotel's polished interiors. Simultaneously, the Anantara Kihavah Maldives Villas capitalises on the radiant shades of blue surrounding The Residence on each side with floor-to-ceiling windows throughout, a glass-bottom Jacuzzi and windowpanes in the floor beneath our outdoor shower as well as in front of our high-tech Japanese loo (draw your own conclusions).
Socialising with fellow guests was easy, thanks to the many activities on offer. The general manager, a Scotsman named Ross, invites guests to join him on a daily three-mile run around the island (it's voluntary – phew). Amazingly, there's also a Muay Thai boxing ring, for those who can't sit still. We made for the resort's overwater spa instead, home to IV treatments, saunas, plunge pools and a fully equipped pampering salon. Our massage was of the kind that would've sent us straight to paradise if we hadn't arguably already arrived: a perfect blend between relaxing and invigorating, it was preceded by our therapist washing our sandy feet with a warm towel and followed up with an aromatic cup of ginger tea to boost our immune system.
---
This Basecamp review is an extract from a longer feature article, first published in print. To read the full article, click here.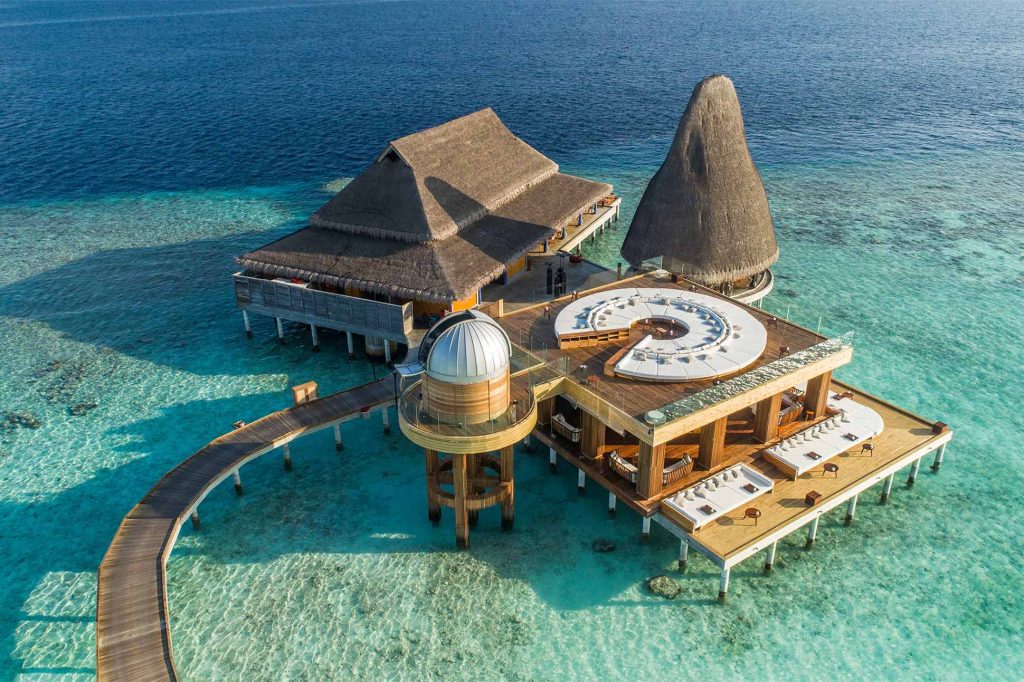 | | | |
| --- | --- | --- |
| Perfect for | Fly into | Right on time |
| The Escapist | MLE | GMT +5 |
While you're Out There
If The Residence isn't private enough already, there's also the resort's 24-metre gulet yacht, the Ocean Whisperer. The team will happily help guests and their loved ones sail around the atoll and beyond, arranging private snorkelling experiences and romantic dinners in the middle of the Indian Ocean.
Looking for more ways to treat ourselves, we also booked a mani-pedi, which is a bit of a must at the Anantara Kihavah Maldives Villas – not because anyone will take a magnifying glass to your nails around here, but because the manicures and pedicures at the spa are by Studio Révérence, a brand founded by the King of all things nail beauty, Bastien Gonzalez. But besides this, we thought our nailcare was heaven-sent either way, especially after a turtle snorkelling tour with Tom, the property's marine biologist, who was clearly passionate about the conservation of the local coral reefs, pointing out the hiding places of dormant sharks and identifying any species of fish within seconds.
Guests keen on observing marine life without getting their toes wet can do so from Sea, the hotel's underwater restaurant. Dining here is an experience nonpareil and we were in awe each time a graceful nurse shark glided past the glass walls, mere feet from our table. Sommelier Gasim Ibrahim – along with the $2 million collection of bottles in the adjoining wine cellar – added a real buzz to every meal, making it a thrilling place for dinner (the big fish only come out at night). The restaurant does, however, have some way to go in streamlining its frustratingly clumsy breakfast-by-design experience, which left us vegans feeling rather neglected as our fellow travellers were served one lobster course after another while we had to do with a single course of an utterly uninspired meal. Luckily, with five more eateries and bars across the resort, we didn't go hungry for long.
In the end, what made our stay in The Residence so memorable was its hideaway-within-a-hideaway status, providing perfect privacy on all fronts. From the enormous outdoor deck, no other villas are visible, and neither is the island itself. The nearest bodies of land are glued to a faraway horizon set ablaze in the evenings by the spectacle of a near-equatorial sunset. Each night, we decanted a bottle of Riesling from our wine fridge and lost ourselves in the show.
It felt as though we were completely alone in a palace in the middle of the Indian Ocean and, with meals and massage therapists a mere WhatsApp message away, we could have spent a lifetime in our villa without ever seeing another guest. To soak up as much of this sense of secludedness as possible, we also had the Anantara Kihavah Maldives Villas arrange for us to study the night sky after dining on the beach one night. Our designated 'sky guru' wasted no time colouring the experience with some introductory, yet mind-boggling facts about the universe. In a small observatory just a few steps away, we studied faraway galaxies from the womb-like comfort of pitch-black darkness, taking turns to feel our way towards a telescope. Our sky guru guided us through our swim among the stars, rotating and focusing the research-grade Meade instrument to reveal suns, clusters and nebulae that are aeons from Earth. Needless to say, the whole experience was about as magical as it gets.
Photography courtesy of Anantara Hotels, Resorts & Spas