With its postcard perfect beaches, clear seas and bright blue, cloudless skies, the Maldives is a escapist utopia for OutThere travellers. But while there's no shortage of luxury resorts, there is one company that has long pioneered a different, more mindful approach to complement the sunshine and hedonism: Soneva.
At Soneva's two Maldives resorts – Soneva Fushi in the Baa Atoll and Soneva Jani in the Noonu Atoll – 'real' luxury is not just defined by opulent surroundings (although its vast beachfront residences and sprawling over-water villas are among the largest and most luxurious in the Indian Ocean). Rather, luxury is measured by rare experiences and a sense of space, peace and time.
Led by resident marine biologists, educators, expert astronomers and dive specialists, Soneva's experiences are designed to enrich, enlighten and inspire. Whether snorkelling with hundreds of manta rays as they barrel-roll in Hanifaru Bay, glassblowing in the Soneva Fushi hot glass studio (the only facility of its kind in the country), glamping overnight on a deserted sandbank or watching rare turtle hatchlings make their way to the ocean at Soneva Jani, each is as memorable as it is unique.
To ensure no stay is ever quite the same, throughout the year, the Soneva Stars calendar invites an array of experts to Soneva's resorts, including acclaimed wellness therapists, freediving champions, artists and authors. In addition to Soneva Fushi and Soneva Jani's exceptional dining destinations and culinary experiences, the calendar brings a roster of visiting Michelin-starred chefs to take up residencies in the resorts' kitchens, hosting dinners for a just handful of diners around the intimate chefs' tables. Between now and the end of summer, this will include La Scene's Stéphanie LeQuellec, Heiko Nieder from Zurich's Dolder Grand, Mark Lundgaard, Head Chef and Director of Copenhagen's Kong Hans Kælder Restaurant, and Paco Morales, the pioneer of Andalusian cuisine.
While Soneva's legendary hospitality is a constant across all of its resorts, both Soneva Fushi and Soneva Jani possess their own unique charms.
Considered the Maldives' original barefoot hideaway, having opened its doors back in 1995, all of Soneva Fushi's island villas are located just steps away from the beach, surrounded by lush private gardens and boasting stunning views of the ocean. In autumn 2020, the resort added eight new Water Retreats to its villa portfolio, with sweeping pool terraces, uninterrupted horizon vistas and waterslides straight into the sea.
At Soneva Jani, one of the world's lowest-density resorts, over-water villas are dotted along winding boardwalks, perched over the turquoise waters of a calm private lagoon. Earlier this year, the resort introduced Chapter Two, with 27 new one- to four bedroom Water Reserves offering more luxury, space and privacy than ever before, not to mention new dining concepts and a state-of-the-art Soneva Wellness Centre. For those looking to combine the inimitable Soneva experience with the freedom of life on the waves, the Soneva in Aqua yacht sails from both Soneva Fushi and Soneva Jani, charting bespoke voyages across the Indian Ocean. The two-bedroom, 23-metre yacht comes with a full crew, including an on-board Barefoot Butler, personal sous chef and a wellness therapist.
Personal Barefoot Butlers in every villa, complimentary chocolate, cheese and ice cream parlours, classic film screenings at the open-air Cinema Paradiso… indulgence is part of the daily routine at Soneva. But for the ultimate indulgence, the new Soneva Unlimited offering at Soneva Jani raises the bar. Exclusively for guests staying in a new Chapter Two Water Reserve or Island Reserve, every last detail is included in the price of the villa. That means unlimited dining across all of Soneva Jani's restaurants, including dinners with visiting Michelin-starred chefs, paired with unlimited drinks, including wines, cocktails and Champagnes. It also means unlimited wellness therapies and massages, including yoga, meditation and sessions with visiting therapists. And those one-of-a-kind experiences, from stargazing dinners and guided snorkelling with the marine biologist to diving with the expert PADI team, are also included.
With its idyllic locations, surrounded by nature's beauty, Soneva has vowed to tread lightly on the earth. Sustainability is a buzzword so often overused in the hospitality industry today, and yet Soneva has been committed to a more responsible kind of tourism since the very beginning, 25 years ago – sourcing sustainable, ethically produced building materials, nurturing organic gardens based on permaculture, banning imported plastic water bottles and even re-drafting architects' plans to build villas around trees, rather than cutting them down. One hundred percent carbon neutral since 2012, every Soneva stay is subject to a two percent carbon levy, which funds the Soneva Foundation to support an array of international projects which have a positive environmental or social impact.
Empowering the local community is an important part of this sustainable ethos. So, in late 2019, Soneva partnered with NGO Save our Seas and Soneva Fushi's neighbouring islands in the Baa Atoll – Maalhos, Dharavandhoo and Kihaadhoo – to launch Soneva Namoona. Its ambitious mission is threefold: to eliminate harmful single-use plastics in the Maldives and beyond; to introduce zero waste solutions through sustainable waste management systems; and to inspire the next generation of Maldivian ocean stewards. Already, the initiative is counting its successes. The open burning of waste (which has a devastating toll on the environment) has officially come to an end on Maalhos, with Dharavandhoo and Kihaadhoo pledging to follow suit. Eco Centro waste management centres have been established on all three islands, based on the waste-to-wealth facilities at the heart of each Soneva resort. And dozens of young children have been taught to swim and surf as part of Soneva Namoona's outreach campaigns.
Whatever reason you choose to stay at Soneva Fushi or Soneva Jani, when you feel the sun on your skin and warm sand beneath your feet, not only will you reconnect with the earth, you'll also reconnect with yourself – the ultimate escapism.
Photography courtesy of Soneva
---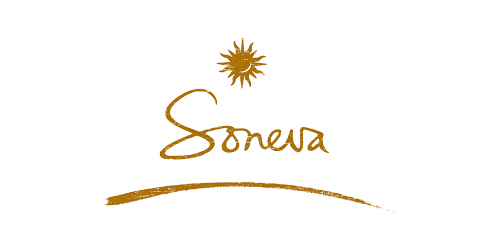 This article is in partnership with Soneva.
---
At OutThere, we believe in boundless travel. But we understand that some destinations can pose challenges to travellers that complicate visiting them. We advise all visitors to inform themselves about local legislation and customs, and to work with a trusted travel provider in order to ensure a safe and pleasant holiday.