When trying to decide where to stay on a trip to Thailand, the Anantara brand will inevitably cross any luxury traveller's mind. The Kingdom's prime hospitality company, with an enviable property portfolio and international standards at its core, lures high-flying visitors with a promise of hotels that are close to the action, yet shielded and tranquil. The Anantara Chiang Mai Resort is just that.
Fort-like in its proportions and in the way its walls facing Charoen Prathet Road keep out traffic noise and fumes, the award-winning Anantara Chiang Mai Resort is a short skip from the ancient wall and moat famously skirting Chiang Mai's old town. If it's your first time in Northern Thailand's culture capital, or you just can't get enough of this history-making yet future-oriented city, you'll be glad to be within stone-throwing distance of its gilded temples and busy backstreets. Once we'd checked in, we immediately made for the property's inner courtyard and garden, an open and minimalist compound that not only borders the Ping River on one side, but also features a 100-year-old villa – once the British Consulate – at its centre.
An elegant structure, the mansion now houses secret service-themed 1921 Restaurant & Bar, where amongst other dishes, this forward-thinking property serves a delicious and health-boosting dinner menu infused with parts of the cannabis plant recently decriminalised by the Thai government. Enjoying cannabis in virtually every course and cocktail truly was a highlight (although not literally: think CBD, not THC!), and being invited to dine in the restaurant's private room, hidden behind a revolving bookshelf in true 007 style, made it all the more memorable. Breakfast, in contrast, wasn't quite so private or relaxed, with a hectic open kitchen, waiters rushing from table to table, and a buffet layout that meant guests had to throw themselves in the middle of the action to top up on noodles or similar. That said, we loved the many vegan options on offer here.
To our delight, the restaurant's cannabis theme also formed part of the resort's wellness offering. We treated our hiking-hungover muscles to a 'Stress Release Journey', entailing warm herbal compresses and a slick and sensual massage that had us melt like butter in the Thai sun. The entire experience was amazingly intense, with our therapist pushing through pain just enough for us to hover out of the spa feeling tangible benefits, but not to a degree that would see us grind our teeth and bite our towels (for that, you can book the more traditional 'Yam Khang' treatment, which involves flames and a fast-footed masseuse…). Despite the hotel's impressive size, there isn't a sauna or a steam room here, though we're sure one of the concierges by the reception of the Anantara Chiang Mai Resort would be happy to arrange a transfer to a nearby sauna.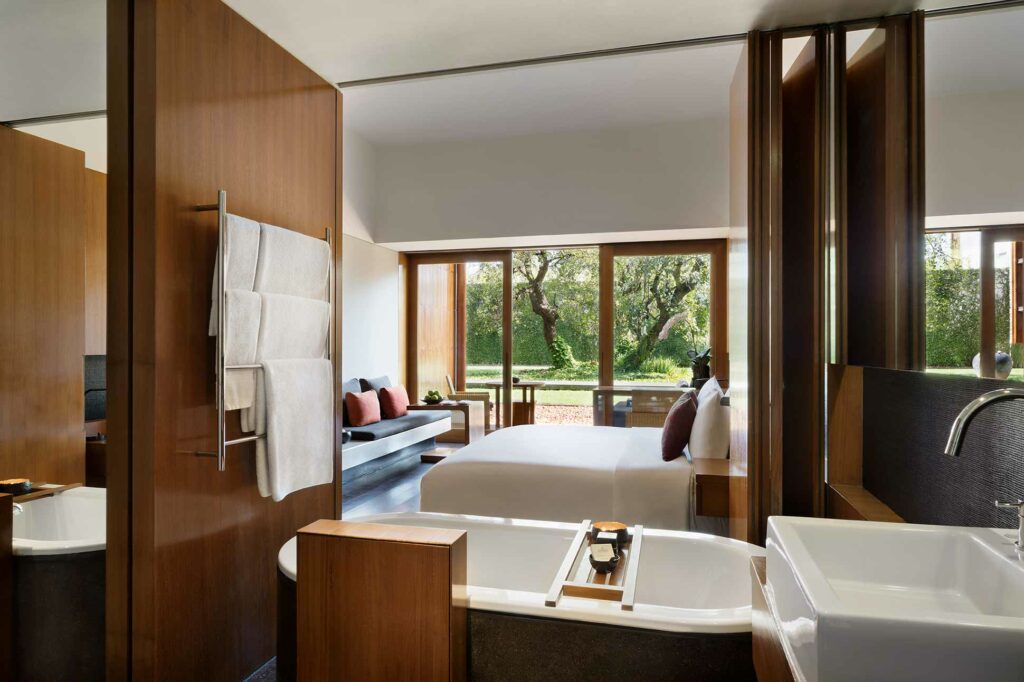 | | | |
| --- | --- | --- |
| Perfect for | Fly into | Right on time |
| The Sophisticate | CNX | GMT +7 |
While you're Out There
Chiang Mai's very own China Town isn't far from the resort. Home to Warorot Market and a wealth of shops selling everything from rattan rice baskets and airy shirts made from bamboo fibres, it's worth a stroll in the early morning or late afternoon. Just don't go at noon, when it gets so muggy, you might not have the patience to haggle – an essential part of the shopping experience here.
Post-spa, it's advisable to plant yourself next to the hotel's enormous, 34m pool. A design lover's dream, this sapphire blue basin is flanked by a waterlily pond and pearly-white parasols, as well as serviced by attentive staff who make towels and cold water appear out of thin air in no time. While service was on point, we did think the hotel felt run very much like a business at times, with pleasantries seemingly learned by heart and a tone that alluded to a guest-staff hierarchy we felt almost a little uncomfortable with. Luckily, occasional moments of spontaneity by team members lifted this curtain of formality, making us feel more at ease in our interactions with the resort's wonderful employees.
Of the 84 rooms and suites available, each with a private balcony or terrace, our 105 square-metre, open-plan Kasara Garden View Suite with a private courtyard entrance and electric blackout curtains unsurprisingly left us wanting for nothing: you can trust Anantara to deliver on luxury. But beyond its five-star amenities, the space also felt stylish. Our favourite design aspects were walls clad in different shades of vibrant red tiles, uninterrupted lines that added a sensation of spaciousness to what was already a large suite, tribal-inspired decor and a generous, freestanding bathtub. Diners on the restaurant terrace nearly watched us slip into the tub, had we not lowered our blinds at the last moment – if you'd like a private bath with a view, opt for a River View Suite (or risk putting on a show).
What we appreciated more than anything about the Anantara Chiang Mai Resort was how shielded of an environment it provided from a city that can at times be overwhelming. In contrast to the often chaotic scenes playing out on the streets of Chiang Mai, the hotel felt calm, with open spaces to breathe and unwind. Although there's a thin line between tranquility and sterility, and some travellers might well feel that the resort isn't the most romantic in town. You can still enjoy a couples massage here, or dine in the light of lanterns by the Ping River, but for many, a honeymoon hotel this is not. We didn't mind, personally, seeing as we were in town for cultural immersion and to venture out into the mountains of Northern Thailand. If that's your plan, too, the stylish Anantara makes for a fantastic base.
Photography courtesy of Anantara Hotels, Resorts & Spas