Towering a phenomenal 61 floors over the Las Vegas Strip, the curvacious skyscrapers that comprise ARIA Resort & Casino are grand, contemporary and upgraded odes to the typical 'gaming and good-times' experience synonymous with Sin City, Nevada. Packed full of experiences: a sprawling, modern casino, nightlife and restaurants, high-end shopping and even a fine art gallery, ARIA encapsulates the Vegas experience for the 21st-century traveller, or rather, reveller.
We've always believed that luxury in Las Vegas, at its very essence, is all about delivering an experience that's somehow over the top and rooted in fun, yet with an attention to detail that manifests as a magical ability to exceed guests' expectations without them even realising. In this pursuit of excellence, ARIA is a strong contender for top dog in Vegas, notwithstanding it showing some signs of age.
Upon entering ARIA, the grandeur is immediately palpable. We can only imagine why it was considered a game-changer for the Strip when it first opened in 2009. Today, ARIA is no less impressive, but we have to consider that competitor resorts have since upped their game and there are a number of new challengers to this once-disrupter in Vegas gaming and hospitality.
In any case, sensorial stimulation is the game here. The lobby's vibrant, contemporary design and high-gloss architectural details are juxtaposed with stunning floral displays and a magnificent art collection – some on permanent display and others seasonal – meaning there's always something new to look at or a reason to return. A house scent – they call it Asian Garden, a blend of jasmine, lily of the valley and tuberose with vanilla, amber and soft woods – is pumped into the space, designed to connect with emotions and memories, uplift our mood and even influence our behaviours. The cynics among us may think that this is all about encouraging us to spend money in the casino, or it's to cover up the smell of tobacco (smoking indoors in a casino is still allowed at the time of press), but it is a pleasant olfactory experience nevertheless.
The guest rooms at Aria are impeccably designed and boast floor-to-ceiling windows offering panoramic views of the Las Vegas Strip. Sadly, ours was showing signs of age, albeit nothing that distracted too much from an otherwise good stay. The in-room technology, controlled through a tablet, was both a marvel and a menace. We consider ourselves relatively tech-savvy, but some of the in-room controls were sometimes clunky and all its newer features have now been migrated to the MGM Resorts App, including the digital key card. It would be a clever thing to find a way of integrating the two going forward.
If you're looking to splurge – and we recommend you do so – check into one of ARIA's Skysuites, which come with exquisite amenities, stupendous views, personalised assistance, a private pool deck and access to some of the city's most enticing offerings.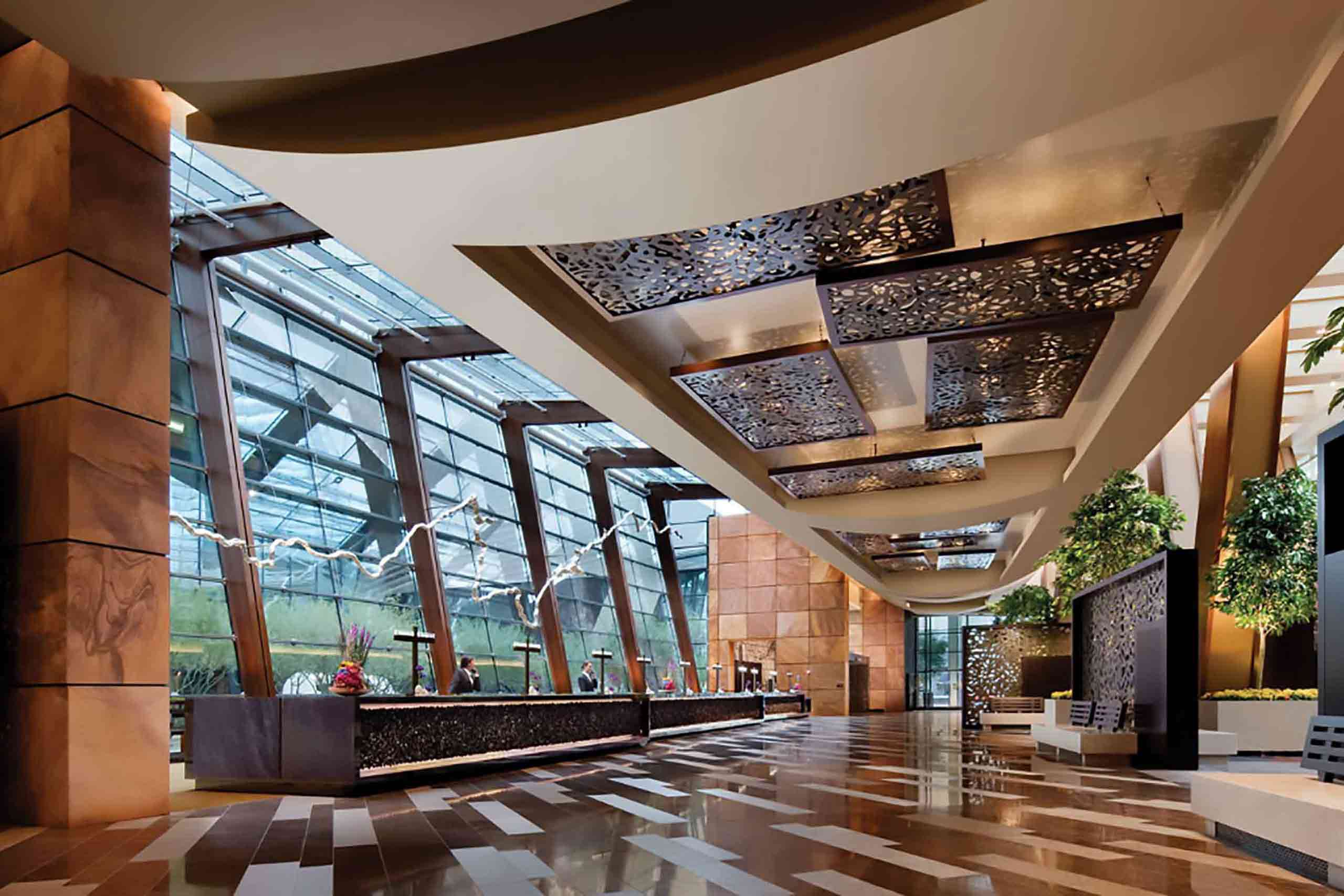 | | | |
| --- | --- | --- |
| Perfect for | Fly into | Right on time |
| The Hedonist | LAS | GMT -8 |
While you're Out There
The ARIA Fine Art Collection features work by acclaimed painters, sculptors and installation artists, including Sanford Biggers, Jenny Holzer, Parker Ito, Rashid Johnson, Maya Lin, Claes Oldenburg and Coojsje van Bruggen, Nancy Rubins, Julian Schnabel, Frank Stella, James Turrell, among others. Make sure to check it out!
Unlike its neighbouring resorts and casinos, there is no real 'theme' at ARIA. The property is confident in its offering and its major draws lie in its facilities. For example, food is a passion at ARIA, with a plethora of dining options to choose from, from food-court-style quick-eats to an array of celebrity chef-driven restaurants. However, in nearly every case, we found that dining here comes with a hefty price tag that doesn't always deliver good value for money. Over the course of our week in Vegas, we found ourselves mainly dining offsite. Even the hotel bar, Alibi, requires a high minimum spend just to sit down for a beverage.
Our other gripe is about the service. While the staff is generally courteous, there's a general lack of the warmth and personalisation in service that we would expect in a luxury establishment. Given it's a large property (and when we visited was hosting a number of conferences in its adjacent convention centre), requests for assistance took far longer than expected, and the check-out process – even with the assistance of a future-forward mobile app – wasn't the best it could be.
Where ARIA does excel, is in the realm of entertainment. Its Jewel nightclub is the talk of the town, its proximity to Dolby Live and the T-Mobile arena, puts its guests front and centre of all the musical goings-on in town.
Need some glad rags? Well, the in-resort curated concept store will solve that, as will The Shops at Crystal which features some 50 of the world's top luxury designer brands.
If downtime is your thing, then the pools at ARIA and its spa are also great options and the treatments are top-notch. The fitness centre (we poked our heads in) is well-equipped, catering to gym-goers who don't want to miss a workout while on holiday.
In a competitive arena like Las Vegas, being on point is imperative. ARIA definitely has what it takes: high-spec aesthetics, spacious rooms, and a dazzling choice of entertainment options to make it a compelling choice for the ultimate Vegas vacation. There is however room for improvement, especially on the service front. If you value exceptional service, ARIA as it stands, might leave you wanting. But it's an easy fix and with an A-team in place, ARIA will be symphonic!
Photography courtesy of ARIA Resort & Spa