Las Vegas isn't really a destination that is synonymous with serenity, but the MGM Resorts-operated Vdara goes some way to defy the city's hedonistic, over-the-top reputation. Contemporary and pared-back in design, human when it comes to service and believe it or not, 'gaming-free'… the property is the antithesis of the neon-lit cacophony of the Strip.
Vdara is not quite what you'd expect of Las Vegas. While it's part of the huddle of flashy MGM Resorts properties at the southern end of the Strip, it's a 'boutique hotel' by Vegas standards (with 'just' 1,495 rooms, as compared to its 'fraternal' twin sister, ARIA right next door which has 4,004 rooms).
There's an understated elegance about the contemporary Vdara. It offers up much more of a modern hotel vibe than most of the other Vegas follies. This is evident in the design of the property: sleek lines, contemporary fixtures and fittings, darker, more earthly colour tones and subdued lighting (a far cry from the overlit casino floors elsewhere), all accented with contemporary artwork. The other thing we immediately noticed was the silence. Vdara does not adjoin a casino and hence lack its distinctive clamour, nor is it home to any day- or super-clubs… there's no smoking indoors, its dining options are quite limited (although many top eateries are within easy reach) and neither is there much passing-trade, as it's set back from the Strip. Its blissful ambience is somewhat unexpected here, in this destination known for its hedonism.
As such, it's become a bit of a best-kept-secret for those who like to dip in and out of the throng of Las Vegas… which as zealous Vegas fans, we appreciated greatly. Staying at Vdara put us close to all the action, but still allowed us to escape, whenever we had enough.
Vdara offers up everything else you'd expect of an urban resort of its stature. Its VICE VERSA patio and lounge is a casual place to get a bite during the day but transforms into a chilled cocktail lounge in the evening. The intimate and discreet Vdara Pool features private retreats set around semi-secluded plunge pools and its award-winning The Spa at Vdara is a luxurious and tranquil hideaway, set over two floors, complete with therapeutic spaces and therapy rooms, is a place to get lost – quite possibly for a whole day, take our word for it – in signature treatments and massages.
The team here are super-friendly too, especially those in the Spa, who we swapped amazing travel tales with. We never once felt that we were just another room number in an enormous hospitality machine, which sometimes service in Vegas can come across. Throughout the resort, they were ever helpful, taking time to chat and find out about our day, or offer ideas and advice on 'alternative' Vegas and must-see sites away from the Strip. This in itself, in our opinion, is worth a stay! In an era of contactless check-in (pretty much everything that was once done by a human being can now be done on the MGM Resorts App, including mobile room access, billing and concierge services… not to mention robot butlers at the ready), it was nice to experience a property where human connection is still the mainstay.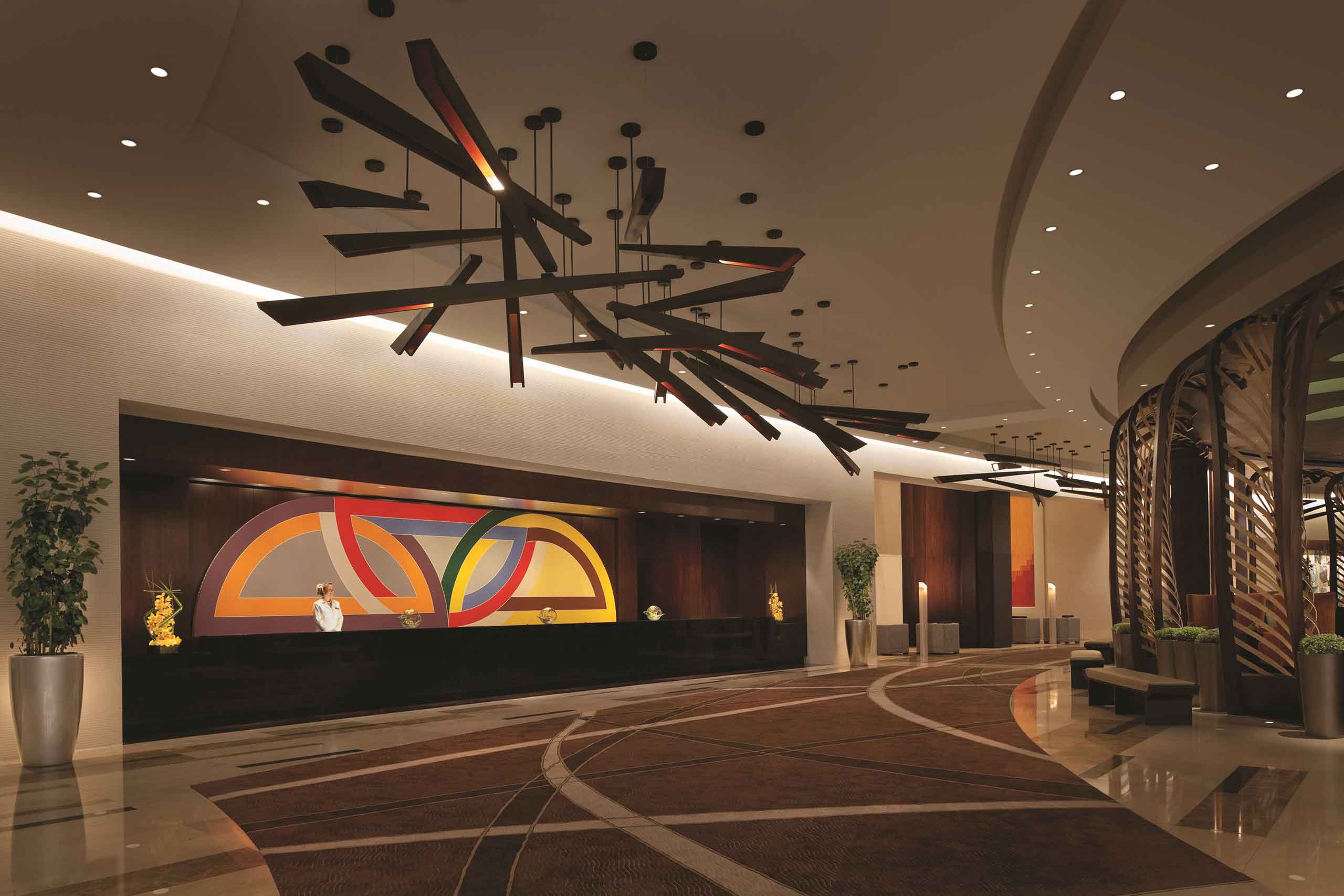 | | | |
| --- | --- | --- |
| Perfect for | Fly into | Right on time |
| The Escapist | LAS | GMT -8 |
While you're Out There
Should the urge to try your luck strike and should you fancy a flutter, then don't worry… ARIA is right next door and The Cosmopolitan of Las Vegas is a short walk away, each accessible from the Vdara's lobby. Ditto when it comes to food and drink! If it's a party you're looking for, then the chic (at least the Vegas definition of the word) Jewel nightclub is also easy to get to (or easy to get back from in the wee hours). LGBTQ+ Vdara guests will enjoy Temptation Sundays at its sister MGM-Resorts property, Luxor. It's exactly what it says on the tin! Running every Sunday in the summer, from noon until six, it features guest DJs, go-go dancers and drag queens and is the perfect place to rub shoulders with other queer folk visiting Vegas. The VIP thing to do is to rent a cabana, which comes with complimentary entry for up to eight people. Travelling alone, as a couple or small group? No worries, other admission packages are also available. Or, better still, stick to a cabana. We guarantee you'll soon make new friends!
At the end of every day, we retired to our Stay Well (an MGM branded, holistic solution that comes with amenities that optimise physical and emotional well-being for guests) Fountain View Suite, one of the best appointed and designed we've experienced here in the city. With floor-to-ceiling windows, we were greeted each time we returned by a breathtaking panoramic view of Vegas that evolved depending on the time of day… and in line with the suite name, a view of the legendary Bellagio Fountain, of course! At a press of a button, black-out curtains unfurled and allowed a fantastic night's sleep in our comfortable pillow-topped mattressed, king-size bed.
Modern, functional and unfussy, our suite also featured an indulgent, spa-like bathroom with a walk-in rain shower. It also had a high-spec kitchenette, which added a touch of practicality to the luxury. Want everything done for you? Then upgrade to a penthouse or loft suite for the best rooms in the house. But then, every room in the house is a suite.
We know what you're thinking… no one really goes to Vegas to relax. But in a city known for excess, Vdara offers the best of all worlds. It's a place where luxury, meets serenity and with hedonism at the door. For first-timers to Vegas, Vdara is an ideal way to escape the madness, if and when it all gets too much. For seasoned Strip visitors, Vdara is a Vegas experience, elevated. While it is a city we enjoy, we've often tout Las Vegas as a few play-days within a wider American itinerary. But now, having experienced a hotel like Vdara, we'd happily stay for longer.
Photography courtesy of Vdara Hotel & Spa