In the high-stakes city of Las Vegas, the super-glossy resort that is the Cosmopolitan of Las Vegas stands out as a polished playground that brims in personality and offers up 'the right kind of wrong'. With humongous party suites and endless big-name restaurants, this glitzy hotel gives the Strip some serious fashionista creds.
Las Vegas is a city of excess, but we'd have to admit that despite Sin City's gratuitous approach to luxury hospitality, it's rather hard to beat sitting on the spacious wraparound balcony of our suite for a private show of the Bellagio fountain. Like clockwork, over and over again (yet we couldn't get enough), it does its sultry dance to a backdrop of the Strip's infamous illuminations, the silhouette of the skyline and Nevada desert mountain range behind it, and the bustling, cacophonic hustle and bustle of what we like to call 'Adult Disneyland'.
But that's just the tip of the iceberg. The Cosmopolitan of Las Vegas is inevitably a hotel (resort, retailer, casino, spa, art gallery) that keeps on giving. It's the way things are done in Vegas and especially here. And even in a city of spacious suites, our predictably named 'Wraparound Terrace Suite with Fountain View' stood out. Mainly because it was huge, coming in at an astonishing 111 sq /1,200 sq ft. Then on top of that, there was one-third more floor space dedicated to the balcony. And our suite category was only one of 17 different room types across the hotel's some 3,000 'something for everyone and every budget' rooms. But then, everyone deserves to experience the hotel's brilliantly copywritten brand promise, 'the right kind of wrong'.
Our suite, like all the others, was modern and flashy – perhaps a little too much on the 'bling' side for us – but impressive nevertheless. Other Vegas suites can be a little beige and 'American standard' in decor. Here at the Cosmopolitan of Las Vegas, the suites were big on personality, character and ironically, a sense of place; ironic because Las Vegas is a city where that sense can be anything you want it to be, and entirely manufactured.
Big, colourful contemporary art pieces are featured throughout, complemented by gold-rimmed mirrors and shiny marble occasional tables. There was also a dining area (that we were never going to use, as the hotel offers up some world-class food and beverage options) and two luxurious bathrooms.
Our suite showed some signs of age, to be expected considering the high level of traffic that passes through here. But where else in the world will your hotel room have a sleek wet bar and a sub-zero wine chiller?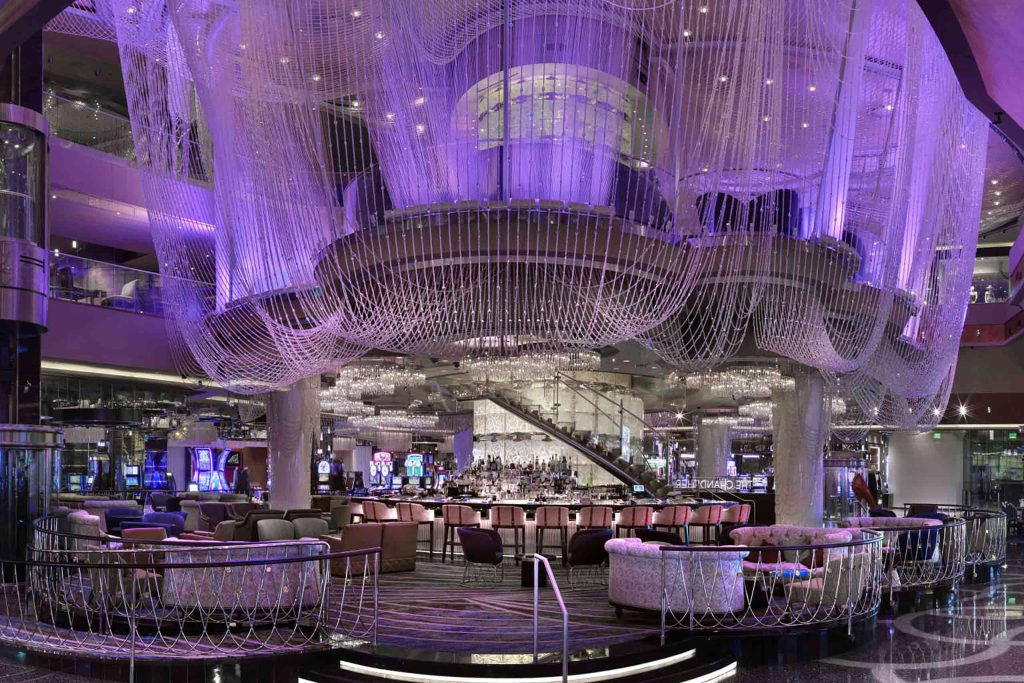 | | | |
| --- | --- | --- |
| Perfect for | Fly into | Right on time |
| The Hedonist | LAS | GMT -8 |
While you're Out There
When you're in Vegas, the in-thing to do is to catch one of its highly-produced shows. There are of course some amazing residencies on the strip, but you don't have to go too far as the Cosmopolitan puts on their own productions as well, boasting a glittering entertainment programme. On occasion, they showcase some smaller acts like up-and-coming stand-up comics, as well as put on some more intimate, hot ticket gigs.
The most desired suites are the three-storey 'Bungalow' ones (yes, we know it's a contradiction, but anything goes here), with floor-to-ceiling windows overlooking the Cosmopolitan's Marquee Dayclub and a private, heated plunge pool in case you're hosting an afterparty.
But the top accommodation options in the house (at least the ones that are published and available to 'mere mortals' – we're told that the casino's high rollers have access to a whole other world of premium accommodation) is the Chelsea Suite, set up in two or three-bedroom configurations. They start at around 250sqm/2,600sqft of prime holiday space.
Sun worshippers will love the Cosmopolitan's two pool districts. But if like us, you want to escape the constantly up-for-it party crowd, then you'll find zen down at the Sahra spa and hammam. Here, a skilled therapist splashed and scrubbed our troubles away, leaving us rejuvenated for a night at the tables.
We took dinner at Blue Ribbon Sushi, one of the hotel's 26 dining options. There, we went on an excellent culinary journey to Japan and back – forgive us as we give a special mention to the 'Matcha (green tea) Martini'. But you can also namedrop some of the world's most lauded eateries too, all within the hotel complex: Eggslut, Momofuku, Hosteins, Zuma… they're all here. Then for a nightcap, there's always the hotel's infamous Chandelier bar, perfect for people-watching (or shall we say, 'judging' rather). For a cosier evening, we opted for the hotel's Ski Lodge, an Alpine-esque concept bar that takes apres skiing to new heights.
The Cosmopolitan of Las Vegas undoubtedly adds fashionista cred to the Vegas strip and over a decade since its opening, it continues to deliver a more contemporary, forward-thinking experience than its counterparts, even forgoing valuable casino space to drinking, dining and shopping, to great effect.
With its size and a heaving passing trade, it's far from an oasis of calm. And with this, the opportunity for a truly VIP experience is sometimes compromised. Sadly, the property's staff often came across as somewhat stressed, processing a conveyor belt of punters rather than delivering the dedicated service required of guests used to abject luxury.
That said, we were fully aware of where we were and despite the ongoing throng, the Cosmopolitan was a good, Vegas all-in-one.
Photography courtesy of the Cosmopolitan of Las Vegas