As the dreamy Tuscan sunset bounces off the handsome 18th-century yellow and stone Tuscan villa that is the centrepiece of the 750-acre organic, sustainable estate that is Borgo Pignano, we're reminded that simplicity and authenticity in hospitality is a much-desired amenity for luxury travellers these days.
Borgo Pignano – the gorgeous Tuscan haven – is renowned in the region as a shining example of good, sustainable and self-sufficient practice in luxury hospitality. Here we tasted the bounty of the estate's olives and ham from its famed pigs who roam as freely as the chickens that provide the eggs for breakfast. There's flour from the local mill, honey from beehives in the garden and they're currently working on producing their own cheese. The food and beverage team here are visibly excited to work somewhere where the journey of so much that graces the tables can be traced back to within the boundaries of this piece of glorious countryside.
Besides growing and rearing most of its gastronomical needs in its own farm and gardens, its caretaking extends also to construction and operations. All of Pignano's accommodation has been restored using locally sourced stone, reclaimed slate and organic paints. Farm and garden irrigation and soil management is done through a first-in-Tuscany rainwater system. The heating is fueled by solar panels and chip-fired boilers with wood harvested from the estate's forests. The list goes on; and Pignano has been awarded a Green Globe certification as well as becoming a founding member of Beyond Green, a new hotel network that is committed to protecting the planet's natural and cultural heritage, while enhancing the wellbeing of local communities.
While this is a key philosophy of Borgo Pignano, it didn't distract from great hospitality. The hotel has a real focus on sociality and the power of reconnection, conviviality is clearly a crucial part of the experience, which is what we felt made it different from other Tuscan escapes. There's something particularly magical about this place that encourages people to want to come together; and for many, to come back, as we learnt during our visit.
---
This Basecamp review is an extract from a longer feature article, first published in print. To read the full article, click here.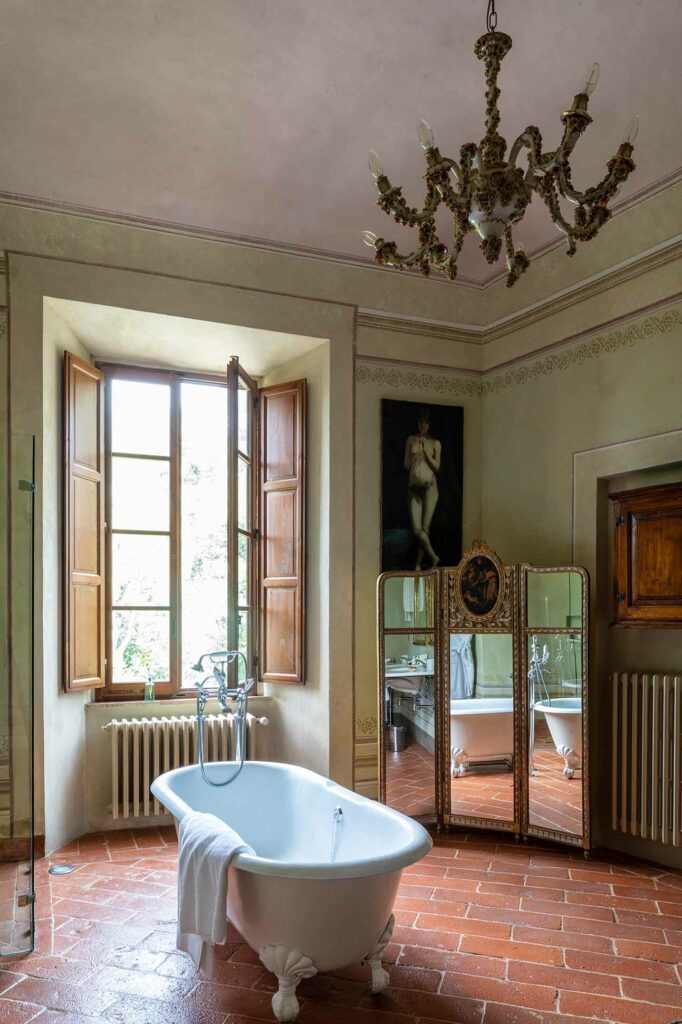 | | | |
| --- | --- | --- |
| Perfect for | Fly into | Right on time |
| The Culturalist | FLR | GMT +1 |
While you're Out There
Just a short drive away are storied, ancient, walled cities like San Gimignano and Siena, waiting to be discovered. We chose the former, known as the Manhattan of Tuscany, due to its historic concentration of medieval towers. It's a wonderful place to spend the day and it may come as a surprise that it is also a fabulous centre for contemporary art. The world-famous Galleria Continua has multiple spaces there, featuring stunning international artists and artwork, ripe for collectors to bring home as the ultimate souvenir. 
Our charming and spacious suite situated in the old villa, the Sala Musica, featured comfortable, homely furnishings… not trying to be too contemporary, but with modern needs considered. Its centrepiece is a grand piano, true to its name. But the real music to our ears was the medley of holidaymakers feasting, the clinking of wine glasses, bellied laughter and audible gasps at the view coming from outside. A loud splash from the adults-only infinity pool made us go investigate; and once we found it, we just couldn't tear ourselves away from it.
Away from the main house, there are maisonette accommodations and standalone villas too. The La Fonte farmhouse sleeps sixteen and has its own sundeck, garden and private pool. The historical, 13th-century, three-bedroom priest's house, La Canonica (that adjoins the on-site San Bartolomeo church) is a quirky and memorable place to stay.
The team at Borgo Pignano is what really made our stay. There is a welcome informality in the way they interacted with us, as if we were members of their family. Despite being well-oiled and at our beck and call, they pass on an experience of being at home away from home, a balance that not many Tuscan properties manage to strike.
Experience-wise, we were never short of options. From trekking the ancient Tuscan forest, one time with a truffle-hunting dog, to cycling through the rolling hills on an e-bike or discovering Italian classic cars in the hotel's own museum; there was always something to do. That is, when we were not eating. The food here, as you'd expect, isn't just organic, but also sublime.
Photography courtesy of Borgo Pignano