Looking out of the enormous, arched windows of the breakfast room at the Carlton Hotel St Moritz, there can be no doubt you're in what's perhaps the world's most glittering ski resort: conifer trees scale a magnificent mountainscape just beyond the town's lake straight ahead, a scene bathed in warm sunlight some 322 days a year. Only a never-ending onslaught of private jets in their final descent into Samedan Airport pierce little holes into this Swiss cheese of a blue sky. Without them, it just wouldn't be St Moritz.
That's the self-declared 'top of the world' as you know it, of course. But the five-starred Leading Hotels of the World member that's the Carlton Hotel has set out to offer guests an experience that's rather off the beaten piste. To do so, they've come up with a smart initiative: Moving Mountains. What sounds like it'd be quite the task (have you tried lifting the Swiss Alps?) is actually a way to encourage guests to travel more consciously, and with a focus on the experiential. The program is based on what the hotel defines as the five columns of a happy life, including everything from moving to resting and beyond. It's even made its way into the breakfast buffet at the Carlton Hotel St Moritz, where chia seed bowls and overnight oats are served to promote optimal vitality. Then again, fun isn't short-changed, either – a ready-to-pour bottle of Röderer champagne by the buffet attests to that.
We were frankly amazed to find a hotel in such a traditional destination pioneer a new way of experiencing it, and so we jumped head-first into any activity they suggested. That's with the exception of ice-bathing in St Moritz lake, which took a lot of acclimatising and breathing exercises before we braved the freezing waters in front of a growing crowd of bemused locals – no other hotel offers this 'Scandinavian-style service' here, so you'll inevitably draw a crowd. Other experiences that fall under the 'Play' column of happiness include tobogganing, bird feeding in the Stazerwald forest, a tour of local glacier caves or a torchlit hike to Lej Nair at night, which reignited a childish sense of excitement in our hearts.
All that action did, of course, leave us rather hungry. Luckily, the Carlton Hotel St Moritz had us herbivores covered: at Romanoff, guests are handed a Moving Mountains-themed plant-based menu (smoked celeriac 'bacon'? Yes, please!) where animal-based foods are only served as an ask-for-it add-on – not that you'll miss them. The sun terrace, meanwhile, makes a mean Beyond Burger that does just the trick after a few hours on the slopes, and the hotel's showpiece eatery, Lombardy-hailing Da Vittorio, convinces with a seven-course degustation menu (vegan upon request) that's earned it two Michelin stars and 18 Gault & Millau points. The paccheri pasta at Da Vittorio is a must – firstly, because everyone in town will ask whether you've tried it, and secondly, because you're handed a small bib to eat it. Charming, that!
Although breakfast doesn't offer the biggest selection we've seen, it does cater to every taste. Each consecutive day of our stay, the accommodating staff at Carlton Hotel St Moritz dished up a few more plant-based options for us to try; from vegan chocolate cake to oat-based yogurts, veggie sausages and vegan cheeses by Swiss brand New Roots (yes, that's these guys). We wished these had been out on the buffet, as we didn't know what was available at first, and very much missed out at the beginning of our stay. That said, the property's plant-based credentials would be impressive anywhere, but in heritage-heavy and excess-loving St Moritz, they're nothing short of a game-changer.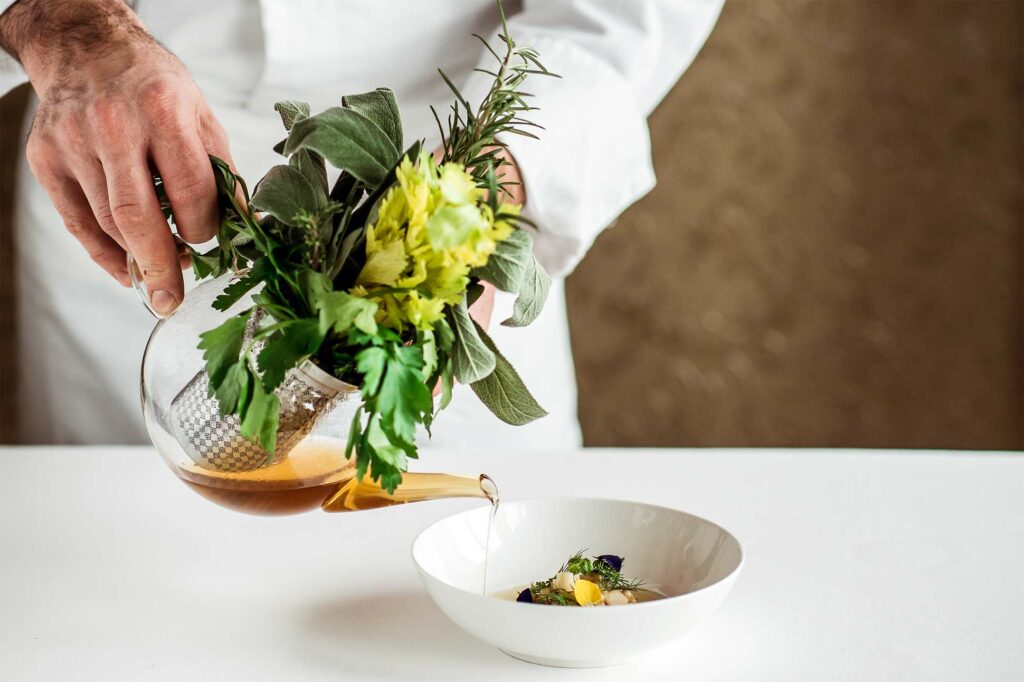 | | | |
| --- | --- | --- |
| Perfect for | Fly into | Right on time |
| The Adventurer | ZRH / SMV | GMT +1 |
While you're Out There
Quick and complimentary transfers to a nearby ski lift make taking to the slopes conveniently easy from your base at the Carlton, but should you tire of the mountains eventually, visit the town centre where you only have to look at their glistening summits from afar, towering behind pretty designer boutiques adorned with gilded lettering. You could also book a Moving Mountains experience or two, from snow-kiting to carving your own ice sculpture. However you spend your days, fans of live music, singing and the high art of mixology would be well advised to be back at the hotel's Bel Etage in the evenings.
This progressive stance is also arguably rooted in the strong focus on sustainability by the Tschuggen Hotel Group, which acquired the Carlton in 1988 after the historic property had faced a fair share of troubles, including the consequences of war and ever-changing ownership. Fast forward a few decades and the hotel has been climate-neutral since 2019, making it a more conscious place to stay than some Engadine competitors. It's a more colourful one, as well, and that's thanks to Swiss interior designer Carlo Rampazzi, who spearheaded the property's refurbishment in 2006/7. While we loved its traditional spaces, like the wood-panelled ballroom with a stucco-embellished ceiling, the hotel could do with another touch-up (we hear one is in planning) to modernise areas like hallways, clad in loud tapestries that reminded us of circus tents – those, we could have done without.
Our suite, one of only 60 that have remained after the Carlton Hotel St Moritz commendably downsized its number of keys to upsize the space available to each guest, was south-facing, like all rooms here, blessing us with lakeside views through three floor-to-ceiling windows that opened up to a private balcony. Waking up to a panorama of those mountains straight ahead bathing in the sun, we struggled to think of a more gorgeous view in this little Swiss town.
Although a little dated, too, our 65-square-metre Kandinsky Suite was certainly thought-through. With walls allegedly painted by the master himself, as he awoke in the suite feeling a rush of inspiration but with no canvas at hand, the suite also featured a huge and very comfortable bed as well as many thoughtful 'presents' from the hotel: bedside pralines and surprise eye serums at night, as well as printouts of charming little life lessons and fairytale-like stories that magically appeared with turn-down service. This being the Kandinsky Suite, an easel, paper and Faber Castell coloured pencils are cleverly positioned next to one of the windows. We're sure the walls would approve.
There's also the Carlton Penthouse, a 3-bedroom, 5-terrace and 360-degree-view option that's the hotel's most luxurious type of accommodation, although when we yearned for space, we happily retreated to the spa, which spans a total of 1,200 square-metres across three floors. Guests will find all they'd expect from a five-star spa, here: indoor and outdoor pools, a steam room, reading nooks, a private spa suite and a large no-clothing sauna offering jaw-dropping views – of the mountainous landscape behind a large glass facade, that is (what were you thinking?).
Frustratingly, when we arrived for a much-needed apres-ski massage, we were told it hadn't been booked in. This happened not once, but twice, which only added to our tension, despite the ever-polite staff trying their best to squeeze us in. When we finally did have our treatment, it was both soothing as well as near-ceremonial, soundtracked to what sounded like a waltzer on Valium. Not only did this musical accompaniment underpin our Alpine whereabouts in a way we hadn't expected, but it was also blissfully relaxing. Who would've thought?
There's more to discover at the Carlton Hotel St Moritz, of course, but you'll be glad we didn't give everything away when you visit. For a hotel built all the way in 1913, this special place in a very privileged location certainly cuts a fine figure. A little facelift is sure to come along soon (the season here only runs from mid-December until late March/early April, leaving plenty of time for small upgrades). When it does, the property will be even better placed to help guests 'move mountains'. You just bring your love of adventure. They'll take care of the rest.
Steffen's flights from London Heathrow to Zurich with SWISS, and onwards travel by train between Zurich and St Moritz were courtesy of Switzerland Tourism. For more information on Switzerland visit www.myswitzerland.com or email [email protected]. For packages, trains and air tickets, email [email protected].
Photography courtesy of the Tschuggen Hotel Group