As they say in luxury hoteling – location, location, location. We found that the magnificent Kurhaus epitomises this luxury hotel and spa philosophy. Set in 10 beautiful hectares, just 12km from Lugano and an hour and half from Milan and at 850m high in 'sunny' Ticino (because of the area's microclimate the alpine village Cademario in the "Malcantone", is one of the sunniest areas of the country).

The property has been here for over a hundred years. Back in the beginning of the 20th century when its founder, Dr. Keller-Hoerschelmann opened his Swiss 'natural healing facility' in its magical home at 850m above Lugano. It aimed to bring together the doctor's lifetime of work and experience – hydrotherapy, Zabludowkski massage, natural medicine, vegetarianism and for nearly 90 years, the facility stayed in the Keller family operated as one of the world's most talked about resorts of its kind.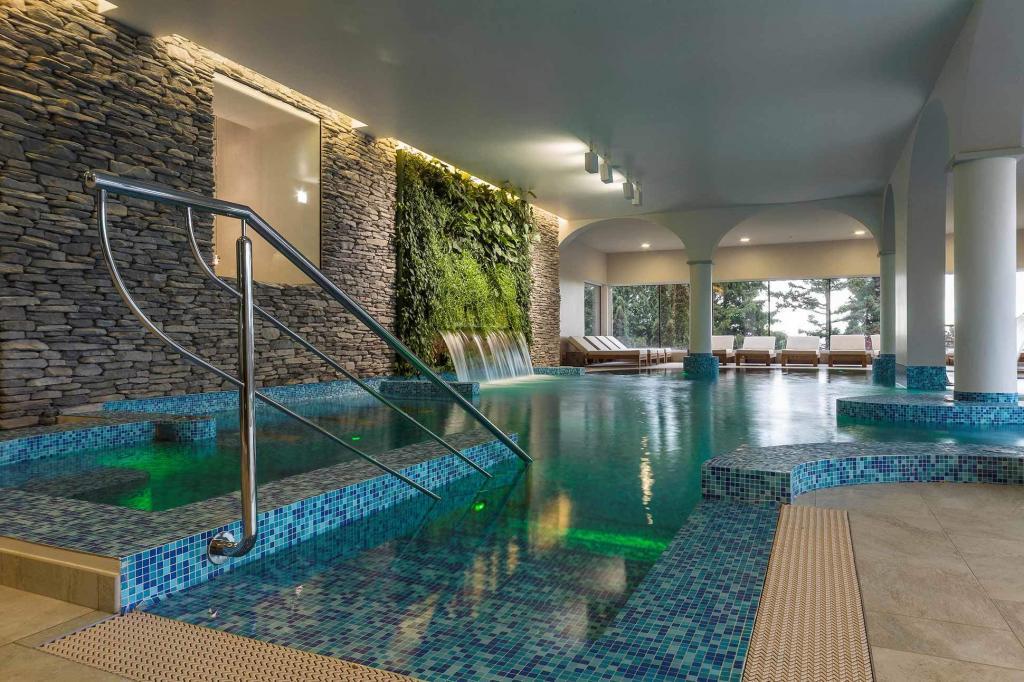 Over 7 years, from 2006-2013, the hotel lovingly underwent its re-imagination to what it has become today now offering guests every comfort of a world-class resort and spa; as well as a medical and therapy team to give preventative medical advice based on the individual's needs
after recreation. What we liked is that there is no finger-wagging; and the resort is welcome to all – we even found meat and alcohol is now served (phew!), but with emphasis on healthy eating and allergen-free cooking.
What's nice is that the property remains focussed on its long-heritage in holistic wellness, but brings the trimmings of a modern retreat. We enjoyed the DOT.Spa (the driving force behind the hotel's concept) featuring design mirroring the five geomantic elements and an indoor-plus-outdoor pool that allowed us to enjoy the stunning view of Lake Lugano and the neighbouring mountains.
But whether you're going to indulge in wellness, or just to get away from it all; like us you're sure to enjoy your time here – from witnessing Ticino's spectacular sunset from your balcony, to dining at La Cucina.
*This article is in partnership with Kurhaus Cademario.
Photography courtesy of Kurhaus Cademario