Arrive at the gated doors of Elsker and be prepared to forget every responsibility that followed behind you. This family home turned countryside retreat, seductively poised on the Cotswolds hills, is the perfect tonic for busy lives, with a splash of character in the unlikeliest of places.
Tucked away from prying eyes, this eight-bedroom property's main entrance is so unassuming we might have missed it if it weren't for the enthusiastic 'here we are' declared by our driver. A few moments later and we were at its doorstep, completely unaware of the treasure trove awaiting us inside.
This luxury, self-catering cottage is part of Hillside Hangouts' growing collection of boutique holiday homes on the Farncombe Estate; an idyllic 400-acre expanse of land sprawled high above the village of Broadway. For experientialist travellers wanting to taste the charm of the Cotswolds – a destination favoured by the likes of Kate Moss and the Beckhams – an integrated countryside experience at Hillside Hangouts is a first choice for many.
Elsker, which means 'love' in Danish, has a remarkable TARDIS-like quality, defying expectations with its surprisingly expansive interior. A lengthy hallway accented by a stone wall connects each room of the cottage, including a state-of-the-art kitchen and dining space, a spacious lounge, and eight uniquely styled bedrooms with their own individual names. The interior design throughout showcases a harmonious fusion of Scandinavian simplicity and contemporary charm, featuring comfortable furnishings, antiques from far-flung corners of the globe, and an abundance of natural light that permeates every corner. Soft lines, neutral tones, and transitional decor, accentuated by soft textiles and natural wood furnishings give a grounded feeling to the place that invites you to sink in and feel at home.
All of the bedrooms in Elsker, with the exception of the children's room (adorably named 'Owlets'), are complete with their own stylish en-suite bathrooms – most featuring a freestanding bathtub and separate shower. We found that each suite in the property exudes its own personality, although the ground floor bedroom named 'Greengage' was undoubtedly the star of the show. This unofficial master bedroom boasts large bay windows with spectacular panoramic views of the Cotswolds and a glistening disco ball above a king-sized bed.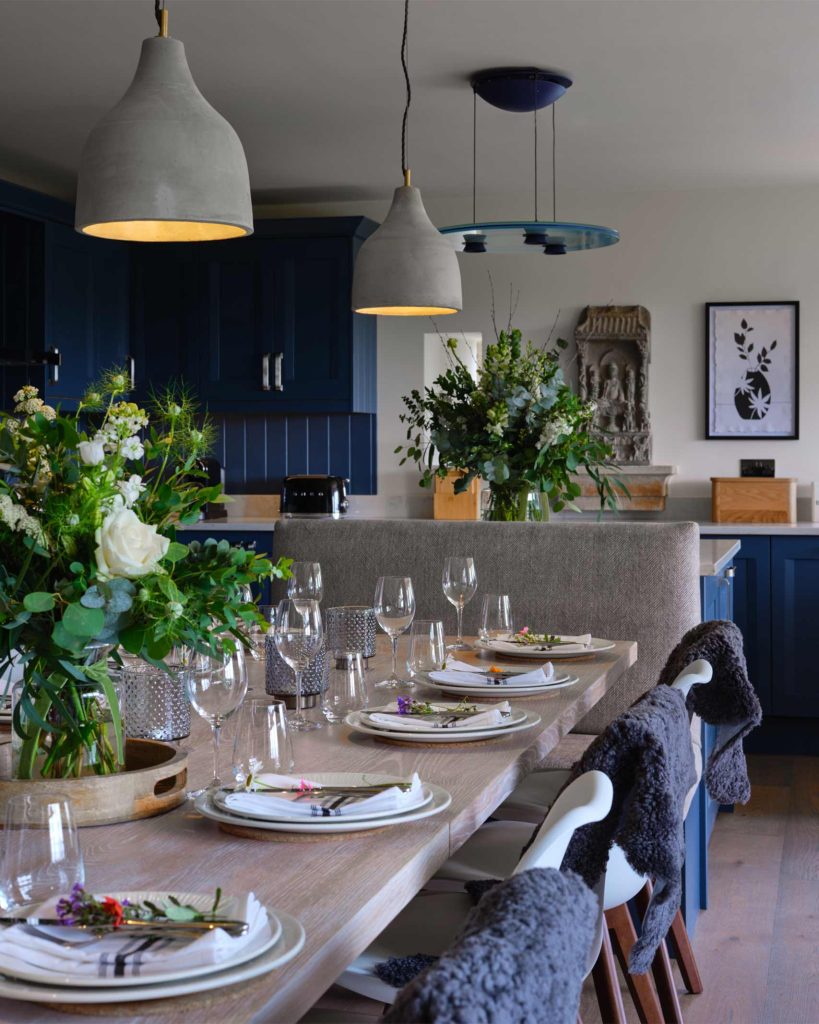 | | | |
| --- | --- | --- |
| Perfect for | Fly into | Right on time |
| The Hedonist | BHX | GMT |
While you're Out There
For those wanting to spice up their stay at Elsker with an adrenaline rush, try your hand at axe throwing or clay pigeon shooting with Farncombe Adventures, or buckle up for a thrilling spin on a hovercraft, guided by the Farncombe Estate's Head of Adventure (or 'Captain Adventure' as we liked to call him). Believe us, it's a lot harder than it looks.
'Why the disco ball?', you may be thinking. Well, it explains the tempting (somewhat menacing) big red button just above the bedside table. We were hesitant to push it at first, not knowing what would happen. Would we unknowingly call the emergency services, set off a boobytrap, or launch a ballistic missile? Not quite. The button initiates disco lights and a hidden sound system with a playlist packed full of campy party anthems.
After channelling our inner Weather Girls to the infectious melody of It's raining men, we were eager for some nostalgic fun. The games room beckoned us with its retro arcade machine, tempting us to challenge each other to a few rounds of Space Invaders before we took a dip in the heated pool and jacuzzi with a glass of Pinot in hand. As luck would have it, the property's 'Drink Den' decided to play hard to get when we showed up, leaving us to wonder if its lock had caught wind of our legendary wine-tasting skills. Although, with an afternoon of hoverboarding planned, it was probably for the best. 
Continuing the theme of guilt-free hedonism, we slipped into our finest attire and proceeded to Dormy House, one of the three prestigious sister hotels on the Farncombe Estate, for an 8-course tasting-menu experience at MO restaurant. At an intersection between fine dining and theatre, we watched as the two talented chefs conjured up dish after dish of pure gastronomic artistry. With each creation, they unveiled the painstaking processes behind the scenes, speaking of tempering, freeze-drying, sous-vide, fermenting, and things we couldn't wrap our heads around. The results were well worth it, and there were definitely a few standout dishes, namely the ridiculously refreshing cucumber sorbet and gin foam (or 'air' as some call it) palate cleanser.
Elsker presents itself as an excellent choice for discerning individuals seeking an unforgettable countryside stay in England. This comfortable holiday home gracefully walks a tightrope between a family retreat and an exuberant party pad, showcasing its adaptability to a variety of occasions. While it may benefit from leaning into a more defined identity in either direction, we rather enjoyed its versatility. Its ability to seamlessly transition from a tranquil sanctuary to a lively gathering space offers a unique charm that ensures every guest can tailor their experience to their individual preferences.
Photography courtesy of Hillside Hangouts and the Farncombe Estate