For museum-lovers
Chicago is no stranger to world-class museums and cultural institutions – The Museum of Science and Industry, The Field Museum and, of course, The Art Institute of Chicago are fantastic ways to spend a day, but there are also many smaller museums that are worth a visit. As publishers, we particularly enjoyed the American Writers Museum on Michigan Avenue. It celebrates the works of authors from Dr Seuss to Jack Kerouac. The DuSable Museum of African American History has a large collection of thought- and emotion-provoking African-American art and historic memorabilia. We also loved the Museum of Broadcast Communications, a temple to radio and TV. Further north of Chicago in Evanston, the Halim Time and Glass Museum took us by surprise – we weren't expecting to be as interested as we were in clocks and stained glass.
Garden of solitude
Winding paths, escapist nooks, lush flora, reflective waterfalls and koi-filled ponds – Anderson Japanese Gardens in Rockford presents a study in contrasts. It's the perfect getaway for losing yourself in (perhaps after some hedonistic times in the city), but it also hosts some great musical events. The versatile, 12-acre formal Japanese gardens – designed by master landscape architect Hoichi Kurisu – is just minutes from downtown Rockford, so whether you're interested in yoga, a guided tour, its almost daily classes or just to up your Instagram cred, it's one for the Illinois bucket list. If you're into gardens, there are a number of others worth visiting. Check out the Washington Park Botanical Garden in Springfield, the Quad City Botanical Center in Rock Island, the Chicago Botanic Garden in Glencoe and the Morton Arboretum in Lisle.
Taste the open road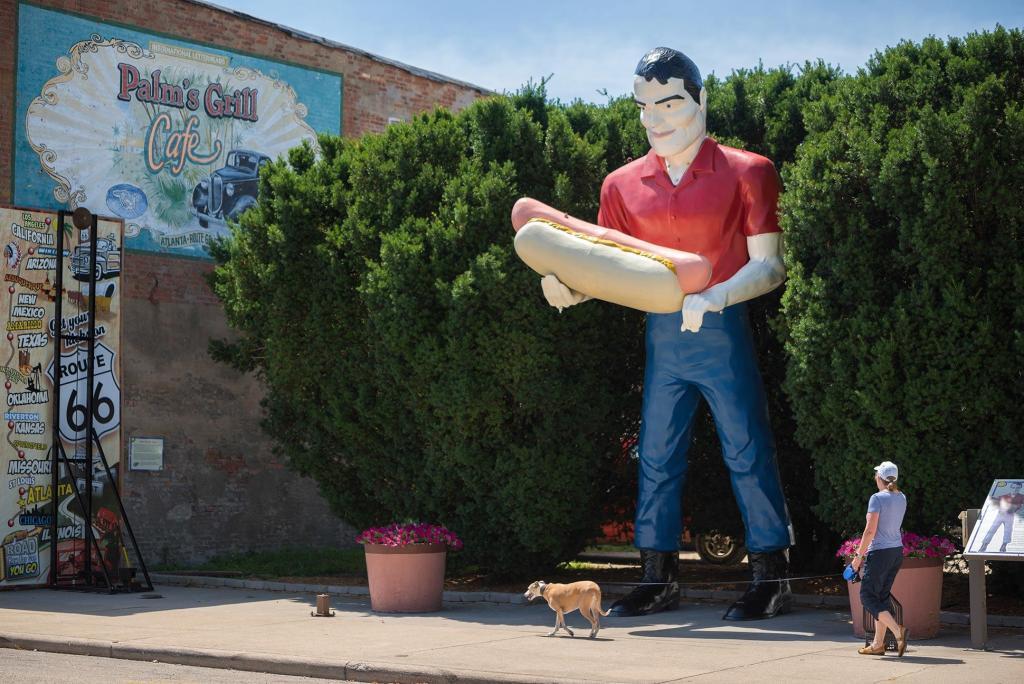 The most seasoned of roadtrippers will tell you that Route 66's diners, drive-ins and dives are a big draw. Feel-good food is the must-eat here and the Mother Road has plenty of it. In Chicago, Gino's East Pizza offers what is arguably the best deep-dish experience in the city. The forever-open White Palace Grill is a South Loop institution, an old-school diner famed for its Greek Chicken. Poultry fans should make a pilgrimage to Willowbrook for fried chicken and baked mac 'n' cheese at Dell Rhea's Chicken Basket. In Springfield, Charlie Parker's Diner is known for its belly-busting portions and horseshoe sandwiches, although if you have room for more, stop at Cozy Dog's Drive-In too. They won't be as big as muffler man Paul Bunyon's hotdogs in Atlanta, Illinois, but if you're heading there, make sure you try the mouthwatering pies at Palms Grill Cafe.
The truth against the world
Architectural genius Frank Lloyd Wright is famed for designing structures that were boundary pushing and ahead of their time. Just 10 miles west of downtown Chicago, we found the beautiful Oak Park, where he lived, loved and fine-tuned his work. It's no wonder that there is a large collection of his iconic buildings here – we'd go so far as to say that this small suburb is a veritable gallery of his masterpieces – he treated the neighbourhood like his personal canvas. From the Frank W Thomas home, to Hills-DeCaro house, from the Moore-Dugal residence, to Arthur Heurtley house, from his own home and studio (now a museum where you'll learn all about the quote "the truth against the world"), to the incredible Unity Temple (often regarded as his greatest public work), Wright certainly made his mark on the area.