Edinburgh is a stately city and not short of fabled places to stay, usually found behind the gorgeous Gothic and Georgian facades that grace its streets. But for something a little different, yet no less storied, we looked to Leith, the city's gentrified port district and heart of its creative community, to try out Fingal, a floating hotel.
A pleasing 45-minute walk or 10-minute taxi ride away from the city centre is Leith, an ex-portside neighbourhood that has gentrified somewhat into a creative district where 'Dunediners' (Edinburgh locals) now clamber to live, or jostle for restaurant reservations.
Moored here among the ships, old gantry cranes and cobbled dockyard – not to mention the juxtaposed, modern waterside apartment buildings and glitzy eateries and drinking dens – is Fingal, the former Northern Lighthouse supply ship, reimagined into a 23-cabin, contemporary floating hotel (hello, sailor!).
While staying true to its maritime storytelling, most of the remnants of the old working ship, once a lifeline for Scotland's remote lighthouse keepers, have been stripped out and replaced with high-spec, private yacht-like fittings. Some parts of the ship's original structure have been embellished (and polished) to add to the drama: cabins come with porthole windows for example, and the open decks invoke a sense of high-sea, luxury-liner style romance.
The interiors are first class, with plenty of brass and leather and thick carpets throughout. In our classic cabin, we found a high, cloud-like bed draped with Araminta Campbell tartan; and a TARDIS-like luxury bathroom. Admittedly, our cabin was rather small as compared to other land-lubber hotels in the area, so we'd suggest that OutThere travellers opt for one of the duplex cabins or the Skerryvore Suite – once the quarters of the HRH Princess Royal who was the patron of the Northern Lighthouse Board. In any case, it's all rather 'posh', but as for port out, starboard home? We'd suggest opting for a starboard cabin (or dinner table), for something nicer to look at out of your porthole.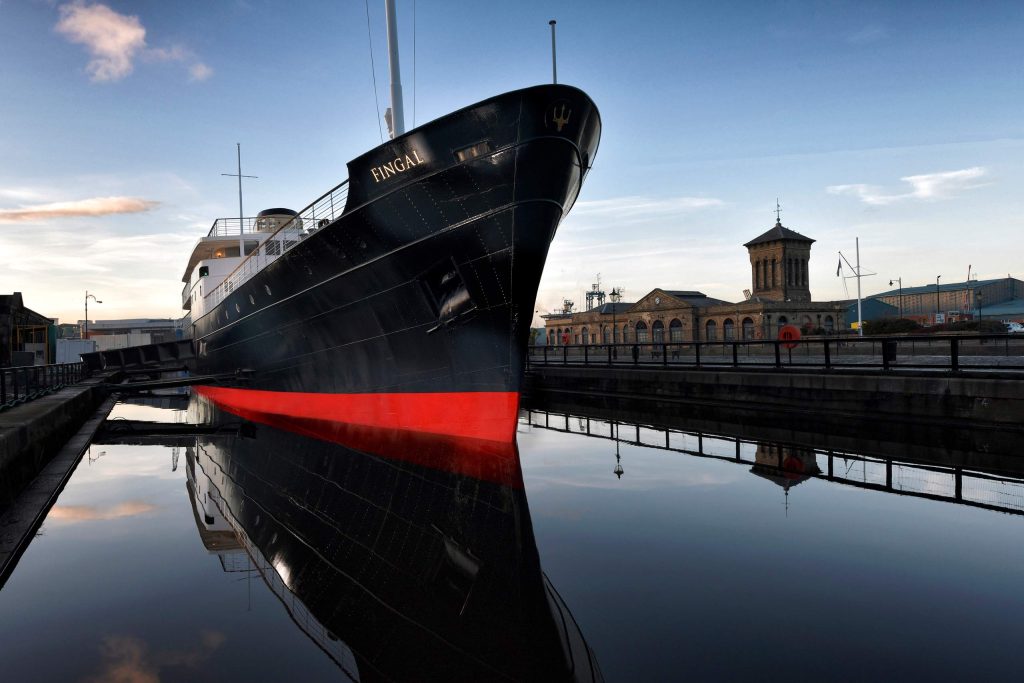 | | | |
| --- | --- | --- |
| Perfect for | Fly into | Right on time |
| The Insider | EDI | GMT +1 |
While you're Out There
The Fingal team are well versed in helping you take land-leave and get out to explore. Their sister ship, the HMS Royal Yacht Britannia, now a museum, is just a short stroll away and tickets are available to guests, to get you in first and ahead of the crowds.
Dinner at the Lighthouse Bar and Restaurant was an atmospheric affair. It's the perfect place to sup afternoon tea or watch the summer sunset whilst enjoying thirst-quenching cocktails and delicious food among locals and guests alike. We knew our meal here was going to be great – to be fair, it had to be to compete, considering Leith is home to some amazing places to eat, including two Michelin-starred restaurants.
Fingal Hotel oozes novelty factor, perfect for a long weekend city break – especially if romance is on the cards. But if you're staying for longer, or looking for a 'resort experience' to lock yourself away in, cabin fever may start to creep in, considering the ship's compact size. While memorable, it lacks the more luxurious facilities that you'll find in the city's five-star hotels.
Photography courtesy of Fingal