The reputation of the Gleneagles Hotel – the self-billed 'Glorious Playground' – precedes itself as the Scottish bastion of luxury and experiential pursuits, prime among them golf (almost everyone we talked to about it asked if we were going to play a round). But it is far more.
Before our visit, we were almost expecting the ghost of James Braid (arguably Scotland's most famous golfer and father to the Gleneagles course) himself to be lording it around post an all-night spectre-filled ceilidh; to the sound of bagpipes at dawn. And yes, the stereotypical Scottish pursuits are there if you want – well, except the ghosts, there are some things that even the best of the best of Scottish hospitality can't conjure up. It certainly oozes in 'sense of place,' but our trip to Gleneagles proved that there is far, far more to discover in this fabled country resort.
When it comes to pure, unadulterated luxury, the Gleneagles hotel plays heavily on experiential travel for all its guests, offering a stunning spectrum of country and holiday pursuits, from gentle croquet (and jugs of Pimms) on its immaculate lawns; to riding one of its complimentary Pashley bikes around its 850 acres; to country recreation such as claypigeon shooting, falconry and gun-dog training; to getting out into the 'real' Scottish wilds … the awe-inspiring and historic Glen Artney, part of the Drummond Estates that the hotel has a unique partnership with.
There is a unique level of refinement applied to everything at the Gleneagles Hotel, from the courteousness of the hand-selected staff (at the time of our visit, it seems that a noticeable number hail from a particular top-tier London establishment); to the rich and gorgeously curated interior design and arwork throughout; and the sense-tickling spa. A keen eye for detail is even found in its temptress of a shopping arcade and the sensational Scottish-accented cocktails in the fabled American Bar, stirred to perfection table-side.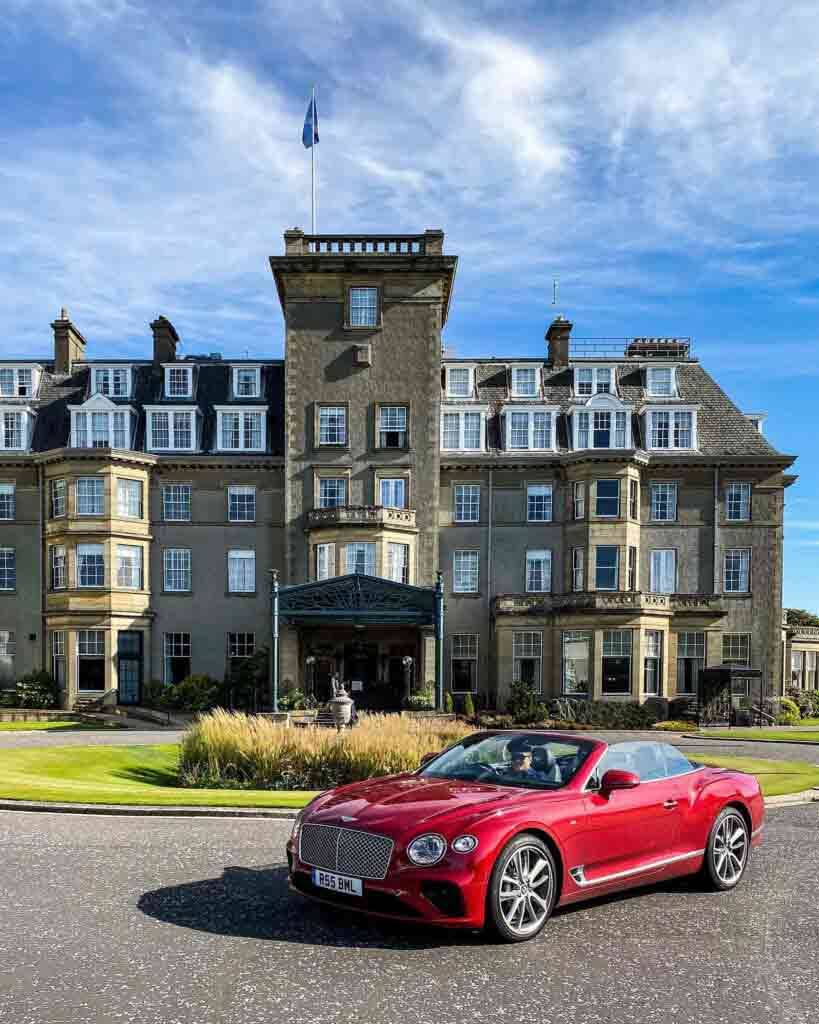 | | | |
| --- | --- | --- |
| Perfect for | Fly into | Right on time |
| The Sophisticate | EDI / GLA | GMT |
While you're Out There
Do head out to the Drummond Estate with the hotel's country sports manager, on a hike (and perhaps even a stalking or fishing excursion) to the awe-inspiring Glen Artney, part of the Drummond Estates where you'll see Scotland's infamous red deer or even bag a Munro. Before, during and after an impressive picnic lunch, we learnt about the 'real' Scotland, a half or whole day experience that is truly unforgettable.

Our suite in Braid House 'the new wing' was a masterpiece of inviting, contemporary design with subtle touches of Scotland and a unique, but tastefully delivered sense of place. Those who want something a little more traditional won't be let down though, in the main building, the rooms invoke a sense of old-world grandeur, without ever compromising on hospitality excellence. In any case, each provide private spaces for those looking to escape; on that note, we will advise that the hotel can get quite busy at times, so we recommend splurging on a specialist suite for privacy and a sanctuary to retreat to. Suite and ultra-VIP will also access some exclusive experiences at the general manager's discretion, but we've been sworn to secrecy on exactly what they are.
Were we to come up with a gripe – and it's only if we had to – it's that breakfast could have been more lovingly prepared. But otherwise, dining at Gleneagles is fantastic, from the theatrical Strathearn to the less formal Birnam Brasserie. Afternoon tea at Glendevon is a popular affair as well the Michelin-starred delicacies at Restaurant Andrew Fairlie … it's all rather 'braw', as they say in Scotland: not short of amazing.
Photography courtesy of The Gleneagles Hotel