Dramatic ambience, ethereal allure and Gothic charm just brim from this 'bewitching' place to stay in Edinburgh, Scotland. The aptly named The Witchery by the Castle transports visitors to a bygone era of mystery and romance that you'll be hard-pushed to find anywhere else in the Scottish capital.
With its nine deeply indulgent suites and sumptuous dining room, this extravagant ode to Gothic fantasy is easily Edinburgh's most whimsical and experiential property – set in an imposing 16th-century building – romantic, outrageous and camp, all at the same time. Its location on the Royal Mile and adjacent to the gates of Edinburgh Castle is nothing short of enviable.
The Witchery by the Castle takes its name from the very site at which people who were accused of being witches were burnt at the stake here at Castlehill during the sixteenth and seventeenth centuries. As such the place is steeped in history and surrounded by equally historic neighbours. Castlehill has always been the home of Scottish (and much of British) heritage: in fact, the Palace of Mary de Guise, mother of Mary Queen of Scots, once stood on the opposite side of the street, a site that has also been home to the Scottish Parliament.
The Witchery by the Castle's striking design, with opulent decor, ornate tapestries and flickering candlelight, immersed us in a sumptuously theatrical atmosphere. Each of its individual rooms and suites, individually themed, is like something straight out of a fairytale.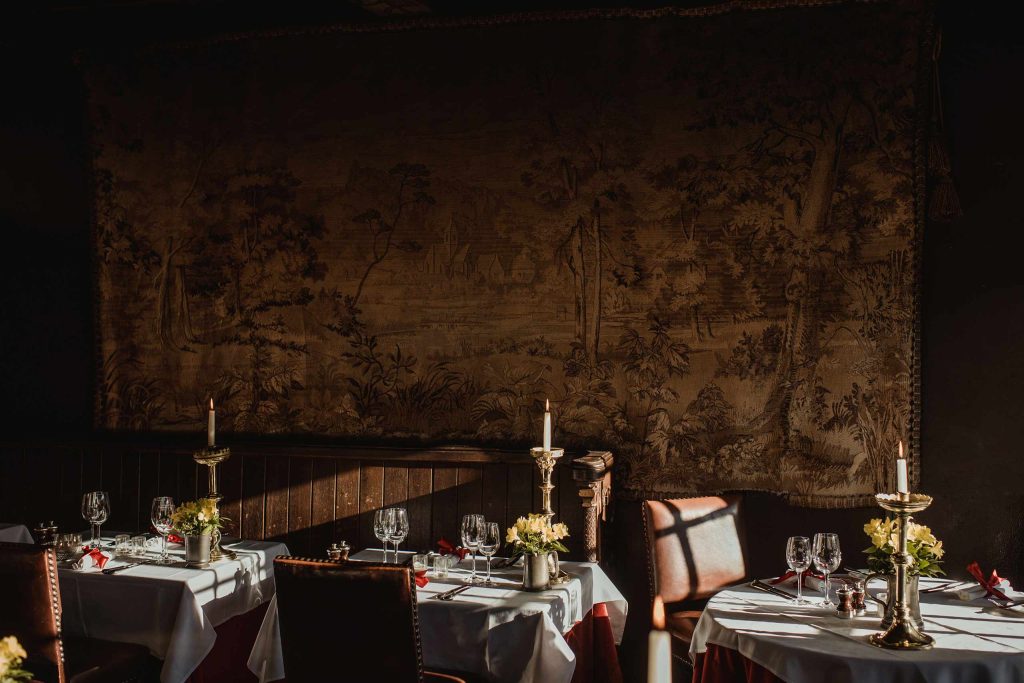 | | | |
| --- | --- | --- |
| Perfect for | Fly into | Right on time |
| The Culturalist | EDI | GMT +1 |
While you're Out There
Often in our reviews, we tell you that a hotel is 'right at the very heart' of the destination it's in. But in the case of The Witchery, this is truer than ever: its unrivalled situation in Edinburgh's Old Town is undeniably convenient for exploring the city's historic landmarks, including the iconic Edinburgh Castle and the Royal Mile, as well as for soaking in the city's ethereal atmosphere.
The property bills itself more as a 'restaurant with rooms', rather than a hotel (although we think that they're being modest). But to be fair to them, The Witchery by the Castle restaurant offers a decadent dining experience and culinary prowess. The traditional Scottish dishes, such as haggis and game, are prepared with finesse and flair.
If experiential hotels turn you on, then it's certainly advisable to book a stay with The Witchery at the Castle when you visit Edinburgh. Staying here is like unlocking a treasure box of history and hospitality, a bit like walking into a fantasy. It's immersive and enchanting, but as with many such whimsical concept hotels, we recommend no more than a couple of nights for a stay here, as even after our short sojourn, we eventually started to miss more modern amenities and stylings.
Photography courtesy of The Witchery by the Castle