With Kenya reopened to international tourism a long overdue trip to Nairobi's iconic Giraffe Manor is high up on our bucket lists. And it's a great time to visit, too: aside from the chance to support Kenya's safari industry post-pandemic, visitors will also be among the first to experience the hotel's brand-new and much-anticipated Retreat.
It's not every day that a Rothschild's giraffe pokes its head and neck (yes, all six feet of it!) through the window to clean the crumbs off your breakfast plate while you sip on an early morning cup of Earl Grey tea. That is unless you're a resident guest at Giraffe Manor, one of four Kenyan properties part of The Safari Collection. The hotel and its lush grounds on the edge of Nairobi, among Africa's most Instagrammed, have been a staple among eager safari-goers for years, though that's not to say the manor didn't have any surprises left up its experiential sleeve. Cue The Retreat.
A standalone building accessible exclusively to guests of Giraffe Manor or other Safari Collection properties, the just-opened Retreat was designed to offer a luxurious way to end or begin a vacation, giving guests to chance to unwind and acclimatise before it's off to the airport – or the Kenyan bush. Day passes run from 10am to 10pm, and there's plenty to keep you busy during your stay: think a fully-equipped gym and five-star spa facilities, Kenyan cuisine at Daisy's Café, a rooftop bar and – most notably – a 21m infinity pool popular with the hotel's giraffe herd (although, don't count on them taking a dip with you!).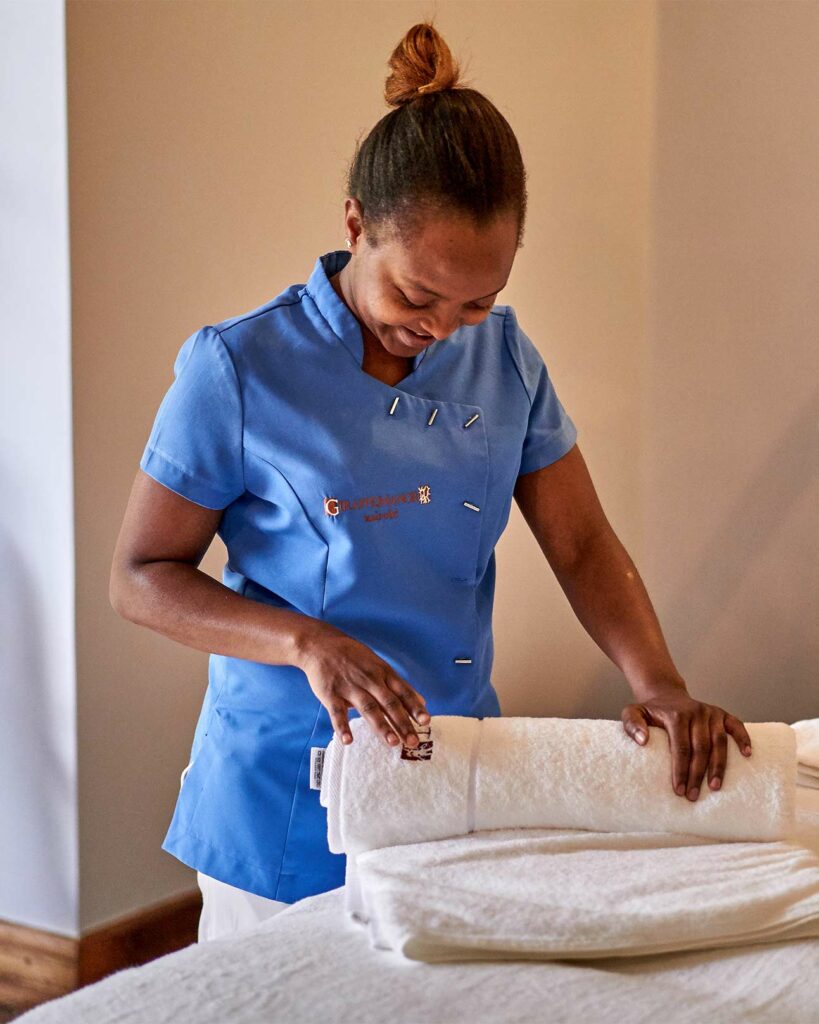 The first major expansion to Giraffe Manor, The Retreat was a passion project of Safari Collection founders Tanya and Mikey Carr-Hartley, whose mission was to create a site stylistically in harmony with the main house. But aside from its arched windows and open-plan spaces, we find The Retreat also complements the hotel ideologically: there's a sense of it being a little oasis away from the busy streets of the Kenyan capital, where guests can soak up the essence of this beautiful country through magical wildlife encounters.
Safaris, more than any other kind of vacation, typify a way of travel aimed at reconnecting with nature and making invaluable memories. If done right, they can be life-changing. Too often, however, we find safaris end in long waits at airport terminals (a whole lot less magical than the bush, if you ask us) or arduous, non-stop transfers. The opportunity to ease out of – or into – a safari in an elegant, five-star environment hence comes as a much-welcomed addition to the classic Kenyan experience: one, that further cements The Safari Collection's reputation as an industry pioneer.
And right now is a perfect time to visit, too. Across Africa, there's been a drastic rise in poaching as tourist dollars disappeared as a result of the pandemic, and resorts and camps across the continent were forced to find new ways to combat the trend. The one benefit coming out of this is safaris having become even more immersive, shifting the focus from simply tracking down wildlife in the wilderness to learning about and actively contributing to local conservation efforts. A little birdie tells us this is no different at The Safari Collection – though when it comes to matters of immersion, the giraffes leaning over The Retreat's pool as you go for a mid-afternoon swim at Giraffe Manor probably speak for themselves.
Photography by Brian Siambi and courtesy of The Safari Collection
At OutThere, we believe in boundless travel. But we understand that some destinations can pose challenges to travellers that complicate visiting them. We advise all visitors to inform themselves about local legislation and customs, and to work with a trusted travel provider in order to ensure a safe and pleasant holiday.