While most travellers to Kenya will no doubt head straight to the iconic plains of the Masai Mara or similar game reserves, those looking to get under the skin of the Kenyan capital are in for a treat: Nairobi is a city with plenty of local flavour and tradition, but it's also modern and future-oriented. During a recent stay, we thought the same could be said about one of the finest five-star hotels in town, the luxurious, 2013-opened Hemingways Nairobi.
We can't imagine ever tiring of the classic safari experience and the magic of the African bush, though there comes a point after about a week and a half of game drives, when even the most adventurous of explorers wouldn't mind walking out onto a street to pick up a souvenir from a local shop or pop into a lively bar for a drink. From the comfort of Hemingways Nairobi, you can easily do both, as the property's location in the elegant Karen neighbourhood places you conveniently close to some of the main tourist draws. That's not to say that this part of town feels particularly busy. In fact, it's about as tranquil as things get locally, with high walls, embellished cast iron gates and lush gardens dominating one of the most affluent postcode areas in the country.
Arriving at the hotel feels appropriately grand, thanks to the manicured gardens surrounding it and the stately lobby welcoming guests, all set with an imperial staircase that lifts the gaze to a large light fixture hanging above and framed scenes of the savannah on both sides. Just beyond, the foyer opens up to a terrace overlooking Hemingways Nairobi's lush gardens that sit between the property's Blixen and Hemingway Wings, each further divided into smaller sections dedicated to famous explorers, writers and the Hollywood elite. Of the 45 accommodation options spread across two floors, ours was the 80 square-metre William Holden Suite, named after 1950s Hollywood actor turned wildlife conservationist and founder of the legendary Mount Kenya Safari Club, once East Africa's unrivalled hotspot for the international glitterati.
There was a framed portrait and a short biography of Holden on our suite, but they weren't the only objects to remind us of the history of this place: a four-poster bed, a steamer trunk, tripod floor lamps and an enormous picture of the Kenyan bush straddling most of a wall against which an elegant wooden desk had been set, added a sense of place that helped us soak up the spirit of safari for a few more days before our return to the UK. Although the suite also benefited from much-appreciated amenities that would set it apart from even the most high-end of safaris; think a small walk-in closet, a pop-up 40-inch LED TV, a personalised minibar and round-the-clock concierge and room service. In the evenings, we slipped into our generous tub set within a bathroom clad in hand-cut Italian marble, or took a seat on our private balcony, a glass of vino in hand and our eyes glued to a sun slowly disappearing behind the nearby Ngong Hills – 'pure bliss' is how we'd describe the scene.
The on-site restaurant at Hemingways Nairobi, The Brasserie, continues the cinematic Hollywood theme with its decor inspired by classic film posters from recent decades. We would've preferred seeing local artworks and adaptations, however, as the supersized Academy Award statue and somewhat ill-matched Out of Africa or Lion King prints depict the continent through the commercial, white lens of the West. For what it's worth, taking lunch in the shade of a parasol by the restaurant's outdoor fountain makes for a more special experience anyway, and if you've come for dinner, the sound of gently burbling water is further complemented by piano music.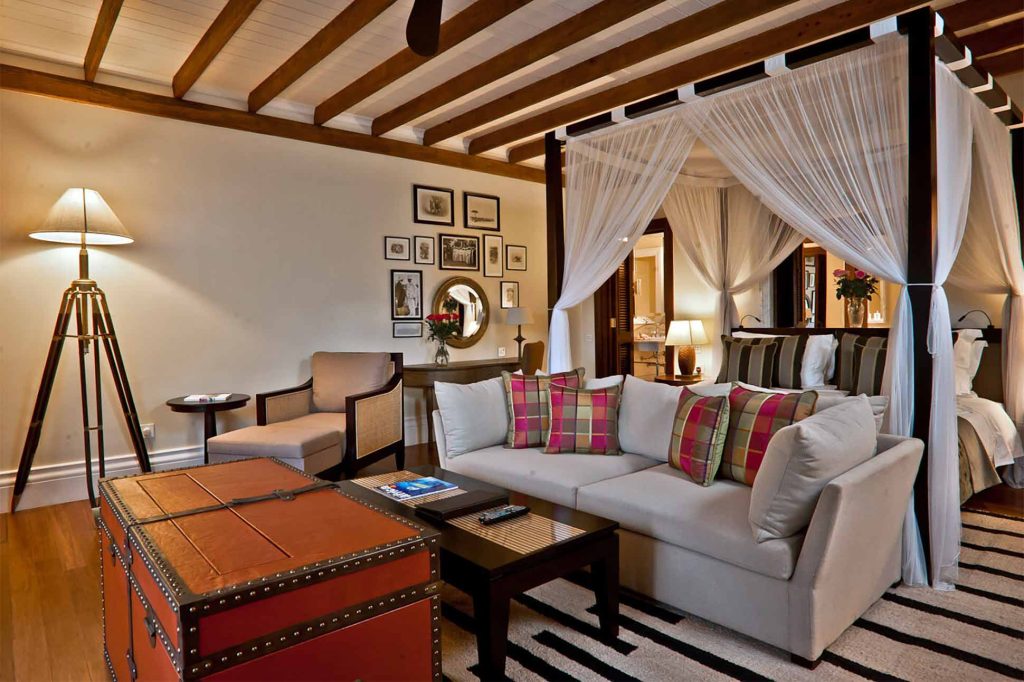 | | | |
| --- | --- | --- |
| Perfect for | Fly into | Right on time |
| The Sophisticate | NBO | GMT +3 |
While you're Out There
The nearby Karen Blixen Museum, once a farm owned by the renowned Danish author and her husband, is a must for fans of Blixen's most famous literary work, Out of Africa. But another place we'd recommend is also within walking distance from the hotel: the Kazuri Beads Factory, where following a brief tour of the facilities, you'll no doubt want to exit through the gift shop and pick up some beautiful, handmade jewellery that supports the local community by providing job opportunities for Nairobi's single mothers.
Every meal we had here was of the honest and simple kind: nothing is over-the-top exquisite or sophisticated, but all dishes are tasty, fresh and filling. Aiming no doubt to cater to a vast array of international tastes, The Brasserie's menu features burgers, salad bowls, Middle Eastern wraps, Indian curries and more. Us vegans felt well looked after, too, and to our delight, the management team was keen to hear more about how they can further diversify their menu to make it even more future-proof for dietary requirements and preferences. That alone made us want to hand them a trophy (though not another huge Academy Award).
For more intimate dinners, Hemingways Nairobi also features a glass-encased and more contemporary-looking wine cellar, fit for a group of up to 12, while the hotel's Hemingways Bar is the perfect spot for cocktails straight out of Cuba's La Bodeguita, which was, of course, loved by none other than Ernest Hemingway himself. Should you find yourself having enjoyed the bar a little too much, head for the spa where a steam room and a sauna are sure to sort you out. There are a number of treatments to choose from as well, all of which include African products and organic shrubs crafted by the hotel itself, although we swerved the therapy rooms (as well as the gym, conveniently) en route to the sauna and the outdoor pool during our stay. The pool area was flanked by sun loungers, but never felt busy, which suited us just fine: dosing off into sweet slumber with nothing but birdsong all around was as relaxing of an activity as there is to be had in this bustling city.
A stroll around the gardens at Hemingways Nairobi arguably makes for an equally peaceful afternoon. Shielded by the hotel's mint-coloured facades and a cornucopia of trees across the lawn, the gardens run down a small descent with pockets of flowerbeds and ponds offering spots to sit down, read a book or snap a few pictures of Kenya's local flora for family, friends and followers. If you were looking to get a picture of yourself, we have no doubt the hotel's friendly team would be delighted to assist. The service at Hemingways was consistently friendly and accommodating throughout our visit, with staff members offering to grab seconds for us at the breakfast buffet, or giving us a ride up from our suite to The Brasserie in the hotel's white golf buggies.
It'd be difficult to overstate the joy of having a nice place to ease out of an African safari experience for a few nights. Most travellers, including ourselves, feel a little tired after a week or so in the bush, and Hemingways Nairobi provides a comfortable and upscale environment to catch up on sleep or explore the cultural sights of the Kenyan capital. From the outside, you could almost mistake the heritage-style building for an outpost of a major international hospitality brand, though details reveal it's not quite glitzy enough for that. This didn't bother us at all, though, as the hotel's warm interiors, lush grounds and excellent service standards were all we could've wished for. And in any case, the property certainly has more soul than a big corporate – something Hemingway himself would've greatly appreciated.
Luxury travel company Abercrombie & Kent can organise tailor-made trips across Kenya with personalised VIP service and stays at Hemingways Nairobi.
Photography courtesy of Hemingways Collection