The comforts of a safari lodge compared to those of a camp might be obvious. But so are the usual drawbacks: thicker walls mean less exposure to the sights and sounds of the savannah, and depending on what type of traveller you are, that might sound like a bad thing to your ears – or not. At Sanctuary Olonana, a stylish lodge in Kenya's legendary Masai Mara, walls have been replaced by glass facades, giving safari-goers an experience of comfort without compromise.
Arrive at Sanctuary Olonana after an evening game drive and you'll be greeted by a thousand fireflies buzzing around the forested path leading down to the main lodge. Every step along the trail means getting a little closer to that much-desired, hot bath and a freshly-prepared dinner alongside a glass or two of your favourite wine. But contrary to what this near-hotel-like experience might suggest at first glance, you'll hardly feel like you've been taken out of the extraordinary, wild environment of the Masai Mara. In fact, staying here, we got the sense that the lodge acts like an extension to the bush; if a decidedly more polished one.
The main reception area is a great example of this. With high ceilings, clean lines and eye-popping accents in the shape of bright, orange sofas and matt black light fixtures, the space would not look out of place in a Swedish boutique hotel. But full-length windows and a grand, open entrance reveal an unmistakably East African landscape on all sides. Step onto the outdoor deck for the very best views of the muddy Mara River, arguably the focal point in this ancient landscape, and a real advantage of staying at Sanctuary Olonana: the thing with this corner of the Masai Mara is that it's far from undiscovered, and you'll no doubt notice neighbouring camps en route to the lodge – but few offer an experience so close to the water.
With the river comes wildlife, of course, and hippos, among Kenya's most elusive game, live on the banks just across the lodge. They might be the most dangerous animals to humans in all of Africa, but somehow, we grew to really adore the big-bodied and tiny-eared herd that woke us up each morning (not by knocking on our door with a freshly brewed cup of coffee, mind you, but by grunting, squeaking and croaking like there's no tomorrow from around 4:30 am onwards). This natural alarm clock was really quite fitting seeing the destination we were in, and it had a way of reminding us each morning of what we'd travelled to the Kenyan bush for: authentic wildlife encounters.
But aside from the most memorable wake-up calls we've had in a while, our sprawling villa featured a number of equally welcome luxury amenities. A king-sized bed, two separate working areas and a coffee and tea station with a fully stocked minibar added plenty of convenience points to our accommodation. Though what really sold us were the many nooks that encouraged us to actually use the space to relax, read and make plans for the remainder of our stay. In the evenings, we'd often flip through illustrated books in the eye-catching, lower lounge area at the foot of our bed. Surrounded by high glass walls on all sides, the lounge offered uninterrupted views of the Mara River as well as our outside deck, itself equipped with a daybed large enough to be shared with a hippo (not that they can come up here).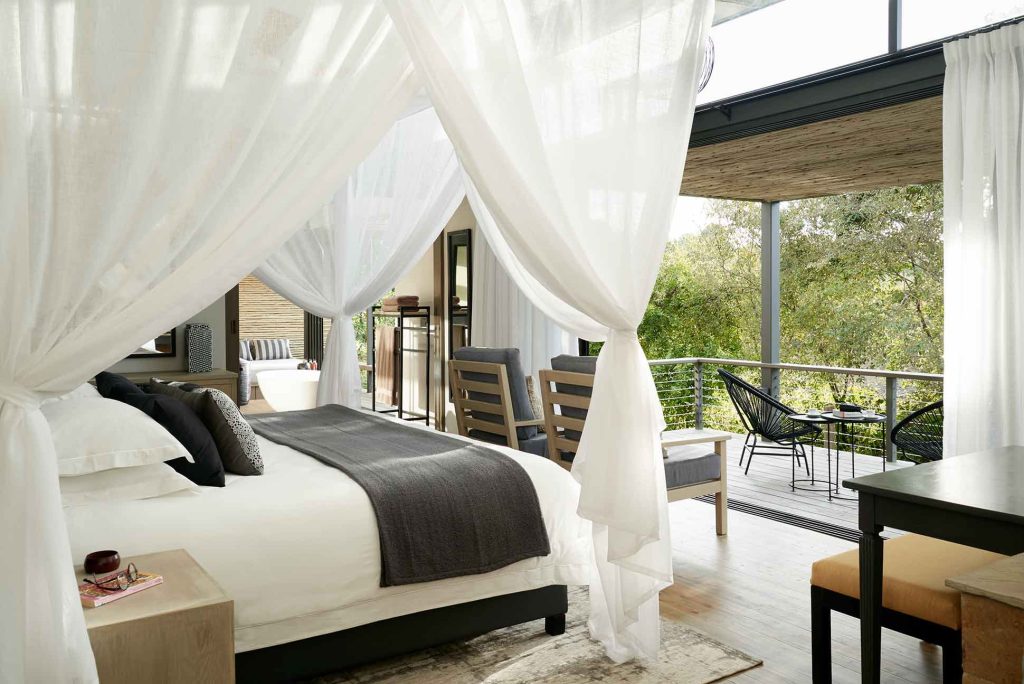 | | | |
| --- | --- | --- |
| Perfect for | Fly into | Right on time |
| The Adventurer | NBO, then connect to Kichwa Tembo Airstrip | GMT +3 |
While you're Out There
Speak to your driver about arranging a visit or two to a local village or Enkereri school. The Masai are welcoming people who continue to live lives that are very simple, yet have strong cultural expressions: from dances to traditional clothing embellished with beads, lively patterns and amazingly opulent jewellery.
Our bathroom, meanwhile, was equally impressive and featured a show-stopping rain shower as well as a large, freestanding bathtub across its slate and marble-accented surfaces. The entire space felt light-flooded, open and yet perfectly safe, which is a bonus should you be travelling with children, who can at times feel unnerved by the sounds of the bush (and who might not feel perfectly comfortable in a more rustic camp). We thought this sense of calm had a lot to do with the spaciousness of our villa. There are only 14 guest accommodations at Sanctuary Olonana, with the smallest starting at a whopping 141 square-metres, and the largest and most recent addition to the lodge being the Geoffrey Kent Suite; a spectacular bush retreat with its very own infinity pool and private dining experiences, ideal for families on a milestone journey.
When the time came to go on game drives, our friendly guide Peter wasted no opportunity to show us the most scenic corners of this part of the Mara, pointing out grazing elephants or lions on the prowl on hilly plains in the distance. Remarkable eyesight aside, Peter also never tired of our endless questions, providing valuable insight into the dynamics of this precious, natural habitat, and the creatures that inhabit it. Guests at Sanctuary Olonana can also book special experiences, from village visits to bush dinners and balloon flights offering breathtaking views of the Oloololo escarpment.
We chose to visit Enkereri School, attended by some 300 local children who stay in on-site dormitories. One of the buildings here, remarkably, had been sponsored by Sanctuary Retreats and guests staying at the nearby Olonana lodge continue to support the school through donations. Getting a glimpse into the lives of local children hugely enriched our stay here, not only because it was wonderful to learn about a good cause that is effectively saving lives (the previous school attended by the nearby villages' children required them to walk some seven km through elephant territory), but also because the kids were a joy to meet: eager to tell us about their lives and learn about ours, and more eager still to take selfies with us.
You could also choose to spend a day relaxing at the lodge. There's a mini-spa here, as well as a small library and a pool for water babies – it's not exactly Olympic-sized but certainly does the trick if you're looking to cool down on a hot day. When we weren't out on a drive, we spent most of our time refuelling on Tuscan bean stews and vegetable stir-fries while looking out over the Mara from Sanctuary Olonana's main deck. While the food was tasty, we found it less imaginative than what we'd had at the Tambarare camp, and some plant-based options were downright disappointing: remove the mozzarella from a Caprese and you're left with a sliced tomato, which isn't a starter in our book, but a garnish, if anything.
Disregarding a culinary mishap or two, our stay at this contemporarily-designed and hidden-away lodge was no doubt enjoyable. What sets the Olonana apart from the Masai Mara's many other accommodation options is its riverside location paired with a layout and design that let the outside in (well, not all that's outside) while indulging guests in the comforts of a luxury hotel. It's a mix of qualities that's music to our ears – sweet, hippo grunt music.
Luxury travel company Abercrombie & Kent can organise tailor-made trips across Kenya with personalised VIP service and stays at Sanctuary Olonana.
Photography courtesy of Sanctuary Retreats