Just about every species of animal you could possibly dream to spot under the East African sun lives within easy game drive distance of Sala's Camp: contrary to some local competitors, this luxurious place to stay is located in one of the quietest corners of the southern Masai Mara. Here, immersion in this most ancient and biodiverse of habitats, runs just a little deeper than it does elsewhere – and yet, what we enjoyed most about our stay at Sala's Camp was an encounter of an altogether different nature.
There's an adorable family of mongooses that have made the grounds around the driveway leading down to Sala's Camp their permanent home. They live in burrows, of course, but each and every time we left the property on a safari vehicle, a few of them came out to run along the path or stand in the grass in that rather hilarious way only mongooses can stand. If, like ourselves, you count yourself among these curious little mammals' fans, you'll delight in seeing a welcome committee of them upon returning to the camp after a game drive through the Kenyan bush. And if for whatever reason, you're not a fan, remember these cute-looking but arguably ferocious animals keep the snakes out… Now there's something to be grateful for!
It's far from the only 'feature' we appreciated at Sala's Camp, which forms part of The Safari Collection, perhaps best known for Nairobi's iconic Giraffe Manor (and the adjacent Retreat). With a previous life as a mobile unit, Sala's opened as a permanent place to stay in 2006, but great efforts were made not to lose that 'in the bush' feeling. There are only seven tents here, including family and honeymoon options, and all feature glass fronts offering glorious views of the surrounding countryside and the creatures traversing it: did we insist on a place where we'd see elephants and giraffes on the other side of the adjoining Sand River, as we stepped out of our shower? Well, no. But did we love it nonetheless? You bet.
All accommodation was refurbished and modernised in 2017, and our spacious double tent won us over with a generous bathtub, a walk-in rain shower, an inviting lounge and work area and, most importantly, hot water bottles placed in our bed at turndown time to keep us warm at night. The decor is what you'd expect from a traditional safari experience: animal print cushions, African wall art and lanterns accentuate a space filled with authentic campaign furniture, trunks and intricate, wooden room dividers. You almost feel as though a late 19th-century explorer could walk around a corner at any moment, though the small plunge pool on our wooden deck and a stylish sitting area lowered into the ground next to the Sand River arguably shattered the illusion for us – not that we complained.
The traditional decor continues in the main tent at Sala's Camp, where a glass vitrine holds a variety of ancient tools found in the area. If you take an interest in these, the camp managers will gladly talk you through the fascinating artefacts, which continue to be found in the Masai Mara and the Serengeti in neighbouring Tanzania, just 2km away. We thoroughly enjoyed learning about the museum-worthy tools and found they added an immersive quality – a nod to the legacy of the land we stood on – that's far from the default at similar camps, where, regrettably, local flavour is sometimes discarded in favour of shiny, new things.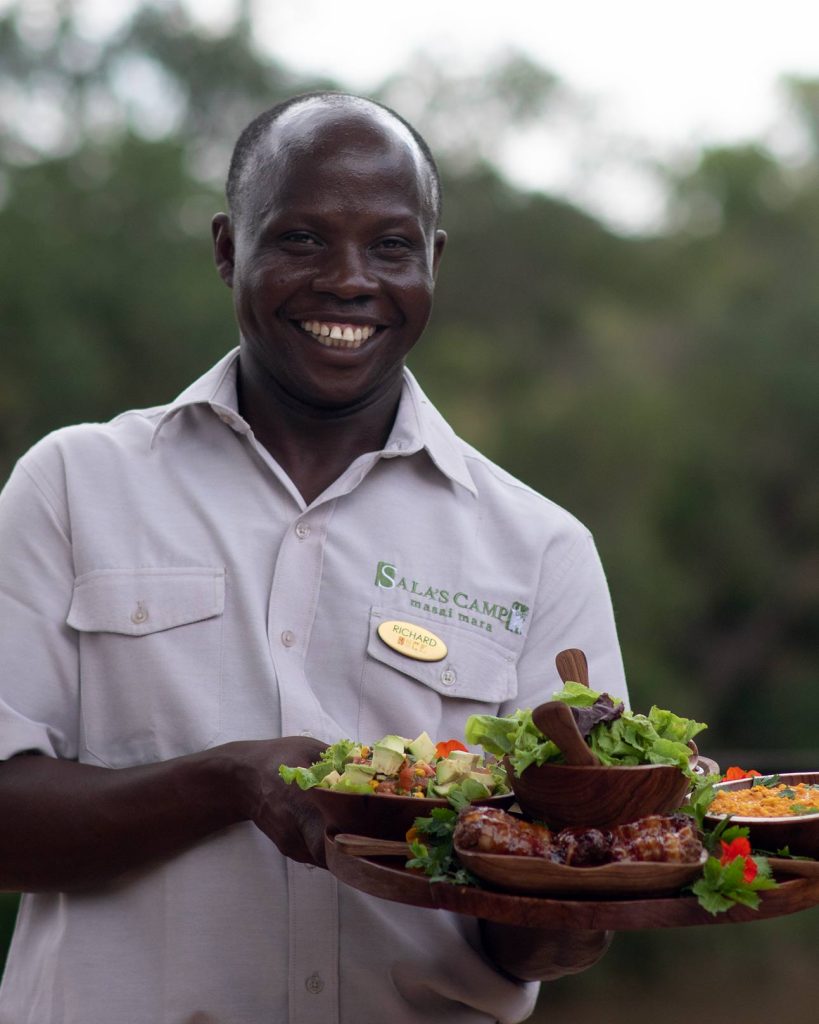 | | | |
| --- | --- | --- |
| Perfect for | Fly into | Right on time |
| The Adventurer | NBO, then connect to Keekorok Airstrip | GMT +3 |
While you're Out There
Make sure to have your guide and spotter arrange a bush breakfast experience – nothing quite beats the thrill of having beans on toast in the savannah, when you have no idea about what might be lurking in the bushes (although, of course, the team does go and check first, so you're perfectly safe!). We also insist you ask to meet the wonderful 'Eleanor'. Whatever you think that means, we guarantee you you're wrong. But you won't be disappointed!
In general, we found that Sala's Camp does an excellent job at providing a sense of place and pride; whether that's through dinner on the (occasionally) dry riverbank or the inclusion of local Masai tribespeople in its staff. Clad in their beautiful red and blue 'Shuka' blankets, the ever-friendly team even put on a traditional dance for a guest celebrating their birthday one night. These types of performances can go horribly wrong, of course, and not rarely do they feel forced. But what we saw at Sala's was an outburst of joy filled with laughter and applause by everyone… the team included.
Out on game drives, meanwhile, our guide Samson and spotter Harrison kept us entertained without overburdening us with information. It's crucial to strike a balance that suits a guest's individual needs here, for nothing would be worse than missing out on the magic of the savanna in those moments of perfect peace and calm when no words are needed. We relished those moments and were generally able to make the most of our time in the bush not least thanks to the provision of wildlife literature, sunscreen, mosquito spray and other nice-to-haves in the well-equipped safari vehicle. Sala's Camp is among the first camps in the Mara to witness the annual Great Migration, though if you're here towards the end of this incredible spectacle, you'll find the plains dotted with rotting wildebeest skulls – it's advisable to choose your time of visit in accordance with personal preferences.
In any case, something substantially more appetising awaits back at the camp (and past the mongoose 'snake gate'), where healthy but hearty fare is served with natural wines and fresh juices. As certain ingredients can be difficult to source in such remote locations, those with dietary requirements or preferences never know what they're in for. And although we were looking forward to each wildlife encounter while out here, there are a few places we generally don't like to see animals: beneath our bed, in our shower, or on our plates. Luckily, Sala's Camp catered to our plant-based diet with imaginative and ever-changing meals, meaning we never tired of what was on offer: even some major landmark hotels can take note here, not to mention other camps. Just the soupy iced oat lattes don't quite compare to what you might be used to, but hey, this isn't LA.
What made the camp's gastronomic offering particularly enjoyable, and arguably set it apart from similar places to stay, was its stance on gathering guests around an impressive, long table each night for a communal dinner. You can opt of this, of course, but we really hope you don't: during our meals with fellow safari-goers, we exchanged funny anecdotes and stories of the day's sightings with new-found friends from all around the world. What's often forgotten is that safaris aren't merely about the game you see, but about the people you share the experience with. To be out there in a remote corner of the East African bush, with a group of similarly-minded visitors, drinking wine under a star-strewn sky and surrounded by some of the world's most magnificent wildlife, is truly magical. When we left, it felt a bit as though we were saying goodbye to family.
Photography courtesy of The Safari Collection and by Steffen Michels