You know you're in for a great stay if you're sold on a property even before you arrive: such was the case for us when we encountered an astonishing wealth of wildlife en route to the laid-back yet luxurious Sanctuary Tambarare safari camp, nestled between fever trees amid some 90,000 acres of unspoiled land that make up Kenya's trailblazing Ol Pejeta Conservancy.
Opened in June 2022, Sanctuary Tambarare is a collection of just ten 57-square-metre canvas tents, safely placing it among the more intimate accommodation options you'll find while on safari in Kenya. The comparatively small scale means there's no pool or spa here, but paired with an open layout and a superb location in the middle of nowhere, the smaller size means you're guaranteed that invaluable (and arguably more important) 'in the bush' feeling elsewhere overlooked. If you're big on creature comforts, you needn't worry, either, for there's plenty to keep travellers happy and entertained during their stay.
Each tent, for instance, comes with a King size bed, a walk-in shower, double basins and its very own, private veranda. Several nods to classic safari style, from teak floors to sheer, white curtains (of the mosquito kind, of course) and a wooden trunk by our bed, gave our tent a much-appreciated sense of place, though overall, we loved that Sanctuary Tambarare convinces with a clean and contemporary look that's a departure from the usual reliance on stereotypical and often exoticised African aesthetics. That said, Kenya's spirit was present in many a detail across our tented accommodation, from tasteful artworks to the 'Karibu' ('welcome') greeting laid out in coffee beans upon arrival.
This blend between modern interiors and locally-inspired touches continues in the camp's main tent, home to a restaurant, a lounge area, and a small shop stocked with East African souvenirs. If there's any one space across the property that encourages mingling with fellow safari-goers, it'd be this one – perhaps that's why it was designed to attract guests with vibrant shades of cobalt blue and crimson red, interspersed with wicker lampshades, framed prints and comfortable couches looking out over the savannah. We enjoyed this inviting atmosphere, and it's far from the only time we felt as though a deliberate effort had been made for the camp to feel friendly and laid-back rather than swanky and over-the-top stylish.
It only makes sense that a place like this would be staffed by a team just as warm and welcoming, and that's certainly the case here. Arrive back at Sanctuary Tambarare after a game drive any time of the day and the General Manager will greet you with a large smile on his face as a refreshing drink is conjured up and served to you in no time. We've found all staff here to be exceedingly polite, well-trained and – crucially – passionate about the environment they're in: on our excursions into the bush with our eagle-eyed guide Antony, we could tell he cared deeply about conservation and sustainability, with profound knowledge about the local flora and fauna, and no shortage of enthusiasm when it came to capturing game and scenery on camera.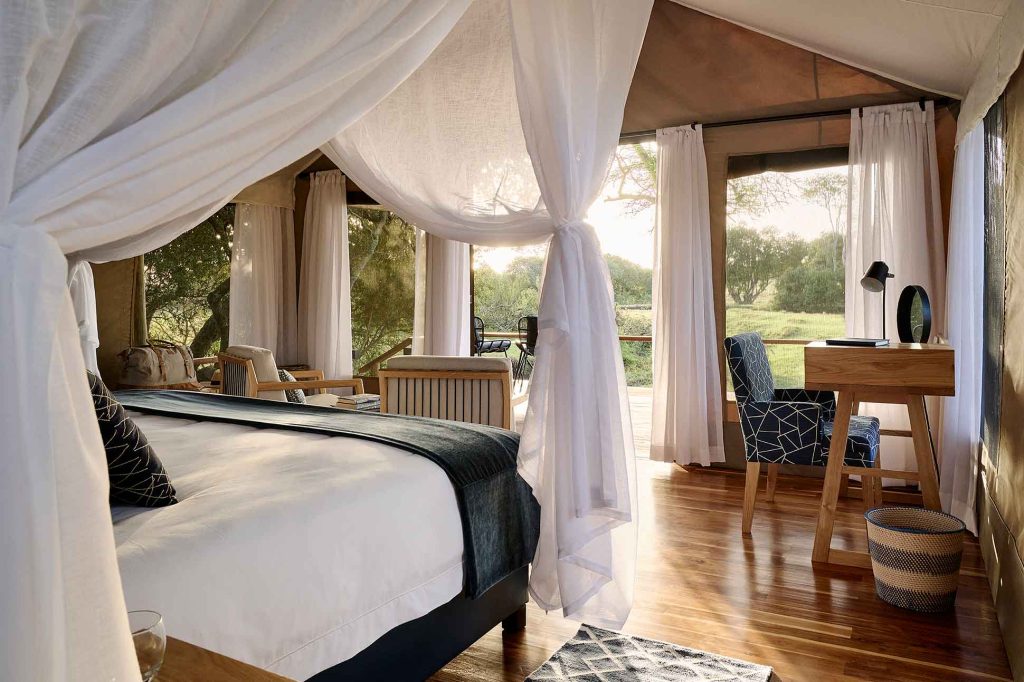 | | | |
| --- | --- | --- |
| Perfect for | Fly into | Right on time |
| The Adventurer | NBO, then connect to NYK or Kamok Airstrip | GMT +3 |
While you're Out There
To stay within the Ol Pejeta Conservancy without arranging a guided encounter with its biggest stars, the last two Northern white rhinos in existence, would be like vacationing in Seychelles without going to the beach. We were completely amazed meeting Najin and her daughter Fatu. Each visit also gives you the chance to make a donation towards the scientific efforts to save their beautiful species from extinction. Who wouldn't want to show support?
And as far as scenery goes, there's plenty to admire within easy reach of the camp. Its location near the relative centre of the conservancy means you're a little further from Ol Pejeta's Sweetwaters Chimpanzee Sanctuary or the guarded enclosure home to the world's last two Northern white rhinos, Najin and Fatu. But being further from the main entrance and visitor hotspots gives you easier access to the conservancy's western parts, where we spotted some of the most impressive game, not rarely without another vehicle in sight. Wherever you and your guide decide to go, however, you'll be rewarded with views of ancient landscapes, iconic trees that have Africa written all over them, and the majestic Mount Kenya looming on the horizon.
As much as we enjoyed being out in the bush, the promise of a hearty meal back at Sanctuary Tambarare certainly put a smile on our face each time we turned around for lunch or dinner. Bush-baked breads, grilled watermelon, quinoa coleslaw and falafel with romanesco sauce awaited us back at the camp alongside a selection of exquisite wines – though we often opted for water instead, which we thought tasted sweet like honey (no, really, try it!). At dinner, the atmosphere at the camp was particularly magical, with guests sitting around an open fire for sundowners while exchanging stories of the day's discoveries. The only thing to interfere with this bliss was the few times our table was cleared rather abruptly, no doubt due to staff wanting to be quick and efficient. Their good intentions made this easy to forgive, though, in an ideal world, you'd never feel 'rushed' while on holiday.
There were also a few signs of early wear and tear on some bathroom amenities; think small scratches on tiles or what appeared to be a permanent stain on our bathroom door. We found this peculiar for a property that had opened mere days before our arrival. Not that any of this really dampened our mood, however: we were too busy falling in love with the small herd of elephants that would appear just across a little stream near the camp each afternoon, to feed on savannah grass, fruits and trees growing by the water. It's sights like these you can expect to see during a stay here, and truly, they have a way of putting things into perspective.
In the evenings, we did our own part in putting things into perspective, or rather, trying to make sense of how wonderful and inspiring of a time we were having on safari. Most nights, we savoured G&Ts in Sanctuary Tambarare's tiny boma bar tent, or snuggled into a heated blanket to look through photos we'd taken during the day's game drives. Every now and then, we paused for a moment – to appreciate how happy we were to be in this truly spellbinding place.
Luxury travel company Abercrombie & Kent can organise tailor-made trips across Kenya with personalised VIP service and stays at Sanctuary Tambarare.
Photography courtesy of Sanctuary Retreats