In the South of France, where tradition is everything, it's not all that common to find a hotel that takes us much pride in its modern amenities as it does in its historic past. But during a recent stay at the Hyatt Regency Nice Palais de la Méditerranée, we found that this five-starred property on the famous Promenade des Anglais manages to do exactly that.
When the Palais de la Méditerranée first opened its doors all the way back in 1929, it did so with much fanfare: this was to be a shiny, new magnet for all things glamorous and fun on the Côte d'Azur, a pleasure palace that was no doubt an expression of the optimism of the Belle Époque, a period in time that was never to come back (although you could argue that any time spent in the South of France is pretty 'belle' in its own right). It's all the more wonderful to see, then, that some of the era's most illustrious structures have survived to this day. This particular one, constructed in the Art Deco style by local architects Charles and Marcel Dalmas, closed with the end of the Belle Époque, later lay dormant for an astonishing 26 years and was reimagined several times before welcoming guests and visitors once more in 2004 – this time as the Hyatt Regency Nice Palais de la Méditerranée.
The American mega-brand infused the guest experience with some very inviting lustre, starting with a floral scent wafting through the entire property's communal spaces and a welcome as warm as the adjoining Promenade des Anglais is long (which is to say, very). Part of said welcome was that the team had pre-arranged for a bespoke, vegan-friendly meal to be delivered straight to our top-floor room just minutes after our arrival. While we tucked into green asparagus with black truffle shavings, the local speciality of 'socca' and a generous portion of chilli sin carne (which left us with little to no room for the dessert the team was yet to surprise us with), we lost ourselves in panoramic views of the Mediterranean Sea straight ahead.
So with a glass of obligatory champagne in hand – this is France after all – we went on a self-guided tour of our 60 sqm/645 sqft Executive King Sea View room. Its most show-stopping feature are the aforementioned views, shown to advantage through floor-to-ceiling windows that could leave no doubt that the Hyatt Regency Nice Palais de la Méditerranée is the very closest you could get to the sea in this city without your toes getting wet should your feet hang over the edge of your bed at night. Not that this would be a problem here: our bed was large and extremely comfortable, and we found our dining area and a separate seating area with a second TV and even a mini-library just as generous. Our room also benefited from a spacious balcony overlooking the hotel's pool below, enough wardrobe space for even the most fashionable visitors, a marble bathroom with double basins and a bathtub equipped with a non-slip mat. We can't recall the last time we've seen the latter in a hotel room and found it a very welcome touch to make taking a bath a safer and more enjoyable experience for less agile guests.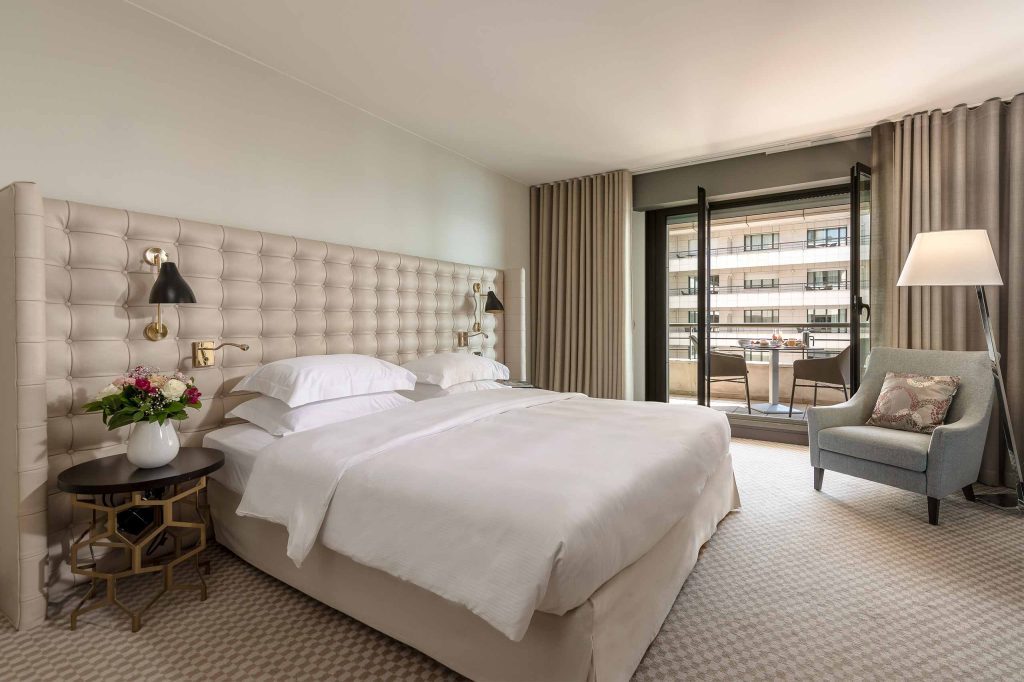 | | | |
| --- | --- | --- |
| Perfect for | Fly into | Right on time |
| The Culturalist | NCE | GMT +1 |
While you're Out There
A revamped former prison adjacent to Nice's romantic harbour, the Espace Lympia has become the city's most cutting-edge exhibition space since opening in 2017. Both local artists and, on occasion, those from further afield get to showcase their work inside the vaulted gallery space. A visit can be easily combined with a climb up Mont Alban to see Nice's famous Colline du Château with its artificial 18th-century waterfall overlooking the city.
There are 187 rooms in total here, including 11 suites, with the luxurious Penthouse Suite topping out at a whopping 117 sqm/1260 sqft, fitted with furniture specially designed for the hotel by interior designers Marc Hertrich and Nicolas Adnet of Studio MHNA. Thanks to the building's U-shaped layout, most rooms and suites come with sea view balconies or terraces, though should you find yourself on the other side of the hotel, the sight of Mont Alban towering over Nice's old town awaits. Vistas and amenities aside, the rooms do have a rather corporate feel to them that, we'll be honest with you, is not exactly the most playful or stylish you'll find in the area. If you're in town for a romantic getaway or you're looking for a property that allows you to immerse yourself in a sense of place, the Hyatt Regency Nice Palais de la Méditerranée probably isn't the first place to go – that said, dimming the many small lights in our room went a long way in creating a cosier environment in the evenings.
For some additional comfort, you could always pop into the property's sauna or steam room. Though there isn't a spa here, with guests being able to access both facilities via individual anterooms, we did appreciate having the chance to detox after a few days in town. And to our delight, both spaces were rather large, modern and the sauna even featured a bird song sound effect that, upon closing our eyes, took us right back to the tropical jungles of Asia (the intense heat and humidity also helped).
We didn't get to try the hotel's Le 3e Restaurant Terrace, spearheaded at the time of writing by chef Cyril Cheype, although we certainly enjoyed room service. The restaurant did look tempting with its poolside location that also offers (some) diners a front-row seat, once more playing on the wonderful views guests get to take in. From what we've seen, there could've been perhaps another dish or two for travellers like ourselves who have specific dietary requirements, though that's not to say the menu wouldn't be perfectly enticing to others. Le 3e is also where breakfast is served, and families in particular will appreciate the many options on offer, that will keep even the fussiest little eaters happy.
The area around the restaurant is perhaps where the Hyatt Regency Nice Palais de la Méditerranée comes closest to the building's original purpose. Here, holidaymakers laze away by the pool, ordering colourful cocktails and sharing platters from Le 3e Bar while striking up conversations with fellow guests (or scrolling down their Instagram feeds, whichever accounts for a more fun afternoon spent in the sun!). We spent no small amount of time here ourselves… there's something about all that makes this property what it is, from the cast iron Art Deco entrance through the polished lobby and on to the fabulous staff, that makes it so very easy to simply sit back and savour. Pair that with the hotel's excellent location et voilà, a wonderful place to stay.
Photography courtesy of Hyatt Hotels & Resorts