It's not that you'll need an excuse for a stay at Domaine des Etangs, the art-filled, fairytale Chateau in France's Massignac region that's come to be considered one of the country's most elegant yet relaxing places to stay: both stylish but surrounded by a slice of utterly idyllic countryside, the property is of the type that becomes a home away from home for all those who visit.
Domaine des Etangs is a 13th-century Chateau built by knights, amidst a 2,500-acre lake-filled estate, which right off the bat is going to beat a Travelodge. You'll find it in Massignac, the southwest of France, a 40-minute drive from Limoges Airport. This is the Charente region, less well known than close neighbour Dordogne, but no less charming. It's all rolling hills and winding rivers in the area, which is known for exquisite gastronomy and world-class artisans and craftsmen. It is temperate and biodiverse. And while we all get that sadomasochistic frisson from being abused by Parisienne waiters for trying to pay, there's more to France and you should see it.
For accommodation, you've got three main options. First is the chateau itself, of course. An eye-popping piece of medieval architecture, with fortified towers, winding turret staircases and a truly breathtaking vaulted attic-slash-games-room that resembles the upturned hull of a Viking ship, all set upon acres of rolling, verdant grounds.
It contains seven suites, each named after the planets of our solar system. They are family-sized, and incredibly grand with spectacular art on the walls and exquisite designer furniture. The gorgeous interiors are the work of the famed Isabelle Stanislas, and bear all the hallmarks of her striking, contemporary approach while still respecting the history and context of the chateau.
Amazing little details abound. We loved the cosy library with a sliding stepladder, right out of Disney's Beauty and the Beast.
But it's tricky to cram a modern hotel into a 700-year-old floor plan, so Domaine des Etangs doesn't try. We stayed in one of the Chateau's enormous farmhouse cottages. Some are divided into rooms, and others are rented in their entirety for large groups. Vast glass doors opened onto a stone floor reception dominated by a striking water feature, with staircases on either side leading to sprawling bedrooms. Wood throughout and a large, freestanding steel bathtub bring the rustic indoors.
Downstairs, you'll find a large modern kitchen where our friends and ourselves were served a three-course meal family style on our first night.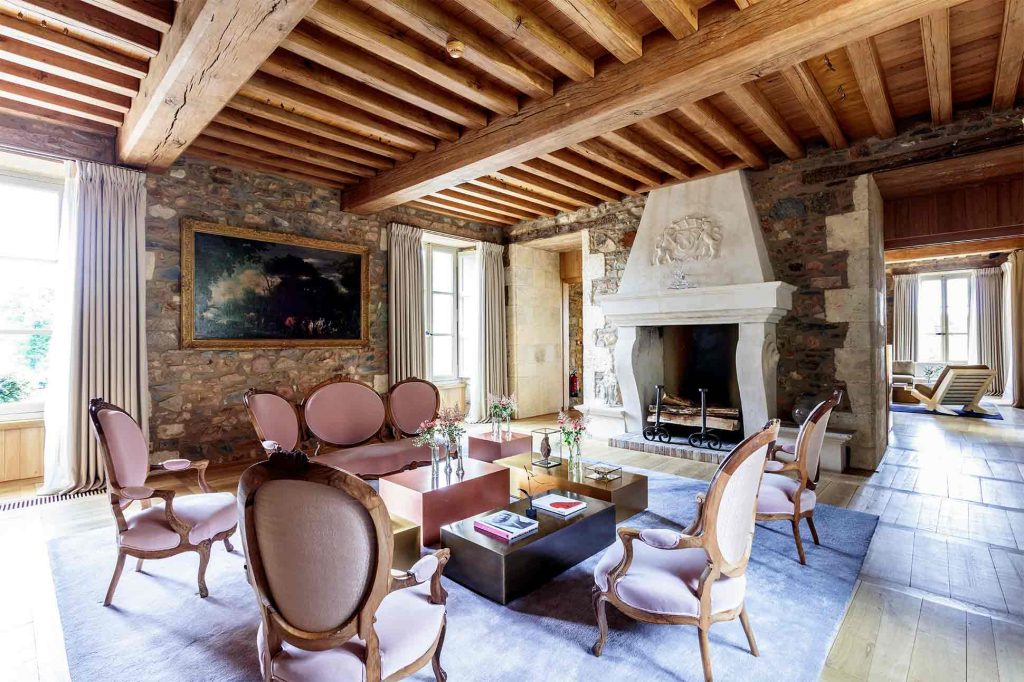 | | | |
| --- | --- | --- |
| Perfect for | Fly into | Right on time |
| The Culturalist | ANG / LIG | GMT +1 |
While you're Out There
Make sure to soak up some of the natural beauty surrounding the Domaine des Etangs. There's an 11km path through forests and meadows that starts at the property, and it's far from the only nature trail in the area. For a special day out (particularly if you're travelling with children), you also have the opportunity to book a boat tour of the lakes and visit a nearby treetop adventure park.
Finally, there's the Longere, a typical piece of rural architecture in this region, a long narrow building offering four junior suites each dressed and decorated according to a specific season.
But dreamy as the interiors may be, the surrounding grounds and countryside steal the show. You're invited to use bicycles that stand outside the lodges and Chateau to get around, so our days began with a cycle through the early morning mist along the lake to the gym (a tiny stone building by the chateau, full of plants, beautiful). You can also row the lake, taking in the vast art installations that populate its shoreline.
The Domaine des Etangs restaurant is Michelin-starred Dyade, whose menu changes with the season and according to what's fresh and available. Dishes were beautifully presented, light and bursting with complex flavours with exquisite wine to match.
Breakfast is a help-yourself feast of the usual French delights, charcuterie, pastries, yoghurts. And what good are all these grounds if you can't have a picnic? Take a basket out to the lake and enjoy specially prepared snacks and a glass of fizz.
You truly don't have to leave the grounds to remain entertained for days on end. Horse riding, wine tasting, fishing on the pond. You've got a floating tennis court and guided tours of the fauna by the Domaine des Etangs gardener.
And of course, there's the spa. Thermal baths in the Chateau basement include a swimming pool, a steam room and a cold room. Treatments are custom designed and to the highest standards, using Sothys products.
While there, we chatted with the manager who told us about a family that was staying there as Covid kicked off and ended up stuck for three months. By all accounts they had an idyllic experience – so hey, at least someone did well out of it.
Domaine des Etangs oozes style and character in a way only a centuries-old Chateau of historical significance can. It manages to be achingly stylish without feeling stuffy or antiseptic and offers top-end service wrapped in the rustic charm of a French country house. Perhaps 'hidden gem' is the wrong way to describe a 700-year-old castle, but it's not wholly inaccurate either.
Photography courtesy of Domaine des Etangs