If anything turned our heads this month, it was IYC's unveiling of the new 72-meter Armani yacht at the Admiral Headquarters in Marina di Carrara, Italy – that's not least because the collaboration brings together legendary brands Georgio Armani and the Italian Sea Group. But moreover, we're pleased to see cruising evolve into an altogether more exclusive and luxe space for those who wish to sail the sea in style.
All the hallmarks of two Italian powerhouses will be held in Admiral's latest yacht, a project that combines the most state-of-the-art technological innovations, impressive performance and high-quality details typical of the 1575-established Italian Sea Group, one of the largest firms in the yachting industry. We can expect great craftsmanship, passion and prestige; values that the brand shares with Armani.
'Armani is synonymous with timeless elegance and sophistication and its stylistic vision will also increase our stylistic sensitivity', says Giovanni Costantino, CEO and founder of The Italian Sea Group.
Whilst this is the first official collaboration between the brands, Giorgio Armani – yes, the man himself – oversaw the design and furnishing of his own two personal yachts, Mariù and Maìn, by Codecasa in 2003 and 2008 respectively. Mariù features teak floorboards, oak panelling and open-plan saloons. Maìn has a dark green hull and furnishings from the Armani Casa collection. The crew wear Armani-designed uniforms reflective of the destination the vessel is in. We can expect similar elegance and design features from the new Admiral superyacht. As Costantino puts it: 'It will represent uniqueness in the panorama of superyachts'.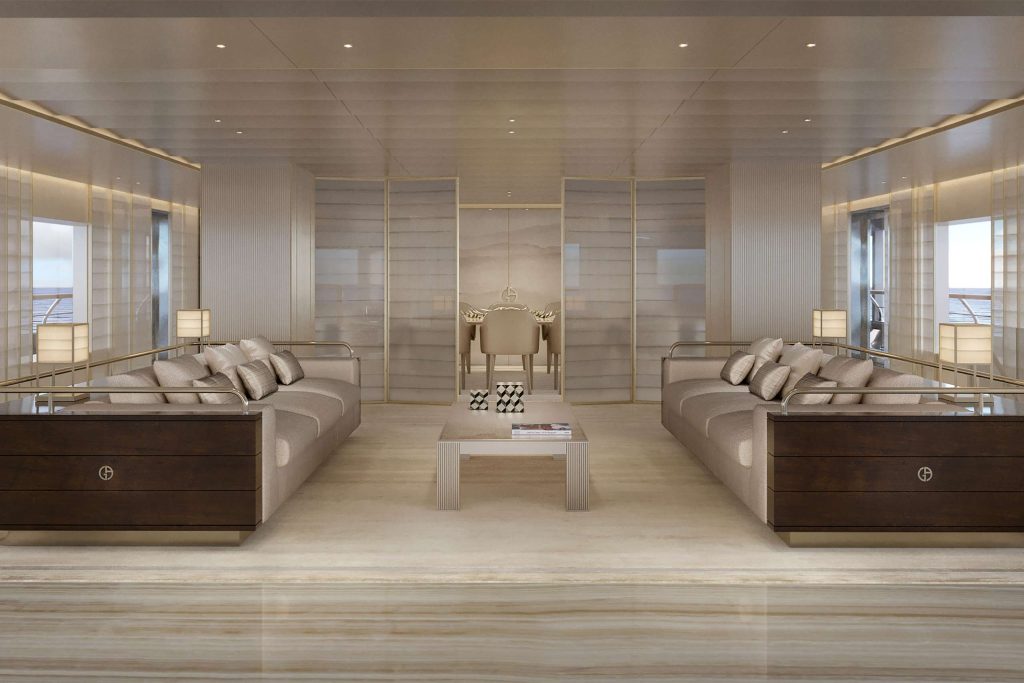 Meanwhile, Four Seasons' recent announcement that it will launch to the seas with a fleet of Four Seasons Yachts 'appealing to discerning guests looking to reimagine their love of travel by experiencing the splendour of modern sea voyaging' marks a pivotal moment in the industry: the luxury brand promises 14 decks including 95 suites with access to private decks and an average 54 square metres in accommodation space – 50% more space per guest than the average all-nautical setting. The roomiest four-level suite will include a private spa and wading pool and an impressive 892 square metres. Dining will too be meticulously crafted from coffee to champagne and the yacht will offer a full-service spa with wellness programmes, a salon and a pool which transforms into an outdoor movie theatre.
And Four Seasons isn't the only brand entering the market: Ritz-Carlton's offering Evrima, the first of its three yachts, took to the seas in October 2022 on its maiden voyage with only 298 guests. Evrima offers 149 suites and one Owner's Suite with living, dining, two bathrooms and a private balcony complete with a whirlpool and, of course, an ocean of curated experiences. The service for suites includes a personal assistant to ensure the experience is seamless for guests of the Evrima, which also offers seven bars and restaurants. Sven Elverfeld, the head chef of Aqua, a three-Michelin-starred restaurant in Wolfsburg, Germany, designed S.E.A, the vessel's fine-dining experience.
'This unique combination of yachting and cruising will usher in a new way of luxury travel for guests seeking to discover the world in a relaxed, casually elegant and comfortable atmosphere with the highest level of personalised service' says Hervé Humler, Ritz-Carlton's President and Chief Operating Officer.
The 72-metre Armani Yacht is scheduled for completion in early 2024. Four Seasons Yachts plan to make waves in 2025, featuring curated itineraries in the Mediterranean and the Caribbean with bespoke shore experiences to be announced. Ritz-Carlton offers a variety of cruise destinations which include the Caribbean, Mediterranean, Northern Europe and Canada.
All of this has us looking forward to adventurous journeys surrounded by luxurious comfort all the way. It's not that we don't enjoy a more 'traditional' cruise, with award-winning chefs, multiple eateries and entertainment that rivals the West End. But this new phase in cruising in the luxury space offers yet more choice for travellers. The privacy and intimacy of smaller groups, paired with personal assistants and bespoke itineraries are great for commemorating milestones your way – or simply to celebrate your fabulous self. With big hitters paving the way, plus the Armani yacht around the corner, we hope more luxury brands will follow suit.
www.iyc.com | www.admiral-yachts.com
Photography by Lucas Possiede, courtesy of IYC and Four Seasons