Few are the joys that compare with waking up on yacht anchored in the harbour of an Italian port town or off the coast of a breezy, sun-kissed isle in the Caribbean. It's a way of travel so dreamy, yachting brands hardly need to sell it. Although like all branches of tourism, the world of on-water holidays sees itself faced with both challenges, as well as opportunities – and it's not all pandemic-related. To learn about the latest trends, and find out what the industry is doing to become more diverse and inclusive, we catch up with Raphael Sauleau, Board Member of MYBA, The Worldwide Yachting Association.
You could almost be forgiven for wishing you'd spent the past two years at sea. As a matter of fact, an increasing number of people has embraced spending prolonged periods of time on the water since the onset of the pandemic in early 2020. And it's not gone unnoticed: 'Fraser alone saw sales increase by a staggering 198% on the average annual number of sales for the company for the last 12 years. Luxury charters also increased by 61% in 2021 over 2020' says Raphael Sauleau of MYBA, who's also the CEO of Fraser. As strange as might sound to our ears, having been grounded at home for months on end at the time, the pandemic has heralded a new golden age of yachting.
But a considerable part of the industry's renewed vigour comes down to something much more pleasant: there's shared ownership, for one, which has helped those previously on the edge get on board (sunglasses and a flute of champagne in hand, we'd like to think!). Charters have also become more flexible, and a deeper appreciation of the restorative properties of being at sea has had goop disciples drop their jade yoni eggs in favour of a wellness trend with scientifically proven benefits: 'blue health'.
Still, there are questions that bubble beneath the surface. Concerns around sustainability are perhaps unsurprising – although, as we learn during our sit-down with Sauleau, MYBA and its members are tackling the issue from every angle. Inclusivity is another hot topic, especially since the arrival of an industry-wide diversity and inclusion pledge by She of the Sea, which seeks to cultivate a climate of zero discrimination on the basis of factors such as gender or ethnicity. 'MYBA's membership is composed of numerous nationalities in 22 countries with members from Asia, Australia, all over Europe, the US, Hong Kong, the Caribbean and beyond' says Sauleau: 'Of our 425 members, 172 are women. In fact, our last two Presidents were women, and MYBA's administrative service is currently all female'.
Clearly, yachting isn't merely on the up, but also riding a wave of change. At OutThere, we predict the industry will continue to grow in coming years, with privacy, seclusion and the promise of exploring unchartered territory being keywords for an increasingly adventurous generation of yachters; one looking to get off-the-beaten-wave in Indonesia's remote Raja Ampat archipelago or lay eyes on the breathtaking landscapes of Antarctica. The role of MYBA cannot be overstated in any of this; and reflecting on our interview with Sauleau, we get the sense the association's members are on track to help more travellers than ever before take to the seas. For what it's worth, we think 2022 is a great time to set sail.
Raphael, there's been unprecedented interest in yachting holidays since the start of the pandemic. What have the past two years been like at MYBA?
The tools that MYBA provides for our categories of membership have generally not been impacted by Covid in a negative manner, apart from two consecutive cancellations of the MYBA Charter Show, which we intend to hold this year. The outlook has been – and still is, more than ever – optimistic, because if the industry is doing well, so normally is the Association. We see this reflected in our growing client base, and rising membership numbers, currently standing at 425. As MYBA is about quality, not quantity, the membership numbers have never been higher. We continue to grow and to invest in the future sustainable health of our industry.
Health concerns and a desire for privacy have tremendously played into yachting's increased popularity during Covid. How do you expect this trend will evolve as we slowly edge back towards a more normal world?
It is certainly true that yachting has seen a record two years as more people discovered the true benefits and joys of both chartering and yacht ownership. For the industry overall, 2021 was by far the most successful year of the last 12, with 891 yachts sold. That's almost double the number sold in 2020 and more than double the number of yachts sold in any other year on record.
While a reduced inventory might have an impact as we move forward, one thing that we do not see diminishing is the demand to get out on the water. After all, 40% of clients buying or chartering last year with us were doing so for the very first time. As normality returns, people will continue to come to yachting just as they have been doing, and hopefully, without the travel restrictions that impacted freedoms during Covid.
With more boats in the water, questions around fuel and emissions are becoming more pressing. What green innovations has the industry come up with in recent years?
The industry has really come together in recent years to focus on sustainability. We work with owners to put in place various onboard initiatives from carbon offsetting charters and eliminating single-use plastics on board to using ocean-friendly sunscreens and cleaning products. And that's not all. Zero km food-sourcing is also becoming more widely practised on board by yacht chefs who work to source locally and sustainably. Companies such as Eyesea have launched to map, report and find solutions to maritime pollution spots.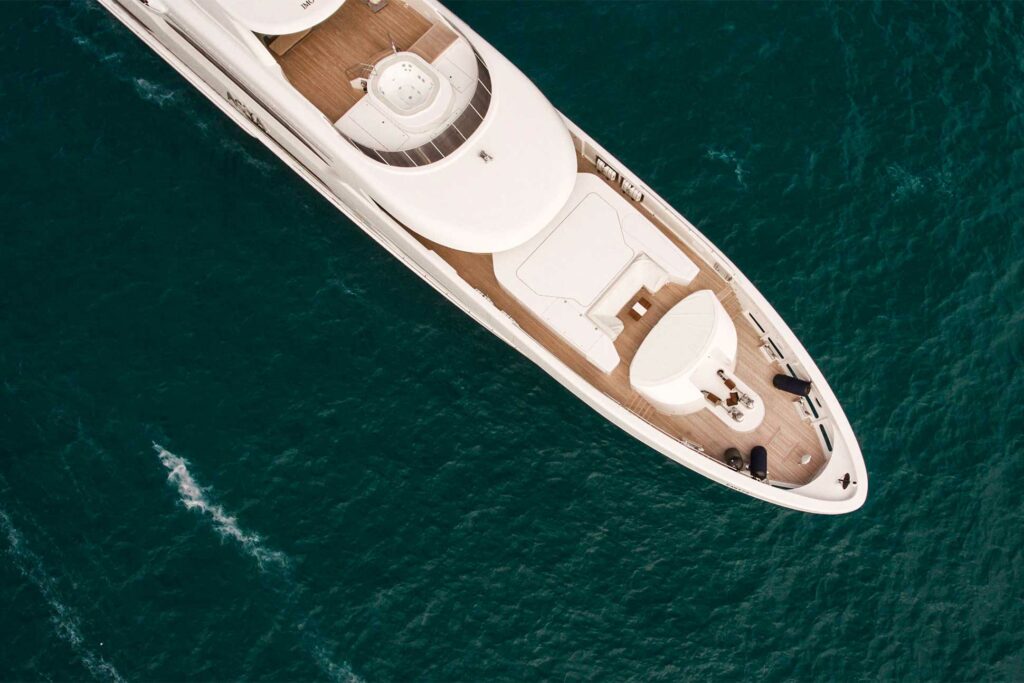 Emissions are one thing, but noise pollution is another. Once overlooked, it is now understood as a major source of disturbance for wildlife, and companies like solar-powered Silent Yachts are advocating a less disruptive way of taking to the waters. Do you anticipate solar technology becoming the standard on the seas?
In technical terms, shipyards, as well as visionary owners, are leading the way with pioneering new propulsion systems. Yes, we have seen solar panels implemented that then convert to green energy, but fuel cells, hybrid-propulsion and hydrogen propulsion are very significant when it comes to future change.
A focus on sustainability brings with it new opportunities for yachting – so do ideas around diversity and inclusion. With MYBA having signed She of the Sea's diversity and inclusion pledge, can you explain what this commitment involves, and why it's so important in the community?
The She of the Sea commitment involves being as widely inclusive as possible with regards to humanity; that is to say gender, nationality, race, etc. It means we want to be open to positive change. The superyacht industry has a good balance of male/female at certain levels, with a majority of women in charter and in administrative support. A majority of men, in contrast, is in sales, and both are involved in yacht management. Where MYBA is concerned, this commitment also involves making opportunities to support the right kinds of initiatives and to give them visibility across our marketing tools including social media. Its importance in the superyacht community is to not accept traditional gender roles or discriminatory behaviour on any level.
What else is MYBA doing to make yachting a fairer, more conscious industry?
With regards sustainability, MYBA is a strong believer in the absolute need for this and we support worthy causes and initiatives within the limits of our means as a non-profit association, including our social media. As an illustration of this, we are currently in talks with Water Revolution Foundation as to how we could be supportive of their objectives and actions and have made financial donations in 2021 and 2022. In the past, we have also supported the actions of the local association Yachts du Coeur, which recovers food and items from the yachts in harbours around the South of France and relays to food banks and charity organisations for those less privileged than ourselves.
Some of the most popular yachting destinations in the world can be tricky places to visit for our core readership, the LGBTQ+ community – from Indonesia to large parts of the Caribbean. A yacht can quite literally be a safe space…
On a yacht, you can go onshore as little as you like. A yacht is a destination in itself, and everything you could need is available on board, from five-star dining to every type of entertainment: games, cinema, spa, plus fantastic water toys for active days at sea. And you are taken care of by a seven-star crew who can organise private beach picnics and BBQs, themed evenings and anything else you would like. If you prefer not to see a single other person during your charter but still want to go on land – no problem. We can arrange tours and experiences in private in any destination you choose to explore.
Trans-generational holidays and vacations with one's inner circle are set to become hugely popular in 2022, as they give travellers the chance to reunite with loved ones and share memorable moments post-pandemic. The trend goes hand in hand with shared yacht ownership and more flexible charters – would you say yachting on the whole is becoming more accessible?
No, I would say that yachting has always been a very good option for multi-generational holidays. Charter has always been the ultimate flexible holiday: anything you want to do, and anywhere you want to go, it is a broker's job to make it happen. The only limit is, and has always been, your imagination. The levels of privacy and service you get on a yacht are simply unparalleled. Crews are great at keeping children of all ages entertained and many yachts are built to accommodate wheelchairs, with lifts and wide walk rounds. And the amenities on board ensure every guest has the best experience possible, from cinema-screen gaming for teens to Baccarat and games rooms for older relatives.
Lastly, between classic destinations and lesser-known corners of the seven seas, what are the best places to cast anchor this year?
We are very excited about Costa Rica, which has recently opened up for charter for the first time after significant lobbying from our side and the Costa Rica Marina Association. Yachts are already over there for the winter season and we expect to see more owners offer their yachts for charter in this incredible natural destination for coming seasons. There are many other opportunities and destinations which are attractive and somewhat off-the-beaten-track, such as Northern Europe, Norwegian fjords or Antarctica itineraries. That being said, many still enjoy classic great spots in the Mediterranean, such as remote Greek islands, or they head for the Caribbean. The choice is yours!
Photography courtesy of MYBA