Milan is one of our favourite world cities; it delicately blends its past with the future, as well as mixing an effortlessly chic fashion sensibility with high Italian style. The city's vibe varies from that of Italy's traditional cities of Rome or even its Alpine urbanity in the north, Turin, making it so very unique to visit. At its heart, or at least its centre, is the ME Milan Il Duca, part of the ME by Melia family: a contemporary hotel that pays a fitting tribute to this distinctly cosmopolitan attitude.
Nestled at the boundary of 'new Milan' (Piazza della Repubblica was the 19th-century centre of the city's urban regeneration and home to Milan's central station) and 'new-new Milan' (Porto Nuova, a contemporary neighbourhood of glossy new buildings and real estate development that some locals affectionally call PorNuo – although we're not sure that's going to stick!), is the ME Milan Il Duca.
As location goes, it's hard to get better than this one: the chic hotspots of Corso Como, the city centre and the vibrant nightlife in the gaybourhood of Porto Venezia are all just a short walk away, and Duomo's sights are just a few stops on the city's efficient Metro system.
For the task of creating this modern Milan hotel, the owners enlisted world-famous architect Aldo Rossi, who has created a chic, minimalist, yet comfortable design ethos, reflective of Milan's fashionable sensibility and forward-thinking interior design appetite. Entering the ME Milan Il Duca through a small garden, we were faced with sleek spaces and clean lines, accented by a collection of colourful contemporary art, which we're told changes by the season. Greys, beiges and whites preside and tactile material textures are accentuated by cleverly thought-through lighting design. An imposing, spiral staircase, like something from a sci-fi cruise liner leads up to its restaurant STK. The clue lies in the name, so if you're a fan of steak (and meat in general), then you're definitely in the right place. The palatial hotel restaurant serves the finest American-style cuts and sides in a buzzy, booth-filled dining room. It's no wonder that it is the place for the Milanese glitterati to be seen.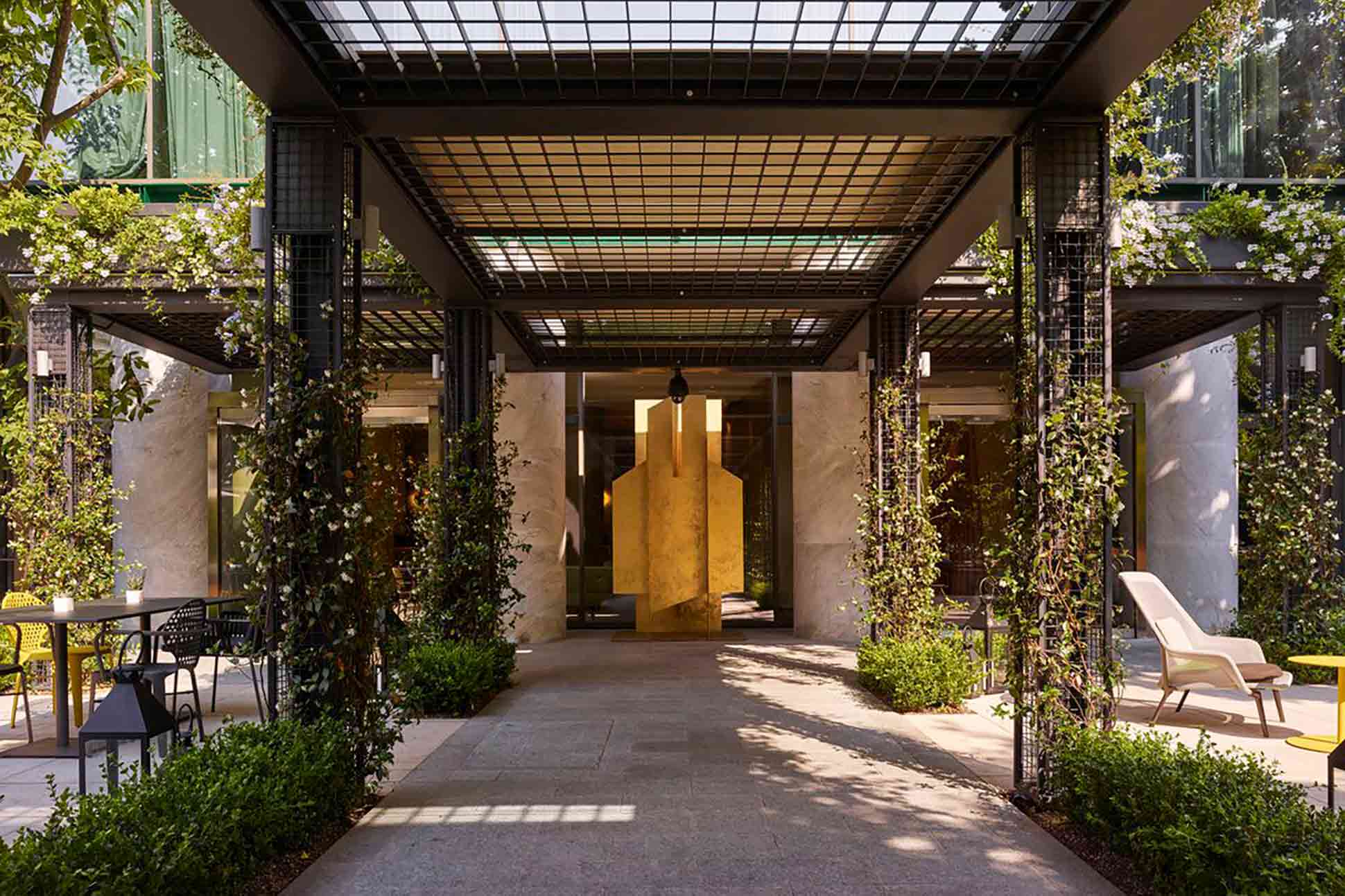 | | | |
| --- | --- | --- |
| Perfect for | Fly into | Right on time |
| The Insider | MXP / LIN | GMT +1 |
While you're Out There
To match the travel vibe of the ME, wander into super modern Porto Nuova and try its imaginative new eateries. Here, you'll find AALTO, a one-Michelin-starred restaurant occupying the first floor of the Torre Solaria. But it's not Italian food on offer here, instead you'll find contemporary Japanese-fusion cuisine courtesy of chef Takeshi Iwai. For experiential gastronomy, try the IYO Omakase sushi bar, it shares an entrance with AALTO and is considered to be a restaurant-within-a-restaurant, with an entirely different menu served by sushi master Masashi Suzuki.
The design theme continues throughout the rest of the hotel; even its elevators are hyper-minimalist. Our key card delivered us only to our floor for that added security and privacy (especially for those looking to dodge the paparazzi). Here, grey corridors lead to rooms demarked by large vinyl numbers on the wall at floor level.
The ME Milan Il Duca's rooms are equally restrained, although cleverly designed. Our 6th-floor accommodation was really pretty basic as rooms go. It also lacked natural light; the windows were tiny and craftily hidden behind a large theatrical curtain – probably for good reason – as they looked right into an apartment building. For OutThere travellers staying at the ME Milan Il Duca, our advice is to opt for suite-category accommodations, unless of course, you plan to be out exploring all day and don't intend to spend much time in your room.
All in all, we feel that the ME Milan Il Duca prides itself more on being a lifestyle hotel than a luxury one. It's a very cool hotel; there's no doubt about that, but if you're looking for a property that over-delivers on its experience and service, you may not find quite what you're looking for here. Don't get us wrong, the Aura team (a ME branded customer service offering) and staff here are efficient, friendly and helpful, but only when asked, and sometimes it was even hard to get their attention.
The jewel in the ME Milan Il Duca's crown is its tenth-floor Radio rooftop, a top-floor, glass-encased bar with a wraparound outdoor terrace (a signature of MEs across the world ), the perfect place for a cocktail overlooking PorNuo with its cluster of skyscrapers jutting into the sky like pieces of modern art set against the rest of the city's typical low-rise architecture. It's also where guests dine for breakfast, so while Milan may have kept us up late on more than one occasion, we made sure to peel ourselves out of bed every morning to have an ample buffet breakfast – or at the very least, an espresso and cornetto, with a view.
Photography courtesy of Melia Hotels & Resorts