Intent on finding a Maldivian resort that's perfect for a same-gender honeymoon, we discovered Niyama Private Islands. Despite being independently branded, this resort playground is part of the Minor Hotels family. We've worked with the group for many years, particularly in South East Asia, where they have made waves to welcome OutThere travellers to their properties. Plus, there was something in the name that called to us – 'Niyama', in Sanskrit, means 'positivity' – a place to partake in habits for a healthy life, spiritual enlightenment and a liberated state of existence.
The floatplane journey to Niyama was just 40 minutes south, landing us in the Dhaalu Atoll. We were in good hands; the 'barefoot pilots' of the Maldives are infamous as the best flyers in the world. As the twin propellers of our plane cranked to life, we pressed our faces firmly to the windows. We were soon soaring above the beautiful Indian Ocean, enjoying a view of the glistening white sandbanks and sparkling lagoons below.
The resort very quickly revealed the rest of its majesty. Our Thakuru (Niyama-ese for butler) took us to our 'Beach Pool Villa'. A personalised welcome was drawn in the sand on the doorstep and our names carved into a wooden sign hanging from the door. Parked outside were a couple of bikes to explore the resort. They too were personalised, each with its own nameplate.
Niyama is an all-villa property, each designed with privacy and discretion in mind, in a contemporary style. At entry-level, is a similarly proportioned house to the one we stayed in, but without the pool. The accommodation gets more elaborate as one moves up the scale, adding separate (or more) bedrooms and overwater locations, including one of our favourites – Villa 77 – an absolutely discreet, two-bedroom party palace on stilts over the inviting ocean, with steps so you can dive right in, infinity pool, on-deck telescope and its own electric guitar (in case you get tired of the view). For the ultimate luxury and if this were a 'buddymoon', we could have also taken over a three-bedroom 'Beach Pool Pavilion' with its own, secluded stretch of sand; or 'The Crescent' – a luxurious, private collection of villas set out over the water beyond a moon-shaped swathe of impossibly perfect sand. It can be hired exclusively for 14 guests, coming with its own, luxurious perks – including one of the most jaw-dropping sunrises we have ever experienced.
Breakfast at Niyama is an elaborate, buffet affair. On most days, we chose to take it outside by 'Epicure' with a view out to sea. We could have also breakfasted at 'Blu' on the other island, more suited to families. The resort wasn't short of dining options and some of the resort's vegetables are even grown in its own garden. Our favourite was 'Nest' where Southeast Asian chefs (no doubt thanks to Minor Hotels) offer up a menu of delicious Far Eastern treats in an atmospheric, Avatar-esque, tree-house setting. Down below, a playful Teppanyaki restaurant provided for a theatrical lunch. At 'Epicure', fresh all-day, themed dining is complemented by a Maldivian BBQ dinner a couple of times a week.
---
This Basecamp review is an extract from a longer feature article, first published in print. To read the full article, click here.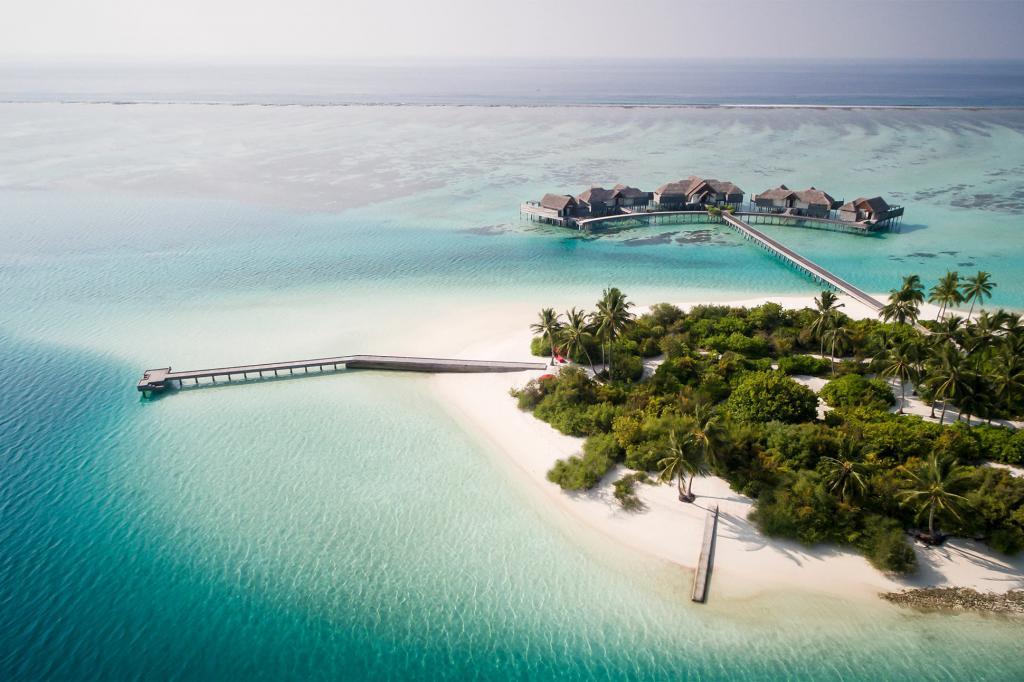 | | | |
| --- | --- | --- |
| Perfect for | Fly into | Right on time |
| The Hedonist | MLE | GMT +5 |
While you're Out There
The resort's food and beverage pièce de résistance is an offshore complex accessible only by speedboat. 'Edge', a Miami- style bar under a white, curved canopy, where we supped cocktails before adjourning to its fine-dining restaurant beneath the stars. On our visit, a German chef-in-residence created impeccable molecular- fusion cooking with touches of the Indian Ocean, each presented as a masterpiece on a plate. Guests can time their visits with these culinary events, held throughout the year.
Photography courtesy of Niyama Private Islands
At OutThere, we believe in boundless travel. But we understand that some destinations can pose challenges to travellers that complicate visiting them. We advise all visitors to inform themselves about local legislation and customs, and to work with a trusted travel provider in order to ensure a safe and pleasant holiday.