The fun-loving folks at Soneva Fushi have done it again: known for putting together the most experiential (and not rarely the most 'out there') activities across the Maldives, the Indian Ocean's original barefoot luxury resort has opened Flying Sauces, a treetop dining concept accessible by – you guessed it – zip line.
Did we need any more reasons to start planning a tropical escape to Soneva Fushi during the bleak, London winter? Well, not really. But be that as it may, the five-star getaway in the Baa atoll is pulling all the strings when it comes to luring travellers back to the Maldives this season. Its latest initiative, a 200-metre zip line giving guests the opportunity to dash through Kunfunadhoo island's thick forest Tarzan-style, sounds like an adventure in and of itself – though what awaits at the end of the track is arguably even more enticing.
Set on an elevated dining platform amidst the jungle canopy, Flying Sauces is somewhat of a hideaway within a hideaway, offering amuse bouches and refreshing shooters on 'touch-down', before diners enjoy the delights of a six-course menu prepared by Chef Rasal Jayawardene. Returning guests will no doubt remember longtime Sonevian Rasal, who has trained with some of the world's most lauded culinary talent. We hear Jayawardene will be working his magic on seasonal ingredients from the base of an open kitchen high above the ground, offering local flavours paired with international favourites (we'll have the celeriac two ways with raisin salsa and the plant-based cheesecake with mango salsa and mixed berry compote, if you must know).
To round off the gastronomic offering, some 9,000 fine wines available from the wine cellar at Soneva Fushi are just a quick zip away; though by all means, don't drink and fly – bringing a delectable bottle of vino to your private treetop feast is what the waiters are for. Not that you'll want it with every meal: Flying Sauces will be available to book not only for dinner, but also for breakfast and high tea. And those, whose appetite for adventure exceeds that for a meal, can also enjoy the 1 hour and 15 minute zip line experience by itself – then again, who wouldn't want to fly and feast?
We think the whole idea has Soneva written all over it, for in a destination where the appeal for a large number of visitors lies in splurging ice-cold and perfectly Instagrammable cocktails by the pool or spending hours on end in the spa, it's a bold move to encourage guests to do something rather more spontaneous and thrilling. And it'll pay off, too: much like the iconic slides into the sea on offer at Soneva Fushi, Flying Sauces is set to further cement the brand's experiential reputation across the Maldives and beyond. Now, we like the taste of that!
---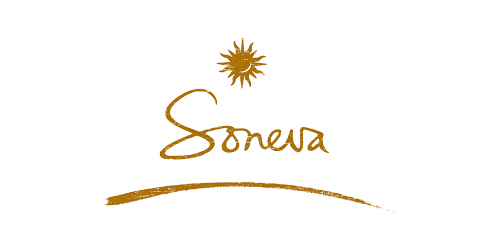 This article is in partnership with Soneva.
---