In nine dreamlike acres of elaborate gardens, terraced lawns, fountains, reflection pools and pavilions, this gorgeous property is a storybook palace in itself. With its location a mere 600 metres from the infamous Taj Mahal, every opportunity has been taken to connect it to the fairytale romance Shah Jahan and Mumtaz Mahal.
The story of the Taj Mahal has melted my heart ever since I was first told it. It's one of eternal love, its protagonist the Shah Jahan, who fell deeply and madly in love with a young girl by the name of Mumtaz Mahal. Romance ensued in a fairytale-like fashion, but like in all such stories, it came to a tragic end – Mumtaz passed away while giving birth to the couple's 14th royal child and the distraught Shah vowed never to remarry, going on to build the most opulent mausoleum in her honour. The Taj Mahal took 22 years and over 22,000 workers to complete and is arguably the most beautiful building in the world, one of the Seven Wonders. Tourists from across the globe flock to see it and revel in its romantic gem of a story, literally encapsulated in the building's walls.
I'm reminded of this story as I'm driven to the UNESCO heritage site's VIP entrance. The concierge at the Oberoi Amarvilas is my host, he recants the story as we sputter towards the palace on a white Oberoi golf-buggy. Tickets and passes are prearranged, not to mention a knowledgeable guide, I'm ushered into the magnificent grounds, calmly away from the throng of tourists and touts; to explore this enormous mausoleum and make my wish to visit it finally come true. It's an inspirational experience – artists, royalty, writers, lovers and poets from across the globe for generations have come here. I feel that its majesty and beauty is best summed up by English poet Sir Edward Arnold, describing it by simply saying that it's "not a piece of architecture, as other buildings are, but the proud passions of an emperor's love wrought in living stone."
The Oberoi stands just 600 metres from the famous landmark, in itself a palace, just as romantic and dreamlike in its own right, with every opportunity taken to connect itself to the spirit of the Taj Mahal. The spell remains unbroken as we enter the grounds of the resort, drinking in its nine acres of manicured gardens, green terraced lawns, majestic fountains, reflection pools and stunning pavilions.
The serenity continues as we enter a vast lobby, with a Mughal-style dome painted in a cobalt blue and gilt gold geometric design. Ornate windows form the perfect visual frame to what lies ahead. As we're guided onto the terrace, it all sinks in – that while there's not many words that can describe the splendour of the Taj Mahal up close – it's when you take a step back from it and absorb its grandeur from afar, that you'll really be blown away. The view of it from the terrace of the Oberoi is simply and utterly breathtaking.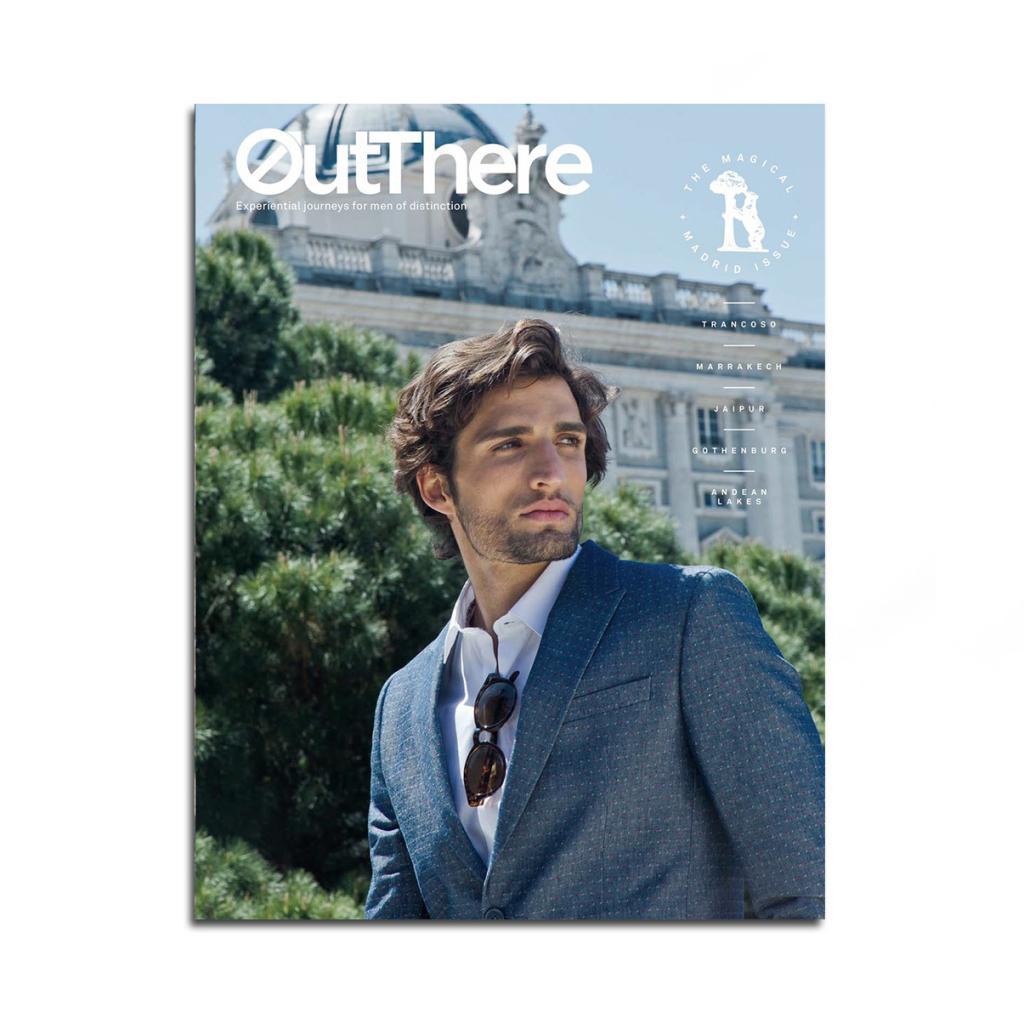 It's here that check-in takes place – there's no need to stand at reception, instead just take a seat and enjoy the view. I'm all about hotels with a real sense of place and here, there's no escaping where you are. As the sun sets on the Taj Mahal, we watch the marble take on its stunning colours, fading gradually into the darkness but not without casting its silhouette on the night sky.
No longer in competition with the Taj Mahal, the hotel unveils herself to us. The marble inlaid floors reflect the light of its sparkling crystal chandeliers, the vast swimming pool glistens in the moonlight and the gardens are illuminated by onyx wall lanterns.
In our suite, the view is once again unbelievably romantic. All the guest rooms and suites enjoy a direct, uninterrupted view, making a stay here unlike any other hotel experience. The interior design of our room is luxurious, mixing contemporary styling synonymous with the Oberoi brand; with Mughal and Ottoman influences – teak armoires, Burmese tables with bone inlay, marble bathrooms (where we particularly enjoyed a candlelit bath in the rolltop which was big enough for two), all with the Taj Mahal as the voyeur. The property offers two restaurants and an extensive in-room menu, but for a bit of a treat, we request a private dining experience on the pavilion of our suite. We are kindly asked to vacate our room to the lounge so they can prepare. Waiting there were delicious gin and tonics that our butler had noted as our tipple of choice, just through casual conversation earlier in the day. Drinks in hand, we wander into the adjacent tea lounge, where elegant arched windows shimmer from their brass cladding and comfortable settees and armchairs are covered in opulent, handcrafted Indian silk brocades.
Meanwhile, the Oberoi team prepares our terrace in a dazzling and magical display of candles and lanterns. Now seated, dish after dish of incredible Indian cuisine arrives, with the chef explaining each and every recipe and its origin. Our personal butler was on hand to ensure a level of service that was second to none.
With our taste buds exhausted and all instantly cleared away, he reappears, presenting us with a floating lantern that we launch into the night sky. Stopping short of over-egging the whole romance thing and without even flinching that we are two men, the butler jokes that perhaps we should adjourn to the hotel's temple, offering us the opportunity to have our relationship blessed.
The Oberoi may be palatial in scale and luxury, but despite this, there is an intimate and private atmosphere throughout. Staying here means writing your own romantic fairy tale and you'll keep the ending open as you won't want to leave.
Photography courtesy of Oberoi Hotels & Resorts