David Hawkins returns to India on a quest to discover Jaipur's pink Palace of the Winds and learns that there is great colour, beauty, scent and sound lingering in the city's air.
A packed side street in Jaipur suddenly disperses and we see why. Coming our way is a herd of hefty and oblivious cows. I jump out of the way and press myself against the wall – a common reaction to a common occurrence here in India – my years of experience of living and travelling in this great nation have given me such animal-avoiding reflexes. We're going to be here a while, I think to myself, turning to my boyfriend Thomas to gesture him to do exactly the same and be ready to wait. But he's even more oblivious than the cows, tucking into an aloo paratha wrapped in local newspaper, beaming me a smile and a thumbs up, signalling just how much fun he's having on his first trip to India. I smile back, relieved that my German man, a lover of order, minimalism and punctuality also sees the beauty of the chaotic country that I love so much.
Our decision to come to India started in London at the studio of artist Hormazd Narielwalla. It was a cold and dreary London day and as we entered the studio we were both drawn to a 12-panel artwork covering one of its walls entitled The Pink City, inspired by Jaipur. The work was delicately created in shades of pink and marble paper, creating a representation of the Hawa Mahal, the city's infamous Wind Palace. Thomas was sold, but I wasn't immediately sure. Having travelled India more than any other country, I was more than a little apprehensive about whether the man I love was ready to cope with the country that I love. India is not always an easy destination to visit – especially for those who expect trains to run on time.
Rajasthan is the heart of India with Jaipur as its capital, divided into the old city and new. The new city showcases where India is headed, with wide roads, perfectly manicured gardens and luxury hotels, constantly trying to maintain a veneer of order. In contrast, the old part of the city is fun, whimsical and somewhat like a crazy, hedonistic older brother.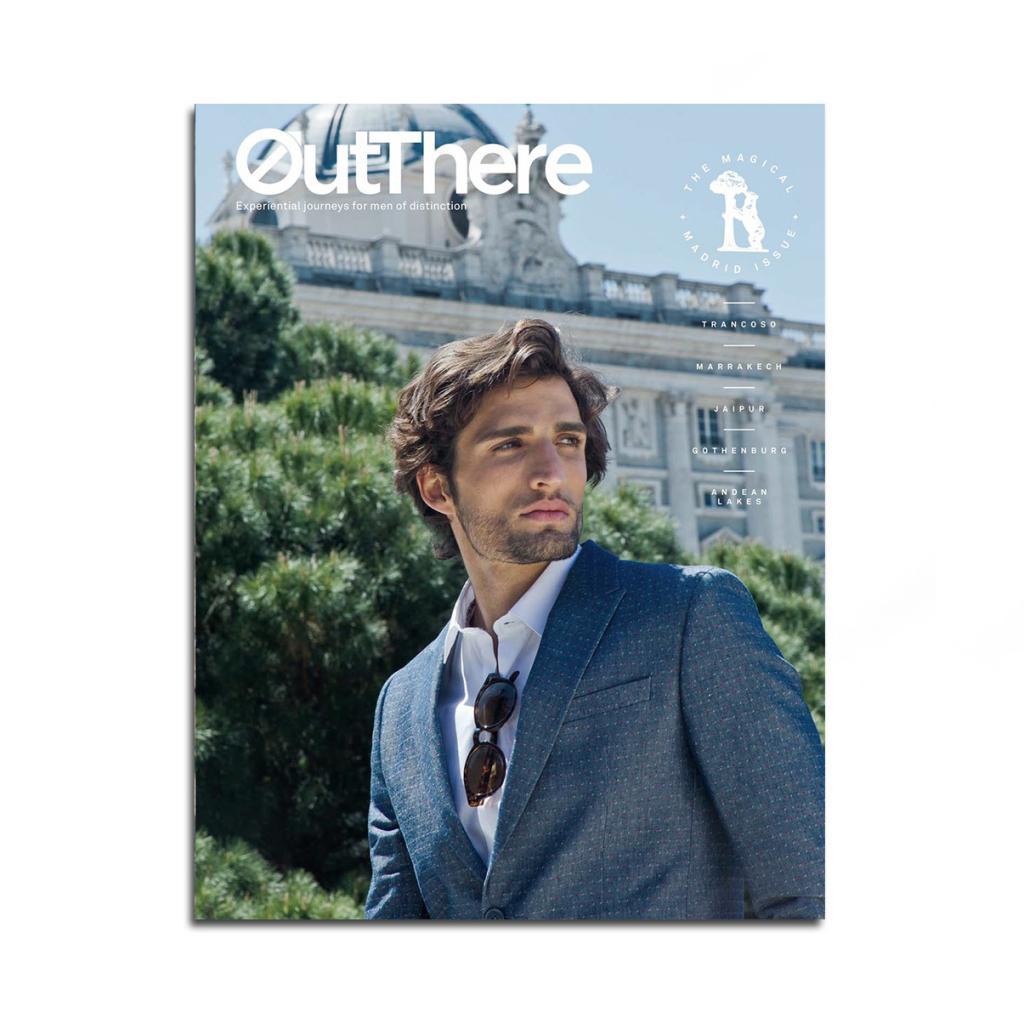 Our driver drops us at the entrance to the old city where a majestic yet faded archway is our gateway into the unknown. We bid farewell to any idea of orientation as we enter, allowing ourselves to get lost. We wanted to breathe in the city, taste it and let it intoxicate us with all it had to offer; after all, India is all about the senses. As we walk through, it starts to happen – sight, smell, hearing and taste are all immediately stimulated as we are bombarded equally by the most beautiful and horrific smells that merge into one heady scent – one minute an explosion of florals, next the cheap red diesel of the rickshaws. The mouthwatering aroma of street-food fights the stomach-turning smell of the fish market in just a short walk. Incense blows in from the local temple, like an aphrodisiac, pulling us deeper and deeper into the city's dark and ancient side streets. Cumin, anise and turmeric embrace us as spice sellers start to line the streets and hawk their goods, the air so thick with the smell of cinnamon, yet it's paprika that lingers on our palates.
Throughout this muddled chaos, there is some sense of order. Whole areas of the city are given over to selling the same thing, with each of the ubiquitous stalls claiming to be selling the best cinnamon in India, for example. Another road sells only sewing machines, vintage ones that have been around for decades but are still fit for use. In India, nothing is ever thrown away, especially not when it can be mended and sold on. An army of young men are hammering away at the traditional pedal-powered machines – with so many people throughout the country still living without electricity and basic utilities, such tools from a bygone era are still highly prized.
The next street reveals what looks like more spices, except they're vividly coloured. But spice it is not, these powders are used for dyeing fabrics – unless of course, you happen to find yourself in this very street during the Hindi festival of Holi, the festival of colours, also known as the festival of love. Holi is famous for people taking to the streets spraying each other with water and coloured powders and anyone there is fair game. It's a magical festival and the streets are filled with laughter and colour.
We turn a corner and go even deeper into the city, where the noise and banter of trading get louder with each step. Suddenly I'm hit by the smell of sandalwood, on a narrow road flanked by buildings blocking out the light apart from a single narrow beam, like a follow-spot. We stumble upon the courtyard of a temple basking in the spotlight and before us stands an intricate stone carving of an ancient Hindu goddess. We look up and towering over us, climbing up far above the otherwise dark streets, stretching into the sky as if escaping the chaos that lies around is the rest of the temple, with every inch of stone hand-carved with the images of gods. Our ears fill with the rhythmic chanting and ringing of bells and we both fall into a hypnotic lull of calm and peace.