Historic yet forward-looking, the immaculately furnished Villa Cora in Florence is a solid choice for travellers looking to feel as though they're living the 18th-century aristocrat life, while being just far enough from the hustle and bustle of town to still have a relaxing holiday. It's the kind of hotel many would regard a sight to see in and of itself.
Though we adore the city, we can't deny Florence is somewhat of a tourist trap: the hot summer months see hordes from across the globe descend to trawl the historic streets and glut the tiny taverns with their chatter. And just because you are one of them doesn't mean you can't put a bit of distance between you and the melee. Indeed, whilst easy access to the town centre is ideal, so is the ability to catch your breath, get the best table for dinner, or walk to a bar unmolested by street vendors. A bit of peace and quiet, essentially.
Set on a hill amid rose-filled gardens in a centuries-old park overlooking the city, a short shuttle of fifteen minutes walk away from the historical centre, Villa Cora is precisely this 'best of both worlds' location: view the ornate domes and spires of the old town while enjoying some open space and fresh air. The elevation even keeps it a few degrees cooler than the centre, making it ideal for sticky summer months.
Built in the 1870s by Baron Oppenheim for his wife and later purchased by the Empress Eugenie, Villa Cora is an architectural marvel. You know as soon as you hit the driveway that you're in for something special. It's a hotel with serious wow factor.
Inside it is resplendent with tasteful artwork and opulent oriental interiors. Villa Cora has been impeccably restored, with decor that preserves its history but looks forward, as well. Think vast, dripping chandeliers, trompe l'oeil frescoes, gigantic mirrors and a rococo ballroom. Each floor embodies a different style, from 1950s American glamour to oriental chic. It's eclectic and bold but it all works.
The thing that strikes you most is the detail. Stare at any wall, ceiling or surface long enough and you'll notice new exquisite details – engravings, sculptures, antique furniture. The sheer amount of human creativity that has poured into this place over the course of a century and a half is mind-boggling and makes it a perfect basecamp for this most artistic of cities.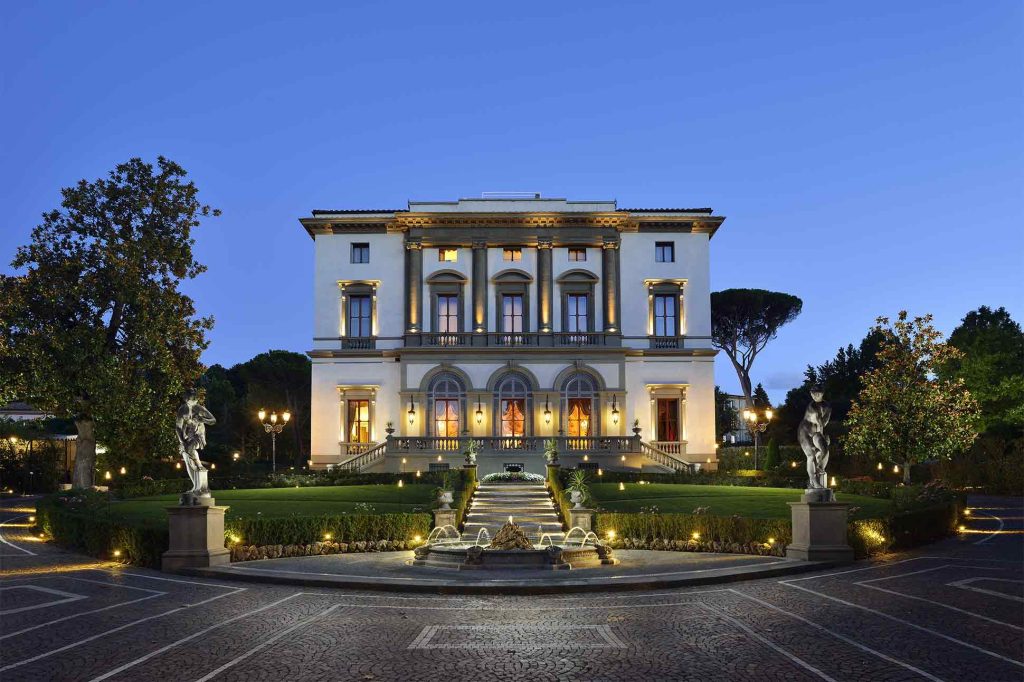 | | | |
| --- | --- | --- |
| Perfect for | Fly into | Right on time |
| The Sophisticate | FLR | GMT +1 |
While you're Out There
Don't miss out on the chance of visiting the incredible Uffizi Gallery. It seems like an obvious recommendation to make, but as a result of there being just so much art and culture to see, many a visitor would skip this, thinking it's 'just another gallery'. Rest assured it it's much, much more than that.
Its 44 rooms and suites range from the incredibly grand (the first floor 'piano nobile' with its antique furniture and Italian government-protected frescoed ceilings) to the merely beautiful – like our fourth floor, high-ceilinged boudoir with city view terrace. We actually used the bathtub twice, as it was big enough to host a board meeting and came with divine-smelling bath products and lavender petals to enhance the experience.
These little details carry throughout the room, from the comfy, embroidered slippers to nightly snacks left at your bedside. Even high-end hotels drop the ball now and then, but here, everything has been carefully thought through for maximum comfort and elegance.
Enjoy expertly prepared seafood at Le Bistrot, alongside freshly made pasta and other seasonal, authentically Tuscan delights. In summer months dining is by the pool, moving to the elegant Sala Moresca when it gets cooler.
Then there are cocktails at the chic poolside bar, the only heated outdoor pool in Florence, no less. We enjoyed champagne on the Bellevue rooftop bar on arrival, with a truly spectacular view of the city.
Breakfast is a spread to make a butcher blush with a hunk of prosciutto to carve and an Everest of meats and cheeses to gorge on the patio.
The spa, 'Bené', is on the hotel's lower floor and comes with a gym, a sauna, a hamam and massages of every stripe, as well as beauty treatments in collaboration with London-based celeb facialist (which we assure you is a thing) Sarah Chapman.
Service was the ideal mix of professional and personable. There's none of the stuffy gatekeeping that might come with a place of such historical significance and spectacle. Room service was prompt and the waiters were friendly and knowledgeable. It's always a good sign when the manager remembers your name, just a small surface sign that underneath the polite exterior hums a well-run machine.
All in all, we'd say you could pay a lot more for a lot less in Florence, and none of those places will make you feel like an 18th-century aristocrat. Villa Cora comes highly recommended if you value beautiful architecture and interiors, attention to detail, fine dining and a convenient yet secluded location.
Zack's stay at Villa Cora was part of an educational journey courtesy of The Luminaire. Read more about Zack's trip to Florence here.
Photography courtesy of Villa Cora