They say the journey is the destination, and in the case of a road trip through the Scottish highlands, along the scenic Argyll Coastal Route, we'd be tempted to agree – if it wasn't for the luxurious resort that is The Machrie welcoming you at the end of your trip.
A few short months ago, we buried our heads in Robert Macfarlane's hugely popular Landmarks, the author's 2016 glossary containing thousands of mostly forgotten about words describing the landscapes of the United Kingdom. Somewhere between 'freith', meaning foam on the sea in Scots, and the Gaelic 'talmraich', referring to the noise of footsteps on natural ground, we realised how hungry we were for an exploration of the Great British countryside. With temperatures rising and hotels set to reopen on 17 May, all we need now is a bit of inspiration… Cue The Machrie, on the Isle of Islay.
Set among the dunes of an unspoiled, seven-mile beach, the hotel has partnered with 4×4 Hire Scotland to make your travels to Islay, lovingly labelled the 'Queen of the Hebrides', a great deal more special and adventurous. Guests can choose to pick up their ride from either Glasgow or Edinburgh (the latter of which we fell madly in love with during our last visit), and select anything from a robust Land Rover Defender 110 Station Wagon to a more fashionable Range Rover Vogue – though we'll go for the former; this isn't LA and our yoga mummy days are long over.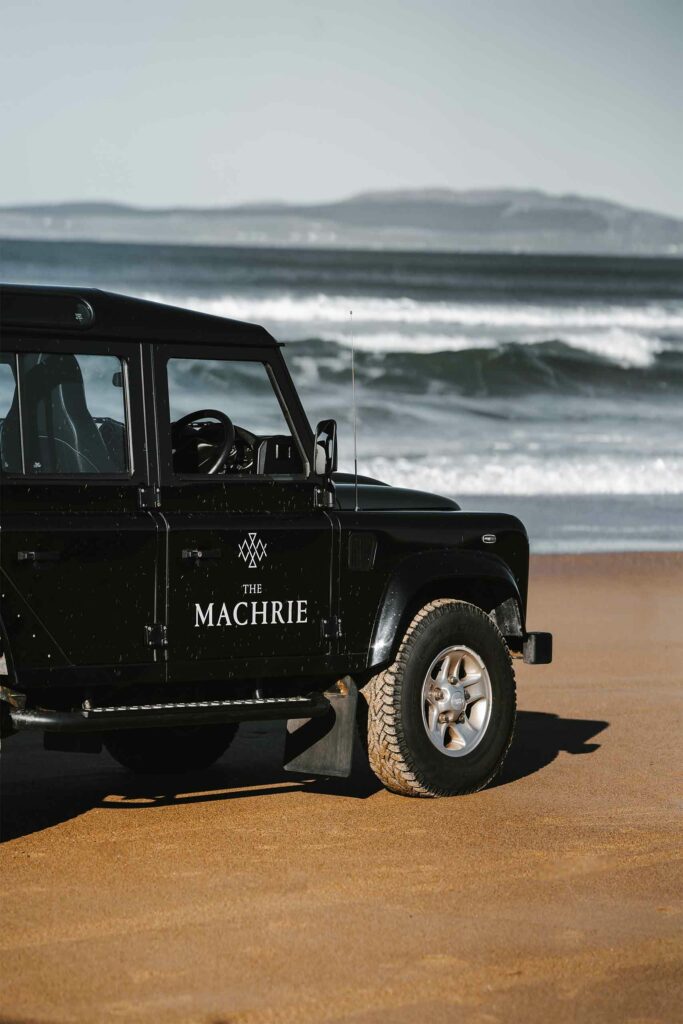 Random as the collaboration might seem at first, it actually makes perfect sense: it was on Islay that Spencer Wilks, former Managing Director of the Rover Car Company, came up with the name Land Rover whilst taking his modified Rover 12 off-road in 1947. We suggest keeping your rental on the tarmac instead, especially seeing the route to Islay promises quite the scenery as is. From rugged hills, sprawling pastures and stately castles to a myriad of lochs, it's the best of Scotland all wrapped up into a single journey – minus the Loch Ness monster, who lives up north (and in any case, Nessie is allegedly still in loch-down).
Once you've ferried your way over to Islay, the fun doesn't stop, either. The Machrie offers everything from a newly renovated Championship golf course, fat bike adventures, bespoke day trip safaris in partnership with Kayak Wild Islay, who will take guests out for close encounters with puffins, bottlenose dolphins and, if you're lucky, an orca or two. The hotel will also hand out maps so you can explore more of the island in your Rover, though be warned; Islay is home to no less than nine distilleries, all of which offer tours and tastings, so you might prefer being chauffeured around instead – better not take any whisks!
While there hasn't been a shortage of luxury staycation opportunities coming out of Scotland in the past year, we think few of them honed in on the outdoors element quite like this one. In partnering with a renowned heritage brand, The Machrie promises to invite guests on an exploration of landscapes that inspire both awe and appreciation, something as quintessentially British as afternoon tea, though, after some 13 months of enjoying our very own blend of Earl Grey at home, we'd prefer a trip to a sip. There's no word for that in Landmarks as far as we remember, but a term from our own mother tongue, German, pretty much hits the nail on the head: 'fernweh'.
Photography courtesy of Campbell Gray Hotels and via Unsplash