The Experientialist® joins the fanfare of opening day at London's newest luxury opening on Hyde Park Corner, The Peninsula London.
As the sun rises over the Wellington Arch, the auspicious red blindfolds were removed from the two giant white stone shis (Chinese guardian lions, otherwise known as Foo dogs) standing guard outside the Peninsula London, by a Feng Shui master. There's much concern for superstition here at the unveiling of this brand-new luxury property here in London. Considering the long delays and number of postponements that the hotel has endured to get to this point, the hotel's leadership are not leaving anything to chance. Tanggu drums, cymbals and lion dancers erupt in a cacophony of celebration. Sonja Vodusek, the Melbournite General Manager who has seen this project through since its very inception, is visibly emotional. She tells us – in her first interview of the day – that her tears came as a mix of relief and excitement.
The choice of opening date, 12/9 – "yat, yee, gau" in Cantonese – also has great significance. It's a premonition of longevity and in the month of the mid-autumn festival, no less. The implication? Abundance. Add to that, the number 12 in Chinese numerology is propitious. One is a yang number, ruled by the sun and symbolising independence and individualism. Two is a yin number, ruled by the moon and represents symmetry and balance. Together, the number 12 means harmony. Here at the Peninsula London, every effort has been made to ensure prosperity.
The lions, now with eyes open, gaze into Piccadilly and Hyde Park Corner; an important confluence for British high society, past and present. It's clear in this birth of a new legend, that fusing The Peninsula Hotels' Asian heritage and experience of being one of the world's oldest hotel companies; with Britishness and artisanship (not to mention quirkiness) – all at the heart of the historical but forward-looking London – is part of the masterplan. This blend features throughout the hotel.
Colleagues in pristine, white signature Peninsula porter uniforms stand ready, in front of a pair of 120-year-old Japanese maple trees and among a fleet of Peninsula-green, British classic cars. London taxis, old and new, and state-of-the-art limousine vehicles (by Rolls Royce and Bentley of course) are parked on the cobbled, drive-up forecourt off Grosvenor Place. Everyone waits eagerly for the first paying guest to arrive precisely at 12.35pm. You guessed it, 35 is also a lucky number!
Other team members, together making up a diverse and inclusive staff base comprising 55 nationalities – immaculately dressed by couturier Jenny Packham – deal with a throng of curious guests, both invited and those who have just wandered in off the street. A signature scent by perfumier Timothy Han wafts through the lobby area, bathed in natural light. Designed to evoke a sense of place, the foyer takes cues from nearby Apsley House and Hyde Park Corner. Across the walls in the Palladian-like space, panoramic, painted landscape murals take pride of place. On tables laid with crisp white linen are immaculate, Richard Brendon porcelain dishware.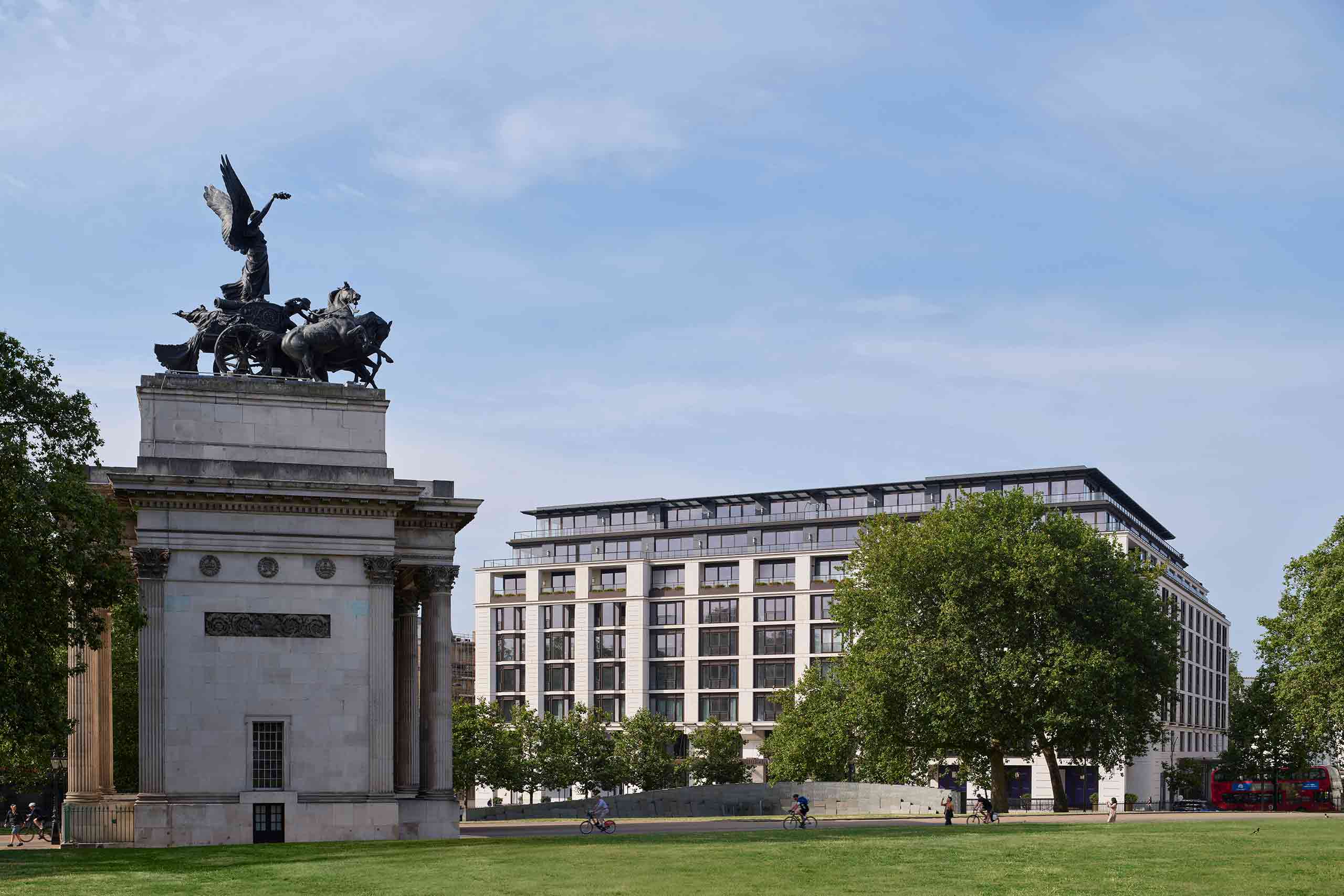 The space is surprisingly crowded with furniture: and the old-worldly red chairs, in our humble opinion, are startling choices. It made the lobby feel relatively small, despite the building's grand proportions. And as we sit looking out the lobby's huge windows, there is no escaping that we are in Belgravia… traffic included.
Thirty years of hope, six years in the making
The idea for The Peninsula London has been stewing for 30 years. The Hong Kong and Shanghai Hotels group has been searching for a site since the nineties, but it was only ten years ago that they acquired half the lease of Grosvenor Place. Aggressive in achieving the dream, they purchased the rest, just three years later. The total expense? A 'mere' GBP£240million / US$300million. They immediately tore down the old 1960s office block on site, set a tremendous GBP£800million / US$1billion budget and hired Hopkins Architects to build what stands before us today, breaking ground in 2017. Now, with over a billion pounds sterling down on the table, it is no wonder they're leaving nothing to chance!
For Sonja, this is the pinnacle of her close to four-year tenure here in London. Brought onboard in January 2020, she arrived from The Peninsula Tokyo where she had been at the helm for nearly ten years, just as the UK Brexited and the murmur of Covid began. She tells us that it has been the most challenging role of her career, but today's opening has made it all worth it.
When asked what it is that underpins hospitality at the Peninsula London, Sonja replies quickly with a single word: "generosity".
While you'd think that would come with the territory on a stay starting over GBP£1,000 / USD$1,200 per night, generosity in luxury travel comes in not what you'd expect, but in softer touches that truly make a difference. Entry-level, courtyard-facing Deluxe rooms are 52sqm / 550sqft for example – large for central London – and come with brilliant amenities all-in. Cocktails in the bar start at just £18 / $22.50 and the cost of dinner at Canton Blue is on par with the popular fine-dining Chinese restaurants of Mayfair, like MiMi Mayfair or Hakkasan, but with a more inventive menu.
But all this generosity cannot be delivered without amazing service. Sonja has taken great care in selecting her crack team of staff, from what has been over 35,000 applicants. The prestige of working for The Peninsula has meant the hotel received a significant number of applications, at a time when demand outstrips supply. Impressively, Sonja claims to have attended close to a thousand interviews personally. She specifically looks for those who demonstrate great care and attention to detail, and would be a great cultural fit with the existing, opening team, themselves handpicked for excellence.
On our initial interaction, the team here are poised and polished, so it seems Sonja's strategy has paid off.
First impressions
The property is undergoing a partial opening, there are parts of the hotel still yet to be debuted and completed. It will be done in phases between now and the festive period, with the aim to be fully operational in the new year.
Its aviation-themed (and by theme, we mean folly, as it has been delivered enthusiastically, to the delight of us AV-geeks) Brooklands bar and restaurant (as well as cigar smoking room) occupies the entire top floor and terrace, with incredible views over Hyde Park and the rest of London. Named in honour of the Brooklands Aviation Museum, which the Peninsula London has partnered with to showcase vintage aeronautical paraphernalia, including the nose of a Concorde at its entrance, it is set to open in October. To ascend to it, we take an elevator styled as a hot-air balloon.
The property's spa and wellness centre – whose renderings of dark-wood-panelled therapy rooms look simply sublime – is scheduled for a November reveal.
But Canton Blue, the hotel's Cantonese restaurant – our favourite space – with its superbly executed, contemporary, Chinoiserie décor (and like Brooklands, they've certainly gone to town with the theme) is open and receiving foodies. One day in, the Peking Duck is already the talk of London. We got to taste delicious Saicho sparkling tea and have been told that soon, it will be poured from Peninsula branded bottles. FYI, the best tables are the private booths around the side. Throwing a banquet? Its private dining room is the perfect place to host such a soiree. Fancy an intimate drink, instead? There's Little Blue, the hotel's funky take on a bijou Shanghai jazz bar.
Admittedly, we were quite pleasantly surprised to see just how embellished the décor of these F&B spaces were. As a team of Experientialists®, we have seen every The Peninsula hotel with the exception of Istanbul, and they have commonly been quite conservative when it comes to styling. Here in London, a distinctive and vibrant personality comes through in its design. It seems British eccentricity is alive and well.
Rooms and suites will be opened floor by floor. The Grand Premier Park Room we viewed had a large, triple-glazed picture window overlooking the Wellington Arch (perfect for watching His Majesty's Household Cavalry on parade every day). While it faces one of London's busiest roundabouts, you don't hear a thing. Furnishings are regal and sumptuous, with muted colours, but extremely tactile and textural. The dressing room and walk-in wardrobe are clad in mahogany, a tribute to Savile Row just up the street. Its bathroom is a vision in marble, with grains aligned perfectly. But what impresses us most is the state-of-the-art room tech, where everything, from temperature controls to concierge services is activated by a touch-screen panel or tablet. There are some surprises too, like a nail dryer in every room. Their story? The hotel group's Chairman was recently made late to an important function as he waited for his wife's freshly painted nails to dry!
The hotel's location is equidistant from the luxury and cultural stomping grounds of Mayfair and Knightsbridge and neither is it far from more diverse and eclectic neighbourhoods like Soho. However, as elegant and illustrious as The Peninsula London is, they will need to do something to petition the City of Westminster to change significantly the access by foot. With London being one of the world's best walking cities, the underpass to get to Hyde Park, Green Park and Mayfair from the hotel is rather unpleasant, which puts a damper on the property's otherwise ideal location.
Photography courtesy of The Peninsula London and by Uwern Jong