One of our favourite neighbourhoods in NYC has long been the East Village– an area brimming with personality and the home and playground of New York's unconventional set. It's a vibrant, artistic part of town that retains the local vibe that those mourning the fast-paced gentrification of New York have said is rapidly disappearing from elsewhere in the city. It's a melting pot, where creative types mingle with NYU students, where Little Tokyo meets Little Ukraine and where you'll find a treasure trove of vintage stores, record shops and Chinese laundries.
There aren't many luxury lifestyle hotels in the area and even if there were the Standard East Village would still stand out. But what's really lovely about the Standard is that checking in is like coming home – the whole place is cosy, charming and also somewhat eccentric (but then you are in New York City). The young, trendy team at the hotel greet you like a resident rather thana guest – casual and friendly – but will still cater to your every whim. The building itself sums the neighbourhood right up: you enter the 21-storey modern tower through an old tenement-style entrance and because much of the surrounding area is low rise, you get beautiful views over the rooftops of the city. Our room was contemporary and rather sultry. It is one of 145 fun rooms at the property. Our recommendation is to request something on a high floor for those killer views, although we loved our Junior Suite, with its floor-to-ceiling windows overlooking Cooper Square and peekaboo shower that brought out the exhibitionist in us. Ranging from 200 to 600 sq ft, the Standard's rooms ensure there is something for every travel taste and come with standard (see what we did there) complimentary WiFi, fully stocked minibar, huge TVs, extra- fluffy large towels, Bluetooth speaker and a big comfortable bed (complete with pink pop-art-lips cushion). For the ultimate party palace, check out the property's Penthouse. It's to die for.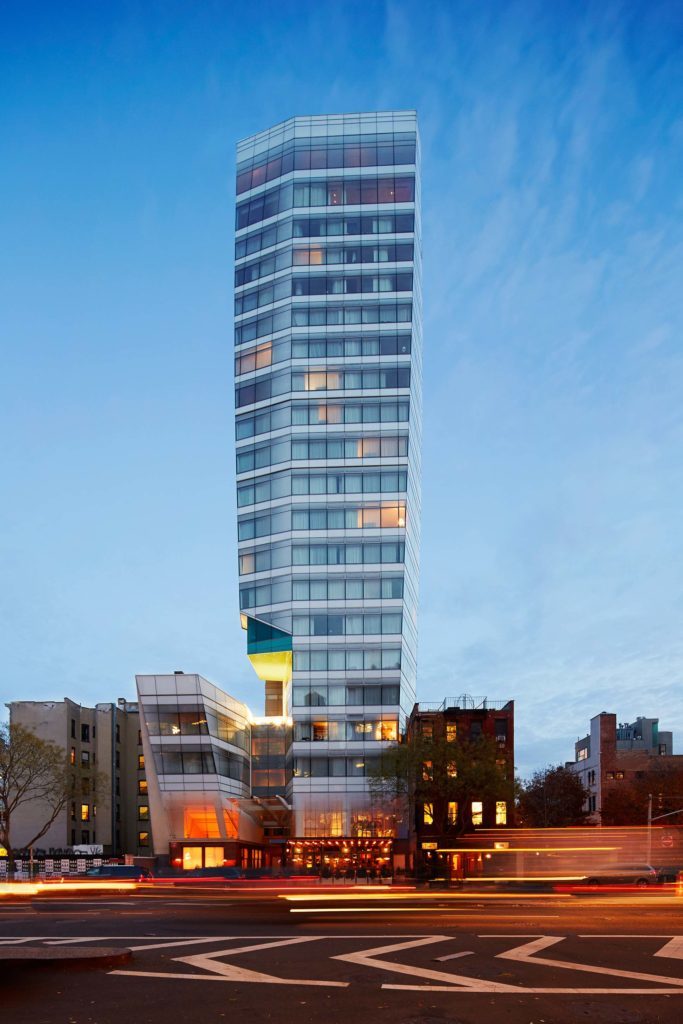 Back down below, there's a serene secret courtyard garden tucked away just by reception where you can drink coffee and plan your day in an oasis before stepping out into the madding streets of Manhattan. We preferred
to join the bustle of cute Manhattanites in the quaint street-side Café Standard, very much the heart and social hub of the hotel at any time of day, whether for breakfast or a graze-and-gossip lunch. For a more wholesome meal, the hotel's acclaimed Narcissa restaurant serves up some great options. As happy hour came, we checked out narcbar – where every Thursday local NYC drag talent takes over the hosting and, for those like us who are partial to a Sunday funday, there's drag bingo too, hosted by the hotel's own bartender. We thrilled to see that the hotel hosts LGBT+ centric programming throughout the year, not to mention some special one-off events. Throughout the week, there are guest DJs and an emphasis on booking talent from a wide range of identities to keep the crowd inclusive and dynamic.
The hotel's enigmatic general manager, David Lopez, is passionate about promoting the Standard East Village as a safe space for the LGBT+ community– both for guests and staff. He's continuously striving to provide programmes and offerings to strengthen that inclusiveness. He also promises a WorldPride 2019 celebration to end all celebrations. Proudly open to all, a range of exciting parties and events will take place throughout Pride week, amped up from its already strong LGBT+ offering during an average New York Pride.
Frankly, we can't wait.
This article is in partnership with The Standard East Village.