We've learned that West Hollywood is the sort of place where both residents and visitors have travelled the world and experienced the very best. So it's no accident that some of America's showcase design hotels are located here, raising an already high bar for hospitality. The homely Los Angeles hideaway with a distinctly international flavour – the Kimpton La Peer – is keen to stand out, by marching to the beat of its own drum.
Visiting or returning to the Los Angeles city-within-a-city that is West Hollywood is always a pleasure, made all the more enjoyable by our stay at the design hotel that has sent local (who are incidentally, also very much part of the jet-set) chins wagging, the Kimpton La Peer.
The property showcases the handiwork of Icelandic designer and architect Gulla Jónsdóttir, who throughout this fabulous hotel has created custom furniture and fittings in her signature, sensual, organic forms. She cleverly uses natural materials and subtle textures in line with Nordic sensibilities (think deep oak floors, polished concrete finishes and plenty of leather). Yet, the design of the Kimpton La Peer still somehow feels utterly Californian, as it does in ambience (but perhaps we were biased by the guests with their rolled-up JadeYoga mats who were heading up to the rooftop for alfresco yoga).
The first thing we did on arriving was to head for the pool – through an expansive, art-filled lobby – set in an intimate central courtyard, flanked by giant potted palms, olive trees and a hanging garden, just to add a touch of the Mediterranean into the already international mix. That's of course before we realised that the hotel's dining hub (at the time of press), Issima, which we're told is a play on the Italian exclamation, "Bellissima!", is a conceptual seaside Italian eatery, developed to exude the feel of a European beach holiday.
The hotel did feel busy when we checked in, but in a good way, in our opinion. Beyond staying guests, it very much felt like a hub for the local community. Whenever we were in its communal spaces, there was something going on: a small corporate event, a casting, a gay wedding reception. It's nice to see that West Hollywood's residents are invested in the hotel and vice versa.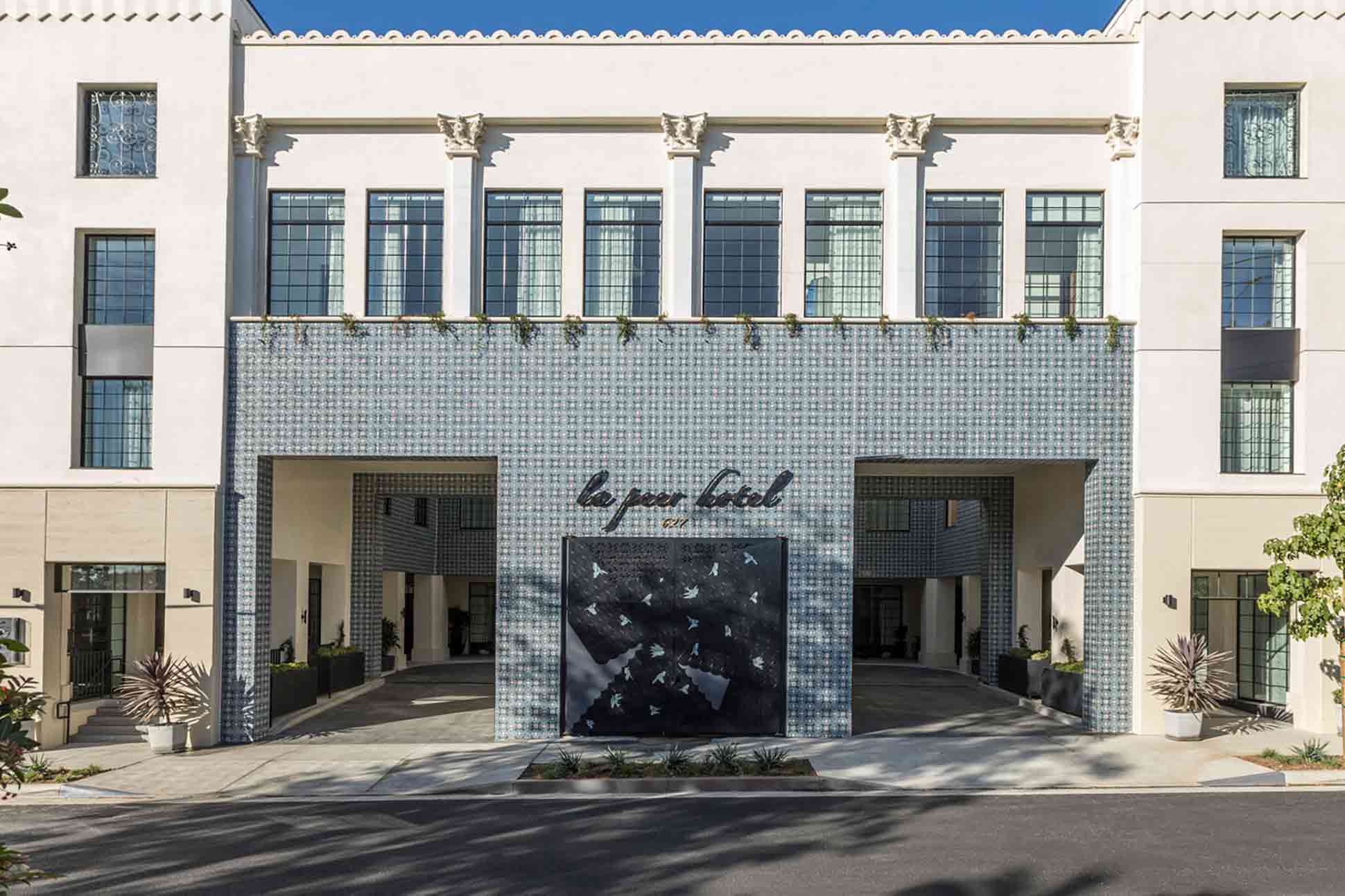 | | | |
| --- | --- | --- |
| Perfect for | Fly into | Right on time |
| The Culturalist | LAX | GMT -8 |
While you're Out There
The Kimpton La Peer has established itself as part of West Hollywood's 'Design District'. Fellow design junkies will love that the hotel is within easy walking distance of the Pacific Design Center and the showrooms of some of Los Angeles' best interior designers, couture furniture makers and wallet-draining home stores. If you don't have the luggage space, window shopping is encouraged and there are plenty of art galleries and concept stores, set among boho coffee shops and 'reservation-needed' restaurants to help you get into the local vibe. The whole area is very walkable, but the house Tesla can take you on complimentary journeys up to a one-mile radius. Given that West Hollywood is only two square miles, you can pretty much get anywhere in the city rather quickly from here.
Our suite at the Kimpton La Peer was very well appointed – minimalist, somewhat industrial and typically Jónsdóttir in aesthetic – with large windows that let in plenty of natural light. To further drive home the transcontinental internationalism of La-La-Land, a Jeff Koons sculpture and a stack of British fashion books are tactically placed on open shelves, alongside a fully stocked minibar of local snacks, Californian wine and LA craft beer. An enormous egg-shaped bathtub is the centrepiece of the large, chic bathroom.
Is Kimpton La Peer a luxurious, Los Angeles five-star hotel? It's not. While there are things that nod to what the jet set likes when it comes to glamourous, celebrity-style Los Angeles hospitality, it's much more of a boutique, design property. But there's something very down-to-earth about the hotel that we just loved; plus the fact that it feels rather local and part of the community it's in. And its location is hard to beat … just a short stumble home from the rainbow-hued delights of Sunset Boulevard.
Photography courtesy of Kimpton Hotels