Downtown NYC is back in vogue. The area is teeming with history but equally with a new energy that represents ever-evolving Manhattan. One address at its heart sums up that energy, an absolute gem of a hotel, with a jaw-dropping, open atrium showing off an exquisite specimen of late 19th-century commercial architecture: it's The Beekman, a Thompson Hotel.
Staying in Downtown Manhattan for leisure may have once raised the eyebrow of the seasoned NYC visitor, but today it is one of Manhattan's most happening areas, rooted in a long and storied past (it's practically where New York City was founded), but now gentrified and reinvigorated. No longer does the area's infrastructure just cater to those who wear finance or legal hats (and the businesses that support them), but also to those who now call it home and choose to visit.
Its development has also driven its connectivity. It is surprisingly easy to get to and from by subway or by a rather efficient ferry service. Time-poor travellers can even get a helicopter here from JFK in under 10 minutes! But it's also within walking distance of other points of interest, not to mention some iconic landmarks, from the new World Trade Center plaza, Brooklyn, Manhattan and Williamsburg bridges and the South Street Seaport district.
The Beekman is a hotel set in a gorgeous Queen-Anne-style heritage building (completed in the same year as the nearby Brooklyn Bridge). For the longest time, the building was the headquarters of a high-brow law firm. It is particularly grand, as the firm supported many of the players responsible for NYC's epic growth.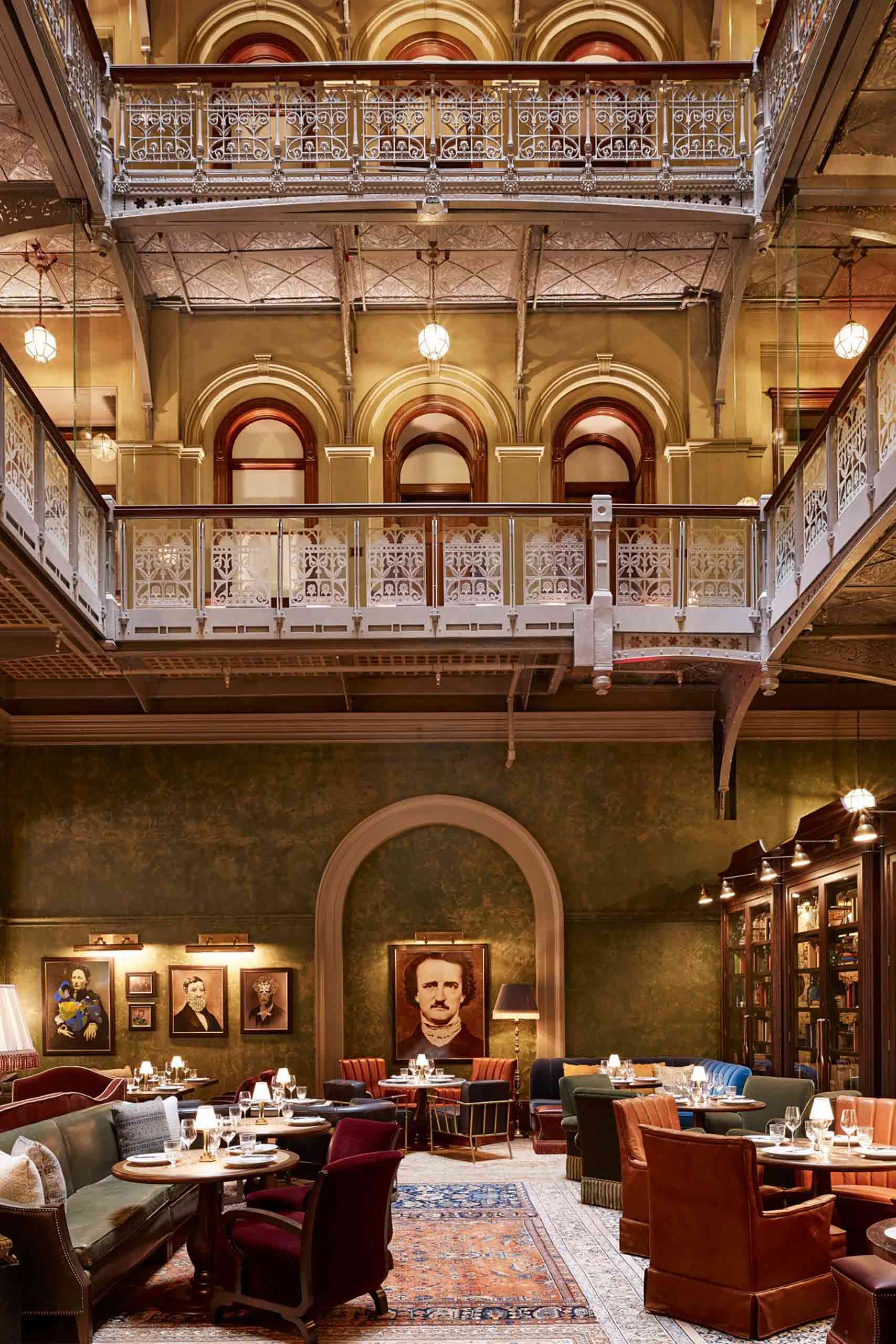 | | | |
| --- | --- | --- |
| Perfect for | Fly into | Right on time |
| The Culturalist | JFK / EWR | GMT -5 |
While you're Out There
The Beekman is perfectly positioned to explore Downtown Manhattan and pretty much equidistant from the river whether you're heading South, East or West. If you've taken us up on our recommendation to stay at The Beekman, then you probably have a keen interest in the city's history and architecture. Not far from the hotel you'll find Governors Island, or the 18th-century Fraunces Tavern. There's also Schermerhorn Row and the African Burial Ground National Monument, just to name a few others. Explore away!
What strikes you immediately as you enter the hotel through the sultry and oaky foyer is a grand atrium that rises up towards a skylight, revealing the intricate period design and decoration of its floors, walls, tiles and cast-iron railings. The ground floor also houses two outstanding eateries. But if you already have reservations at one of NYC's world-class restaurants, be sure to make time for a cocktail – at the very least – in the hotel's beautiful bar room to imbibe in the atmosphere. If you fancy a nightcap, the basement bar offers up an eclectically designed, speakeasy-style club with late opening hours.
Heading upstairs will lead you to 287 rooms – an impressive number of keys – despite The Beekman's old-worldly, boutique feel. The high ceilings in our suite made it feel very generous for a city hotel. Despite the rather modest bathroom, we loved the design: a mix of dark wooden floors and handsome, solid furniture, combined with sumptuous, richly coloured soft furnishings.
The hotel also sports two signature penthouse suites nestled up on the roof in the building's turrets. They both have their own private entrances as well as their own spacious roof terraces.
Our advice is to splurge on the highest room category that you can here at The Beekman; one that sits just off the central atrium. Despite that being counter-intuitive (the bar and restaurant downstairs are oftentimes busy and bustling), the suites here are sound-proofed and you will really be making the most of your stay in an old New York building. The standard rooms down the corridors beyond the atrium, are well, just that… standard.
Photography courtesy of The Beekman