Choosing the tongue-in-cheek adjectives 'dirty' and 'flirty' to describe the enfant terrible of the hotel scene in the capital of Texas shows just how comfortable we were in their care. 'Dirty' because of its location – nothing to do with the hotel's level of cleanliness, to be clear – on what locals affectionally refer to as 'Dirty 6th Street', the city's live music and nightlife Mecca. And 'flirty', because of how trendy and contemporary the Thompson Austin is.
Staying at the Thompson Austin puts you right at the epicentre of the city's infamous live music scene, a long street lined with cacophonic, grungy drinking dens, saloons, and venues touting a nightly playlist of bands ranging from the marginally known, to the niche, to the up-and-coming. Incidentally, it's also known as the street with the most fake IDs per capita in the United States. Perhaps that's an urban myth, but it seems that Austin's sense of hedonism appeals to all ages and demographics. It's quite a throng any day of the week, but particularly on weekends when police cordon off this entire section of the thoroughfare to allow drunk and amped-up revellers plenty of room to spill out onto the streets safely.

But stepping into the Thompson Austin and its spacious, contemporary lobby, the bustle of the outside world melts away instantly. Here, the vibe is far more sophisticated. There's ample sumptuous seating by the roaring fire (hardly necessary in the Texas heat, but adding a sense of bohemian, ski-lodge-esque home comforts). A good thing too, as local singers perform nightly in the lobby, allowing you to enjoy a taste of the city's diverse music scene and figure out if you want to get 'dirty', or stay 'flirty', so to speak. Vibrant artwork and eye-catching sculptures pepper the space, and other nods to the city's music scene add to the ambience. For instance, guests receive guitar picks as drink tokens upon arrival. All in all, we thought it captured Austin's energetic spirit really well.
And if your motivation for visiting Austin isn't music, the hotel's central location means you're never too far away from whatever it is that stirs your interest, be it BBQ, cowboy gear shopping, or investing in a state-of-the-art drinks cooler, courtesy of Yeti – founded right here in the city.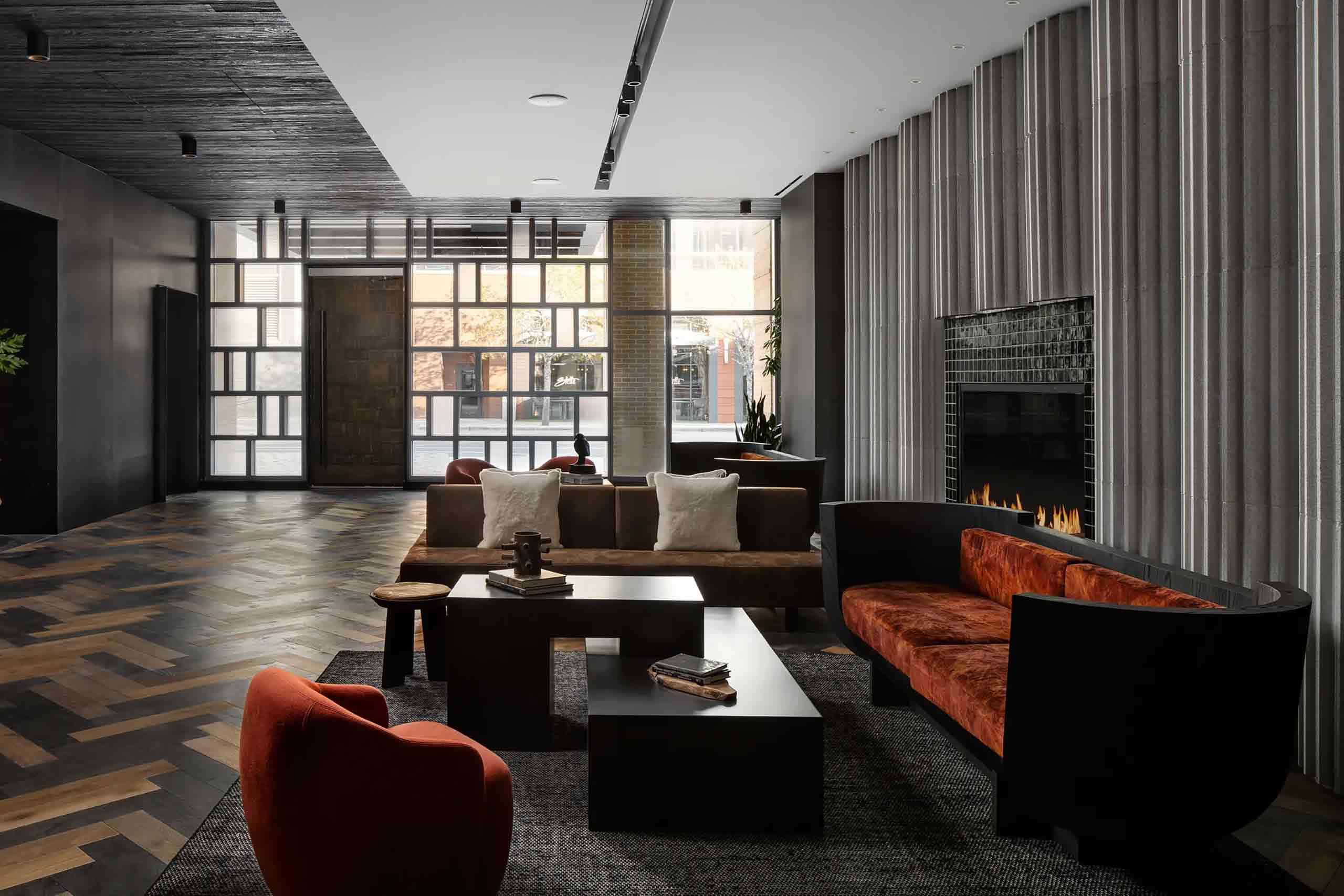 | | | |
| --- | --- | --- |
| Perfect for | Fly into | Right on time |
| The Insider | AUS | GMT -7 |
While you're Out There
While Dirty 6th Street will call you at least one night of your stay in Austin, be sure to check out some of the city's other drinking establishments (we certainly did!). LGBTQ+ OutThere travellers will enjoy the gaybourhood of 4th Street, not too far away. We also checked out Cheer Up Charlies, for a queer hoedown. Looking for great cocktails, we checked out The Roosevelt Room for a delicious dirty martini or five. Closer (across the street) to the Thompson Austin is a tiny speakeasy bar, Floppy Disk Repair Co., which is popular with both locals and visitors. However, to gain entry, you'll first need to find the code for the door!
As we headed to our room upstairs, we made sure to follow the signs for the Thompson rooms. Each floor is divided into two sections. We were staying in the more upscale Thompson accommodations, but another corridor led to the more casual, lifestyle-driven Tommie Hotel. Each has its own distinctive style, colour pallet, and carpets, so once we familiarised ourselves with it, we knew which way to turn.
Our Thompson King City View room was tastefully appointed in an industrial style with exposed concrete features, rich, green leather furnishing throughout, and a clever, 'space-maximising' layout, although we could really have done with just a little more room. Yes, the large windows that skirt the entire outer walls and offer views over the cityscape provided an impression of ample space, but the reality was that it was really just enough space for sleeping in. The way in which it was appointed didn't offer much more than that, and for us, it lacked space to sit and lounge. They say that everything is bigger in Texas, but this doesn't really apply to the standard rooms at the Thompson Austin. But perhaps, in line with the brand of urban sophistication that the Thompson brand is all about, designers were aiming for a more loft-like New York City kind of vibe. Whatever their motivation, if you're someone who likes to spend time decompressing in your room, we'd suggest opting for a suite. The bathroom made the most of our room's compact footprint, with a surprisingly large shower, stylish terrazzo tiling, and luxe amenities by D.S. & Durga.
The Thompson boasts three dining options and a café. We snacked on fresh and zingy Mexican-inspired food and cocktails at Wax Myrtles – an eatery with a rooftop terrace open to the 'prairie sky,' adorned with fairy lights for a cosy mood – adjacent to the property's posing pool. Service was friendly, as you'd expect from Texan hospitality, and efficient; in fact, we were surprised by how quickly our sharing bites arrived. The pool area was a bustling spot for daytime lounging, with loungers being snapped up for early in the day, so we recommend getting there early to secure your space.
Meanwhile, Diner Bar serves up Southern comfort food with a gourmet twist, and The Grey Market functions as an eat-in or takeaway joint for brunch favourites. The Coffee Bar at Tommie morphs from a social café space during the day to a natural wine bar at night.
Austin has always been a city with a modern (dare we say it 'hipster') spirit, but ever since the pandemic, there is a renewed vibe and vigour to the city that has almost become what defines it. Everyone we spoke to talked about the recent demographic change, in particular. Coastal migrants, including those from California and New York, have moved and are moving here in search of a place to live that's better value for money, yet liberal in outlook, in an era of remote working. And with that come better food, better coffee, better bars, better nightlife, and in our humble opinion, a more diverse (and with that, better) populace that brings with them a more inclusive offering. The Thompson Austin reflects this change; its super-contemporary and somewhat 'big-city' approach to hospitality is a game-changer to the typical Austin experience.
Photography courtesy of Thompson Hotels