Clark Harding discovers that Marfa is not your average Texan town.
I still maintain it was a Poodle…
I'm driving through El Paso just after sunset and turn on to the Route 90 freeway, towards Big Bend. I switch off my audiobook to concentrate because man, is it dark! My high beams pierce the abyss in front of me. I know I am nearing Prada Marfa, so I am intensely focused on not passing it. My somewhat unoriginal plan is to pull over for the perfect night capture of this strange retail folly in the middle of the arid Texan landscape, but now that I'm here, it is the stars that draw my attention upward. As an avid traveller, I've seen a lot of virgin skys, but here in the Westest of Texas, bordering Mexico's Chihuahuan desert, The Milky Way is as crisp as a Hubble Telescope photo in a NatGeo foldout. The stars at night really are big and bright deep in the heart of Texas.
Right then, a white poodle darts across the road and I scream like Veronica Cartwright in Alien, almost swerving into the Prada store. My whole life flashes before my eyes.
When I reach town, deeply shaken and seeking comfort over my friend's fire pit, I'm subject to their laughter.
"It was probably just a jackrabbit," they chuckle to each other.
"Would a jackrabbit be perfectly clipped and groomed?!" I retort.
"You sure it wasn't a UFO? Or 'The Ghost Lights of Marfa?'"
"But are UFOs fluffy?"
"Poodles in Chihuahu! Wonder what that mix would be? A Chi-Hoodle? A Poo-huahua?" they start to belly laugh over their drinks.
"I'm going to bed now. I hope you know you're all terrible people."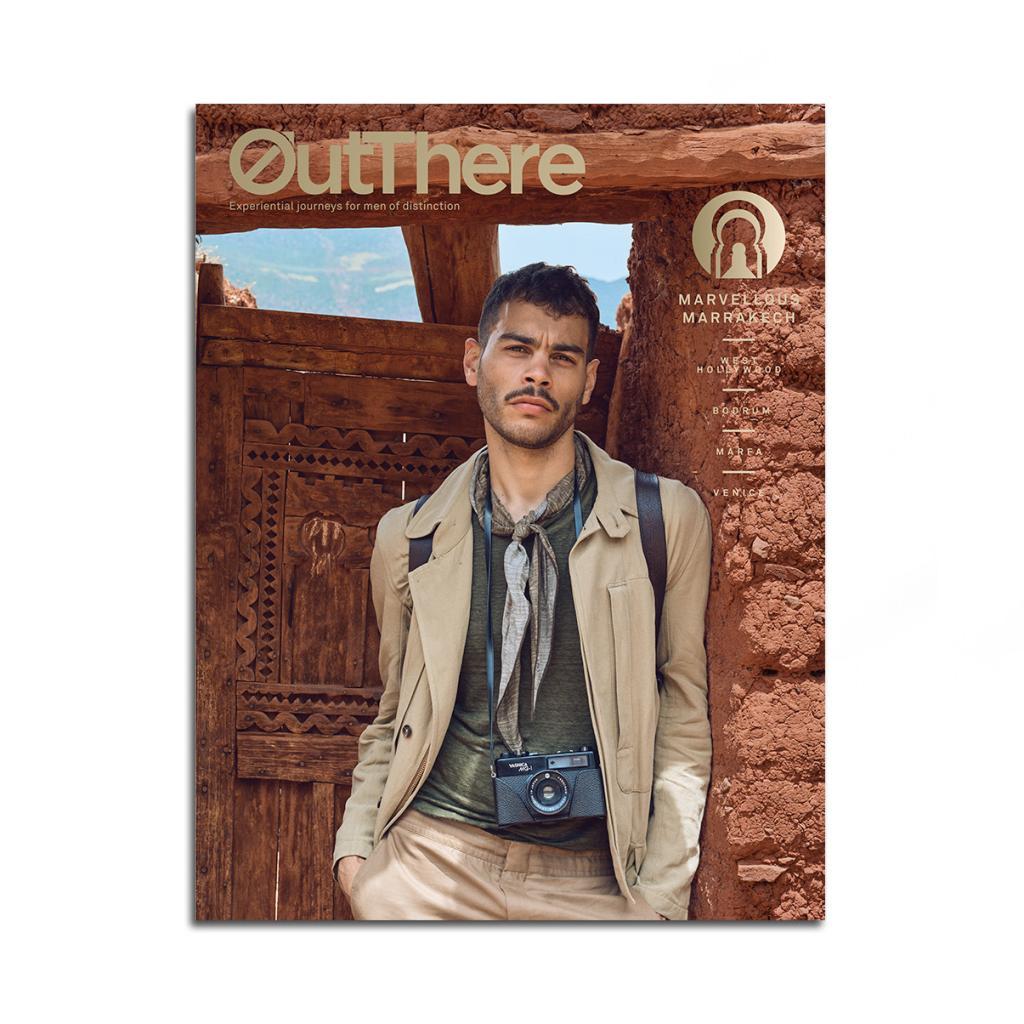 My friends cackle as I stomp off to my room. Why have I come all this way, only to see my long-planned, fantasy photo ruined by a phantom poodle? What the hell am I even doing here?
But, in true Marfa fashion, the story only gets weirder…Many years ago when I first moved to Hollywood, I was roommates with another gay guy also named Clark. This Clark, 'the other Clark' (not to be confused with me in the third person) took a seasonal job one year at The Marfa Film Festival. Completely mesmerised by this rather strange place, he bought a historic building for five dollars and then renovated it for another five dollars. Today, he's a full-time Marfan (I think that's what you call them) and is now a thriving landlord in a bustling Airbnb economy out in the desert. A highly active filming location, the other Clark also gets more Hollywood jobs in Marfa than in actual Hollywood. After years of me judging, and years of the other Clark insisting I was being judgmental, I eventually heeded his insistence to at the very least give Marfa a good internet stalking.
Landscape architecture
According to ancient Wiki-lore (the CliffsNotes version) Marfa, Texas is, metaphorically, an unlikely collision. What started as a watering stop along the railroad in the 1880s, became a military fort by the 1940s. What had fallen into decay by the 1960s was visited by New York artist Donald Judd in 1971, sparking the artistic movement that the city has become famous for and continues to this day. Judd founded the Chinati Foundation (named after the nearby Chinati Mountains) in 1976 with the goal of bringing art, architecture and nature together in order to form a coherent whole; and it kind of took on a life of its own. More artistic endeavours joined in: Ballroom Marfa and most famously, the Prada Marfa installation – a hermetically sealed replica of a Prada store, which elevated Marfa to a pop culture destination and a favourite of Instagram hunters. Thinking I would be the first person to discover a unique angle to this photo opportunity, I finally decided to venture across the Southwest and experience what the fuss was all about. Unfortunately, in my research, I found no reports of poodle-related incidents, supernatural or otherwise, to prepare me.
"Many guests are not only art fans and UFO junkies, but also friends of Dorothy… in deeply Republican Texas."
The big thing that held me back for so long, aside from general big-city snobbery and unwillingness to accept West Texas as a beacon of minimalist sculpture, was that Marfa is not an easy place to get to. The closest airport is in El Paso, a three-hour drive away. And although Amtrak has a Marfa stop, it's one of those places where you need a car while you're in town. Thus all signs point to a long – and in my case harrowing – road trip.
But every morning when I wake up and push through my screen door, sipping coffee on my porch in the Texas sunrise (as if I was friggin' Kevin Bacon in I Love Dick), I am able to understand that isolation is the key ingredient to this ghost-town-art-park's unique recipe. Getting here is less of a schlep and more of a pilgrimage. Hipsters come from far and wide for one of Marfa's countless signature festivals of art, cinema, music, The Mysterious Lights, or just to witness the town's permanent collection of sculpture set among its decaying buildings. Mom jeans and ironic sunglasses pepper the main drag, carrying old-school maps and road atlases (because cell service sucks, part of the experience) in search of artistic treasure. There are designers looking for inspiration, artists hunkering down to complete their fellowships, tourists like eager children hunting for Easter Eggs; it takes such effort to get here that every small find is a well-earned discovery, celebrated of course, with a selfie.