Uwern Jong's journey along Kentucky's Bourbon Trail leads him to Lexington, where he uncovers some homegrown success stories – both old and new – and explores what makes the city a hotbed of achievement.
"Catching lightning in a bottle," is a saying that horse breeders in Lexington, Kentucky use when they find a prized thoroughbred. It captures the very essence of a champion racer: speed, electricity, power; yet in a way that is containable, trainable and marketable. It is a phrase that has entered our everyday vernacular to mean a feat that for most is difficult to achieve. It infers ingenuity and innovation; as well as celebrating the tenacity and determination of those who rise to the challenge and succeed, sometimes with a little bit of luck too.
Stopping by in Lexington while on the Bourbon Trail, I find bottled lightning on every shelf – in horse racing for sure; after all, Lexington is the thoroughbred horse breeding capital of the world. Touring Keeneland, Lexington's internationally renowned racecourse (where the Blue Grass Stakes is run, a prep race for the legendary Kentucky Derby) and auction house, I meet Price Bell, a sixth-generation horseman at renowned breeder, Mill Ridge Farm. He's having a great week at the Autumn meet, where horses – and potential future champions – are bought and sold. Mill Ridge's stock is doing well.
The atmosphere in the amphitheatre-like auction hall is electric. The bids come in hard and fast from those on the floor and on the phones, and now from the internet too. You may not see them here, but via their agents, Arab kings, European oligarchs and Chinese business moguls are on the other end of the line, their social status levelled somewhat in the anonymous cacophony. But at some point, they would have passed through here too – everyone wants to experience this atmosphere for themselves – flying in by private jet to Lexington's 'Blue Grass Airport' that is literally on the opposite side of U.S. Route 60 to the grounds.
The auctioneer skillfully chants in the characterful, rhythmic monotone that highest-bidder vendors do, creating an overwhelming sense of urgency in the room. I sit on my hands, as the first horse I watch sells for over US$200,000.
"It's the NBA draft of thoroughbreds," says Price as he leads me around the central rotunda, past a century-old collection of equine art through the ages. We walk out of the paddock to watch the horses parade in front of prospective buyers and horse lovers alike. I wonder what they're looking for.
"It's an instinct," replies Price. "There's no surefire formula. Pedigree and lineage can have something to do with it, as does nature and of course nurture. But sometimes it comes down to pure luck."
"Visit Horse Country see an opportunity (and need) to get people to engage more with what happens behind the scenes, to demonstrate the love that goes into nurturing these animals and to preserve this centuries-old tradition"
There are certainly plenty of horseshoes here to help with that. But what puts the lighting in the bottle? Why here in central Kentucky?
Like picking a winner, there are many who attribute it to luck. But locals will tell you that it's more than that. Kentucky rose in infamy as 'horse country' when wealthy racing enthusiast R.A. Alexander first bottled lightning in equine terms here in the 1850s. He owned a stallion, aptly named Lexington after its birthplace, who sired a long line of winners. The horse is what inspired the legend of Big Lex, the blue-blooded, or at least in modern folklore, bright blue-skinned thoroughbred, who has become the mascot for the city.
Lexington (the horse) was the product of half a century of careful breeding, a tradition brought to this part of Kentucky by early pioneers from Virginia, who had a notable horse culture and were used to tending to the East Coast racing steeds imported from England. Add to this skill, Kentucky's limestone bedrock is rich in calcium. Kentucky bluegrass and spring water are a recipe for building exceptionally strong bones in horses.
Then, from the 'Progressive Era' of the 1890s onwards, as a precursor to Prohibition, many states banned racing altogether to curb gambling and boost greater social morality, but Kentucky wasn't one of them. It made the state a magnet for wealthy East Coasters looking to invest in thoroughbred nurseries, all keen to sire the next Big Lex.
I learn this all from Price and my guide from Visit Horse Country, a local organisation founded to build tourism aligned with horse rearing. It aims to connect travellers to the horses, land and people here, to inspire more love for Kentucky's (other) great pastime.
Price's own Mill Ridge Farm is leading the charge alongside a number of other equine partners. For so long, farms have been super secretive. They kept outsiders at bay, so no one could steal their recipes for success. But it seems that those days are over; and as horse racing attendance figures fall in modern times, Price and other stakeholders in Visit Horse Country see an opportunity (and need) to get people to engage more with what happens behind the scenes, to demonstrate the love that goes into nurturing these animals and to preserve this centuries-old tradition. I can't help but feel that they have taken their inspiration from the bourbon industry. The farms in particular sit on acres of prime land, many with beautiful buildings built for entertaining the VIPs of wealthy horse owners. Developing an additional income from equine tourism is simply a no-brainer.
I'm driven through verdant fields, to Godolphin at Jonabell Farm, part of the largest thoroughbred operation in the world, founded by Sheikh Mohammed, the ruler of Dubai. Here, I meet some handsome sires and am shown their facilities: more luxurious than some of the best hotels that I've stayed at. These horses live a good life but for good reason. It's hard not to be impressed.
Tourism at these farms is still fledgling because their primary reason for being is all about breeding. The visits are educationally-centred; they're excellent, but the 'experience' part is a work in progress. I sense a hunger to develop the segment further, particularly from the new generation of local horse lovers. Perhaps, they don't yet see the need for the 'Napa-fication' that's happening in the bourbon world, but that's not to say that it's not something that will come in the near future. For now, this lightning is not yet in a bottle, but in the cask, maturing.
Meanwhile, the trajectory of Lexington bourbon has been meteoric. It's proof in the pudding that you can combine old know-how with new, creating adjacent experiences to the traditional distillery tour to form a longer-term relationship with visitors.
Take it from me, as someone who has been to a few over my time here… you only really need one true distillery tour, where you see the still, the mash and fermenters; then after that, it's really about what else they lay on: tastings, bottling experiences and food pairings.
"International food has always been in vogue, a status symbol almost. Having a palate for foreign food was seen as cultured. Ouita wanted to turn that on its head, making local the new luxury"
Smaller, craft makers like Bluegrass Distillers are all part of the Lexington success story. The blue corn bourbon brand has confirmed its takeover of the historical Elkwood Farm, to enable them to host unique experiences in its 1800s mansion building, listed on the National Historic Registry. The James E. Pepper Distilling Company has created a 25-acre entertainment destination called the Lexington Distillery District, which features local entrepreneurs who have created exciting restaurant concepts, as well as a craft coffee stop and ice-cream boutique.
The bigger distilleries in the area, like Buffalo Trace in Frankfort just outside Lexington – whose motto is 'Honor tradition, embrace change' – are super successful bourbon producers, but they are also developing concierge-style experiences, for more discerning, luxury travellers. It takes their tourism offering up a notch and makes it even more exclusive. If you ask the right people, you can dine at the distillery after it is closed to visitors for the day – the food coming from Kentucky's abundance of farm fresh produce and cooked by chefs at the vanguard of a revolution in seasonal cooking.
Lexington's homegrown culinary luminaries are making waves too, perhaps less surprisingly with their access to some of the best ingredients in America. But then, any restaurateur will tell you that it's far from the easiest of trades.
Over 20 years ago, Chef Ouita Michel dreamt up a local food concept, long before it was a thing. International food has always been in vogue, a status symbol almost. Having a palate for foreign food was seen as cultured. Ouita wanted to turn that on its head, making local the new luxury; and she made a commitment to supporting Kentucky's agricultural output.
Fast forward to today, Ouita now has eight restaurants and foodie foundries across the city and beyond… and a catering business that supports the distilleries' needs for events or VIPs. Beyond being passionate about the local food community, she works hard to give back to the wider local community as well. She is a member of Les Dames d'Escoffier and FoodChain's FEAST, both philanthropic organisations that celebrate and empower women leaders in the food, beverage and hospitality industries. Her non-profit work also extends to the Hindman Settlement School, which is dedicated to enriching Central Appalachian culture; and the Prichard Committee for Academic Excellence, a statewide citizens' group working to improve education for Kentuckians.
Back to bourbon, there are other entrepreneurs who are also celebrating all that's local. In the centre of the city, contemporary, independent tasting rooms that showcase the entire state's bourbon prowess – with real experts at their helms – give visitors an opportunity to have a curated bourbon experience, including a chance to taste rare bottles and their own barrel selects that you can't get elsewhere. Many have even bottled their own small-batch bourbons too. At Justins' House of Bourbon – a museum-like tasting space and liquor store, Justin Sloan (one of two Justins who founded the business) walks me past his whisky library, made out of dusty bourbon and rare bottles, sat on temperature-controlled shelves that were once floorboards at the Maker's Mark distillery in Bardstown. Pulling back one of the shelves, he leads me into his secret speakeasy tasting room.
Justin is passionate about vintage whisky and had always dreamt about building this business. But it wasn't always possible, because old state laws prohibited retailers and liquor licensees from purchasing unopened spirits from individuals. They had to come from a wholesaler or a distillery. The lighting in the bottle moment here came in 2018, when the Vintage Spirits Law came into force and overturned previous legislation, allowing Justin to fulfill his dream.

He attributes his tenacity in creating a successful bourbon business to being a "hard-headed Kentuckian." Justin is part of what he calls a 'bourbon revival'. In the same way that international food quickly outdated local as trendy, bourbon too went out of fashion for a while.
"While others are interested in the 'Napa-fication' of bourbon, it seems Fresh is more concerned with the 'Soho-House-ification' of the spirit. Their one (currently) product – created from their own mash bill recipe – is bottled like perfume, in clear glass"
"Bourbon had a bad rep for thirty years," says Justin. "Disco and cocaine killed bourbon in the 1970s. But in the 80s and 90s, some great bourbon was being made, but no one wanted to drink it. As a result, we have access to some of these amazing vintage bottles and now that there is a palate for bourbon again, people are going crazy over the opportunity to taste something made decades ago."
But beyond taste, what makes Justin's experience so special is the storytelling he offers up. His whiskey historian (and former archeologist) Caroline Paulus is an authority on Kentucky's bourbon heritage and talks much about the lesser-known stories in bourbon culture: like those about the contribution of women and enslaved Americans.
"It is people, that make bourbon," Justin tells me. "We need to prioritise the human side of bourbon, as that is what makes it special. Even today, the stories continue. There are so many interesting people working in Lexington's craft bourbon landscape, for instance. While distilleries are everywhere here, it's not easy to start a bourbon brand, or bourbon-related business. You need plenty of patience and quite a lot of capital. So pretty much everyone in this industry has a good story to tell."
Tia and Sean Edwards, the entrepreneurs behind Fresh Bourbon, are two of these people. The wife and husband team are behind what is arguably Kentucky's first African American bourbon brand since the abolition of slavery, all under the direction of a Black master distiller.
The couple brings a Fresh (it's all in the name) and fashionable attitude to bourbon, garnered from their travels around the world. Tia is a bourbon drinker but found the way it is traditionally marketed very challenging. She sees herself as a disrupter.
Fresh is the answer to the demands of a new, diverse generation of bourbon drinkers. While others are interested in the 'Napa-fication' of bourbon, it seems Fresh is more concerned with the 'Soho-House-ification' of the spirit. Their one (currently) product – created from their own mash bill recipe – is bottled like perfume, in clear glass. The etched-on label features a silhouette of both binary genders, to demonstrate that this is something for everybody. Their tasting room, right next to Thoroughbred Park, is hidden behind theatrical curtains that open up into a contemporary space akin to a luxury hotel bar, complete with crystal chandeliers, white marble countertops and dark wood wall panels. The way they present their product is extraordinarily refined, and their education is sensorial, based on getting people to smell botanicals and spices. They bring in diverse cultural references – butterflies for example, in tribute to Muhammad Ali. The lighting in Fresh's bottle is newly captured; I sense that an exciting journey lies ahead for them.
So, what is it about this small city that has given it so many lightning bottlers? It's hard to say, but there is certainly an electrifying atmosphere you feel from just being here. It's colourful, there's definitely a sense of humour and while people are entrepreneurial, they don't ever come across as cut-throat, like the go-getters of much bigger American cities. Instead, they're nice and don't take themselves too seriously.
There's also a youthful energy to the place; perhaps that comes from it being a university town. I often find that in places where the population is predominantly younger and well-educated, their positivity, knowledge and social awareness spreads to all the people that live there. Perhaps it wasn't always like this, but I'm enjoying where it's at now.

Before I leave Lexington, I head to a giant Abraham Lincoln mural that emblazons a wall downtown, so I can photograph it for my Instagram. It's here that I think to myself that maybe Lexington has always been that special place. Born just a hundred miles away in another Kentucky county, Abraham Lincoln came to Lexington and fell in love with local woman Mary Todd, who would become his wife and presidential First Lady. Their story is the ultimate tale of catching lightning in a bottle, coming from nothing, to eventually holding the highest office in the land; all while pushing back against the status quo of the South back then to issue the anti-slavery Emancipation Proclamation. Perhaps he too picked up that electrifying Lexington energy, that led him to succeed against the odds.
Uwern stayed at the 21C Museum Hotel Lexington, while visiting the city. For more about Lexington and the rest of the Bluegrass State visit www.kentuckytourism.com. www.visitlex.com has all you need to plan your Lexington holiday. Kentucky Tourism Department has partnered with Brand USA – the destination marketing organisation for the United States – to showcase the state's bourbon tourism experience in a two-year partnership. Follow along for everything that's OutThere about Kentucky and beyond at www.VisitTheUsa.co.uk.
Photography by Uwern Jong, Elisa Kennemer and courtesy of Kentucky Tourism Department
Get out there
Do…

… pick up on the local food revolution and visit the Lexington Farmers Market. The one downtown is open all year round and held every Saturday. www.lexingtonfarmersmarket.com
… take a walk downtown. This neighbourhood mixes old and new and is full of interesting sights, dining and shopping during the day; plus it comes alive at night.
… check out Lexington's African-American heritage, via the city's interpretive sign programme to find out more about the people, places and events that played a significant role in the advancement of racial equality. The city of Lexington recently made the decision to remove the statues of two Confederate Generals from the downtown area. www.visitlex.com
Don't…

… forget to do some blue horse-spotting. You'll find multiple sculptures, murals and artwork of Big Lex all around the city (and you've really go to keep your eyes open to spot some of the less obvious ones out there!). How many will you find?
… think that The Summit at Fritz Farm is just another outdoor mall that you'd find elsewhere in America; it's much more. You'll find amazing restaurants and independent stores here, as well as a public park that's great for some relaxation post-retail therapy. www.thesummitatfritzfarm.com
… miss Lexington's fabulous murals. I've told you about 'Honest Abe' but there are plenty more you wouldn't want to miss out on. Just trust us on this one. www.visitlex.com
The inside track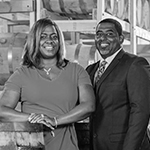 Tia and Sean Edwards are the founders of Lexington-based Fresh Bourbon, the first African American Kentucky Bourbon brand since the abolition of slavery in the USA. www.freshbourbon.com
Brunch
Want to try a fried hot chicken biscuit? Of course, you do. Head to the one place that's quite simply a must when in the area, Epping's on East Side.
Eat
Ouita Michel's Zim's Café in the old courthouse building offers a unique dinner experience. We love almost everything on the menu. www.zimscafe.com
Listen
The best place for drinks and live music is most certainly Creaux! The atmosphere here is amazing and utterly fun. www.creauxlex.com