Offering a contemporary dose of Southern Charm, The Grady is an upscale, urban retreat that has made a mark on Main Street, Louisville. Like a perfectly mixed bourbon cocktail, it skillfully blends a clubhouse-like atmosphere with on-point hospitality of the kind only found in Kentucky's capital, but rivals that of America's biggest cosmopolises.
Our spacious, contemporary suite at The Grady overlooked a one-of-a-kind view of Louisville: out towards the Ali Center (and the colourful murals of its namesake – Louisville's famous son, Muhammad Ali), the Big Four Bridge and Ohio River. If location is everything, The Grady has it all. 
Perched on historic Main Street – within easy walking distance of the city's top sites, bourbon-themed or otherwise – this boutique, but perfectly-formed hotel is hidden almost in plain sight. But once we knew it was there, we couldn't help but marvel at the architecturally stunning building. First constructed as a medicinal bourbon apothecary, it was commissioned in the late 1800s by pharmacist J.B. Wilder. It then became the atelier of the milliner who made the iconic hats that Louisville socialites wore to the Kentucky Derby.
Today 601 W Main Street has been lovingly restored throughout in a contemporary style, but not without nods to its rich history. While you could easily mistake this property for being straight out of New York City or Los Angeles, The Grady emanates all that's sophisticated (and quirky) about Kentucky. You'll be happy to know that the walls of the Grady do talk, as do its amazing staff – the artwork and interior design that line its halls lean heavily into the Kentucky story – bourbon theming, hats, horse racing and more.
The hotel's friendly team was well versed in the building and city's history and gladly regaled us with fascinating tales, and pointed out things about the hotel and the local area that we might have missed or didn't know. Plus, they welcomed us as if we were old friends or family. This inherent 'Southern hospitality' can't be taught and is something that the hotels in the big cities we mentioned before could learn from The Grady.
Guests in residence are actively encouraged to take part in the storytelling; during our stay we spotted (and were handed) a number of good luck charms: icons said to have brought good fortune to everyone from Prohibition-era bootleggers, to horse racing fans (horseshoes), to heavyweight championship boxers (shamrocks). In-room, our lush dressing gowns were hooded, just like that of Muhammad Ali's boxing robes.
Our accommodation at The Grady was beautifully appointed: with high, reclaimed wooden ceilings and colourful soft furnishings. We felt immediately at home here, true to the hotel's motto of 'rest your head and lift your spirits.' And just in case there was any possibility of us forgetting where we were, a giant piece of equine artwork featured on our wall.
While it may sound like the hotel is overegging its Kentucky creds, rest assured that everything has been executed with much subtlety and style. Sometimes hotels can be suckers to a theme and the result comes across corny, but that was certainly not the case at The Grady.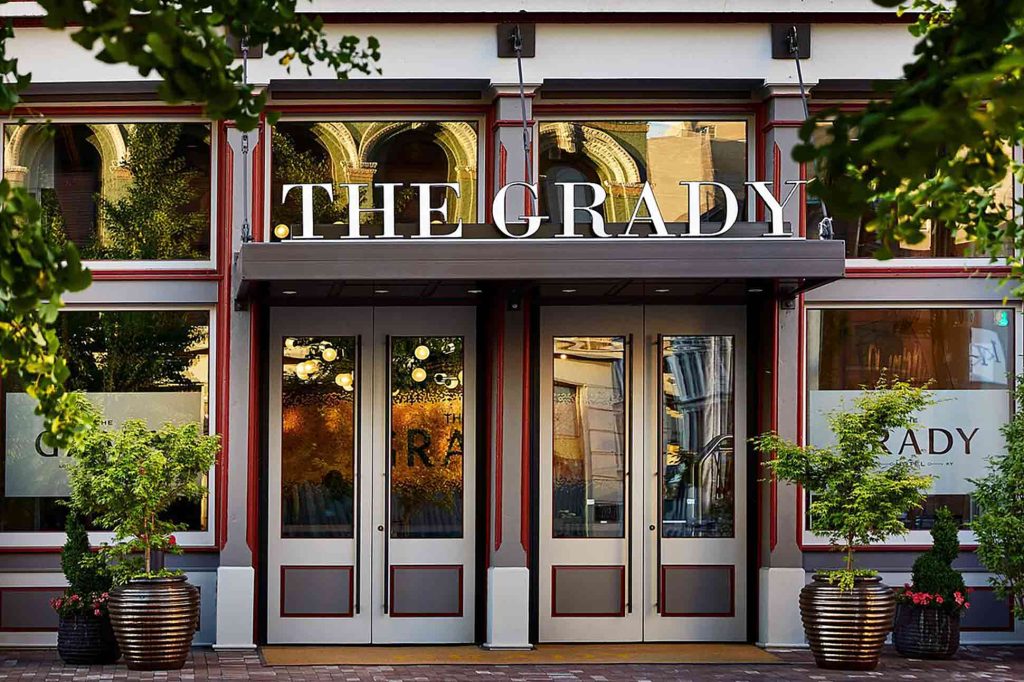 | | | |
| --- | --- | --- |
| Perfect for | Fly into | Right on time |
| The Insider | SDY / LEX | GMT -5 |
While you're Out There
Bourbon at breakfast? Well, you are in Kentucky. At Wild Swann, The Grady's subterranean bar and restaurant, the cocktails and small plates are delicious, period. But as for the manager's Breakfast Old Fashioned recipe? It's something truly exceptional, and we could drink it all day.
Photography courtesy of The Grady