Why return or commute to and from Kentucky's big cities after a day of Bourbon trailing when you can overnight (or stay a week) at the charming The Homestead at Dant Crossing, a luxury, farmhouse B&B where privacy and seclusion are high on the agenda.
Adjacent to the Log Still distillery (you can see its big, branded water tower from the main house) is this charming set of cottages – billed the Homestead at Dant Crossing – perfect for Bourbon Trail explorers to rest their heads, or spend time together as a couple or group, to reconnect. It's an especially fabulous choice for those looking for some Bardstown sense of place. Bardstown doesn't have much by way of luxury accommodation (at the time of press), but the Homestead at Dant Crossing certainly provides OutThere travellers with a high-brow option.
It comprises a gorgeously decorated and generously appointed farmhouse-style manor, with five double bedrooms, a communal games cabin for post-dinner, parlour-room fun and 10-person fire pit terrace for late-night raconteuring and Kentucky sky-gazing. A path leads down from the Homestead at Dant Crossing to a 12-acre fishing lake (the perimeter of which is the perfect circuit for a bourbon hangover-ridding walk or run). It is truly atmospheric each morning, as the fog dwells over the jetty.
The house's wraparound wooden porch is the stuff of classic American movies and comes complete with comfortable rocking chairs that look out onto a vast, wooded garden. The whole ambience of the place evokes a quaint, Americana atmosphere and a heady dose of Little House on the Prairie, albeit of course, with superfast WiFi.
OutThere travellers can either take over the whole, richly decorated house outright (it comes with a huge lounge and kitchen as well) or rent an individual room, each secured by their own electronic keycode. Our room was ample (not hotel-sized of course considering the building's layout) but as we were out all day distillery hopping, that didn't really matter. It's decorated in a contemporary farmhouse style, with its own large ensuite bathroom and a very comfortable, old wrought iron bed.
Aside from the Homestead at Dant Crossing, there are also two cosy, wood-clad, lakeside cabin boltholes on the same site – the Poplar Cottage and Poplar studio – romantic, but much more bijou. If you're looking at renting Poplar Cottage, we'd suggest you rent the studio as well, as they are rather close together and someone else checking into the studio while you're in the cottage may put a dampener on your romantic escape.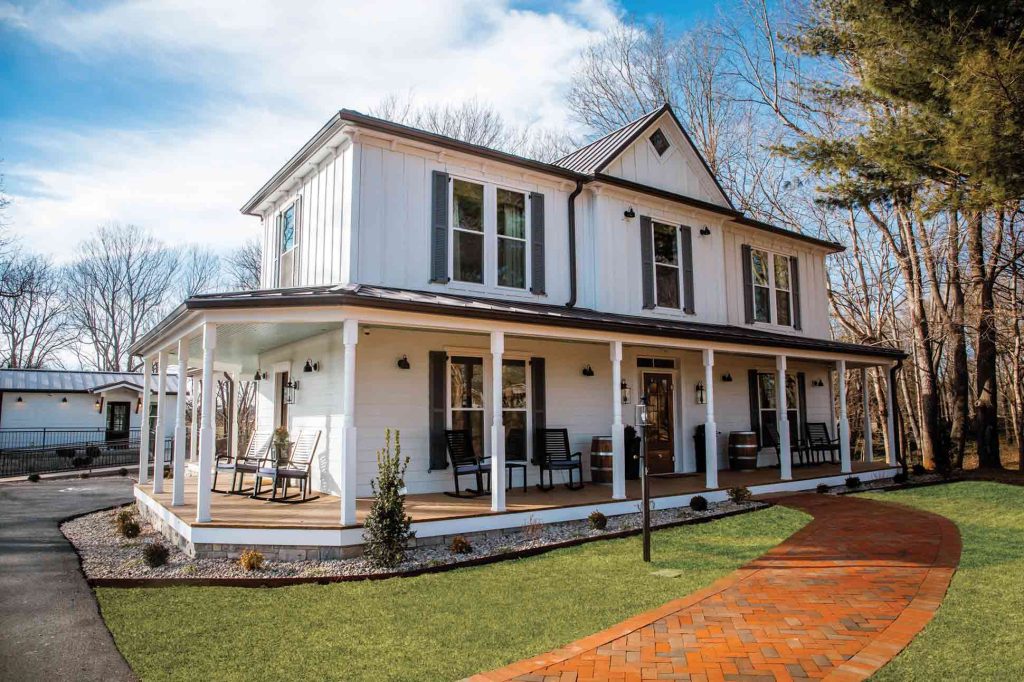 | | | |
| --- | --- | --- |
| Perfect for | Fly into | Right on time |
| The Insider | SDF / LEX / BRY | GMT -5 |
While you're Out There
Time your visit with one of Dant Crossing's infamous concert events. The distillery has an amphitheatre called 'The Amp' which sees some world-class acts on its programme, although they do tend to be much more nationally known, rather than international. If instead you're looking for peace and quiet, then don't time your stay when they have a big act, for obvious reasons. However, at any time of year, try their Southern Supper Series at The Legacy restaurant, which offers five-star cuisine by world-renowned chefs.
Photography courtesy of The Homestead at Dant Crossing