Just 90 minutes by road from Sydney, Chalets at Blackheath – set on the ancient Aboriginal land of the Dharug and Gundungurra peoples – is an OutThere explorer's paradise. With millions of hectares of nature and bush trails mere steps away from this ultra-luxe resort, it's the perfect place to reconnect with the majestic scenery and wildlife. But for those looking for creature comforts of the culinary kind, fear not… it is only moments away from the region's hatted and award-winning restaurants.
Nestled in one million hectares of UNESCO-famed, national parkland, Chalets at Blackheath, may on first impressions, seem like an escapist haven of serenity in Australia's Blue Mountains. But it is so much more, begging guests to head out and explore in whatever way suits them.
Spellbinding, freestanding eco-chalets are spread over expansive retreat grounds, offering head-clearing views of the surrounding native bushlands. Contemporary and well-appointed, the chalets' design fuses opulent hospitality with environment-conscious sustainability. Bright and spacious, they all feature thoughtful and organic touches, leaving guests resting assured that their stay creates a minimal impact on the bush.
With the sound of nature each morning as your soundtrack and the shimmering stars in the night sky as your lullaby, Chalets at Blackheath is the perfect luxury getaway to rest and rejuvenate but also get involved in adventures and experiences right on your doorstep. Here, you can hike endless trails, explore cave systems and abseil waterfalls; or for the less intrepid 'sip and sup' in boutique vineyards and restaurants.
But if you just want to soak in the surroundings with a good book, the onsite library is filled with great reads influenced by renowned Australian publisher Julie Gibbs (and hosts a well-stocked champagne fridge, should the occasion calls for a glass of bubbles at sundown).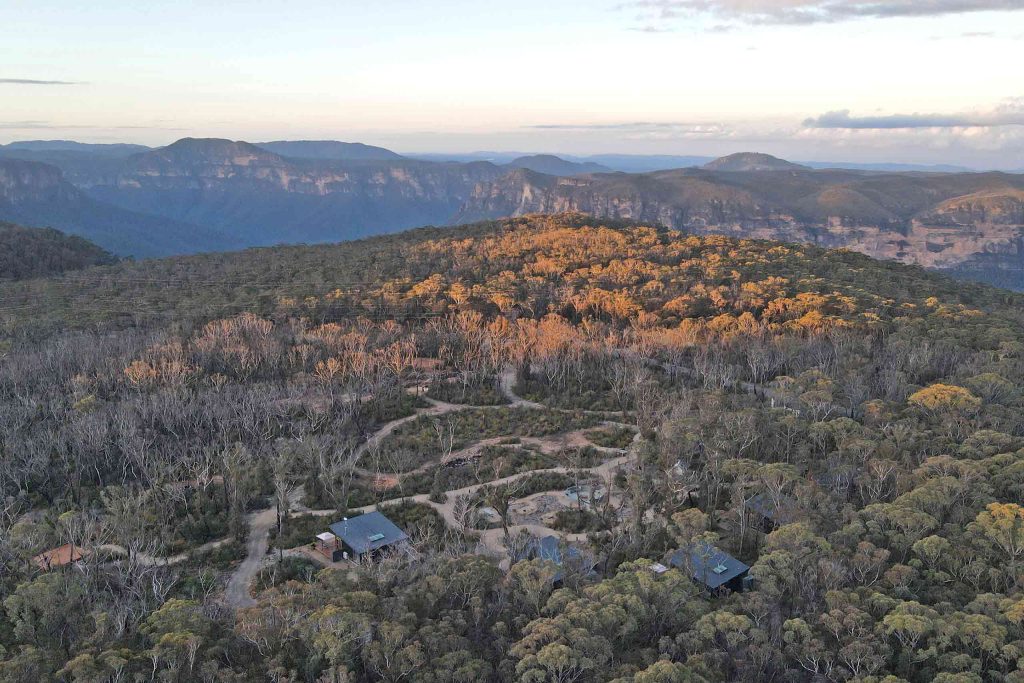 www.slh.com/hotels/chalets-at-blackheath
---
An inclusive embrace
"We have created an inclusive and authentic culture at Chalets at Blackheath, where our like-minded and professional concierge team go to great lengths to provide the best and most memorable experience possible for every guest. No matter what the occasion, or reason for your stay, we are a resort that embraces everyone with equality, respect and delight."
Angela O'Connell (she/her)
Resort Owner
---
It's OutThere
For OutThere LGBTQ+ travellers, the city of Sydney, Australia needs no introduction, with its own brand of harbourside hedonism, laid-back coffee culture, gorgeous people and a Pride celebration to end all Pride celebrations, Mardi Gras… more recently combined with a WorldPride event of epic proportions.
The perfect antithesis (or antidote, even) to Sydney would naturally be the Blue Mountains, just a short drive away from the city. It's a veritable wonderland of natural beauty, escapism, adventure and Aussie-style good times – and by that, we mean delicious food and wine. It's the perfect pairing for a holiday to Sydney; and just the place to decompress from your time in the city, or from urban life and life's pressures in general.
Nature is always good for those looking to reset. Here, there is nature in abundance. Everywhere you look, you'll see the mighty bush… vast plains and valleys that stretch out as far as the eye can see, covered in indigenous trees and shrouded in a blueish haze that gives the mountains their name. It's a place where there is no noise, a place of pure bliss. It's a place where you learn to feel again and reconnect with yourself and those close to you.
Chalets at Blackheath encapsulate all the restorative power that the Blue Mountains possess. It's extremely popular with LGBTQ+ travellers, which comes as no surprise as it's within such easy reach of Sydney… but also because of the unadulterated luxury, personalisation and attention to detail that Angela and her team serve up here.
The resort is no stranger to hosting same-sex proposal events and they also welcome both honeymooners and long-term partners with equal excitement. They're also adept at arranging special celebrations, made all the more amazing because of their truly special location. As they're also well-known among celebrities, privacy and discretion are key here. In addition to all of this, Chalets at Blackheath also has a "no children under 6 years of age" policy, so the clientele they attract is mostly discerning, luxury-travel couples, looking for a peaceful and private stay.
---
The inside track
It may seem rather obvious what life and times in the Blue Mountains are all about, but those in the know can experience it in a unique and immersive way. 'Feeling Blue' has a wholly positive meaning here. We've come up with some ideas to get you into the vibe.
---
You're INVITED
Small Luxury Hotels of the World encourages you to join SLH's complimentary loyalty club INVITED, to receive benefits such as 10% off each booking, breakfast included and room upgrades from your very first stay. Each night booked at Chalets at Blackheath with an INVITED Member Rate includes daily continental breakfast served in The Library, a complimentary glass of Moet and Chandon on arrival, a snack drawer and a non-alcoholic minibar, as well as other benefits according to your INVITED tier. Find out more at SLH.com today.
Photography courtesy of Small Luxury Hotels of the World
---
---