Retreat to a lavish all-pool-villa hideaway amidst the lush greenery of Phuket, Thailand … a holistic experience, inspired by local traditions and natural splendour, perched on a hill overlooking the sea. The truly immersive Keemala is a unique celebration of Phuket culture, anchored by a deep-rooted respect for the surrounding environment and the local community.
Tranquillity and authenticity are what underpin a stay at Keemala, a magical collection of private villas, nestled in a lush, tropical Thai forest on the island of Phuket. Its setting is beautiful and at one with nature, with waterfalls and streams running through the resort and jungle walkways teeming with local flora and fauna.
Choose your perfect hideaway… from Keemala's Clay Cottages (inspired by the 'Pa-ta-pea' clan of local trades-people who believed that connecting to the Earth benefits health and wellbeing), or Tent Pool Villas that feature mindblowing views. For something super-individual, escape to a Tree House that seems suspended from the canopy itself or the Bird's Nest Pool Villa, that needs little explanation.
There is plenty to do too. From wellness beneath the trees in Keemala's pod-like spa complex to indulging in or learning about Thai cuisine. Whichever your choice, the aromatic herbs used are picked from the hotel's own garden. But the ultimate luxury is inevitably enjoying downtime with loved ones, relaxing and listening to the rhythms of the radiant rainforest.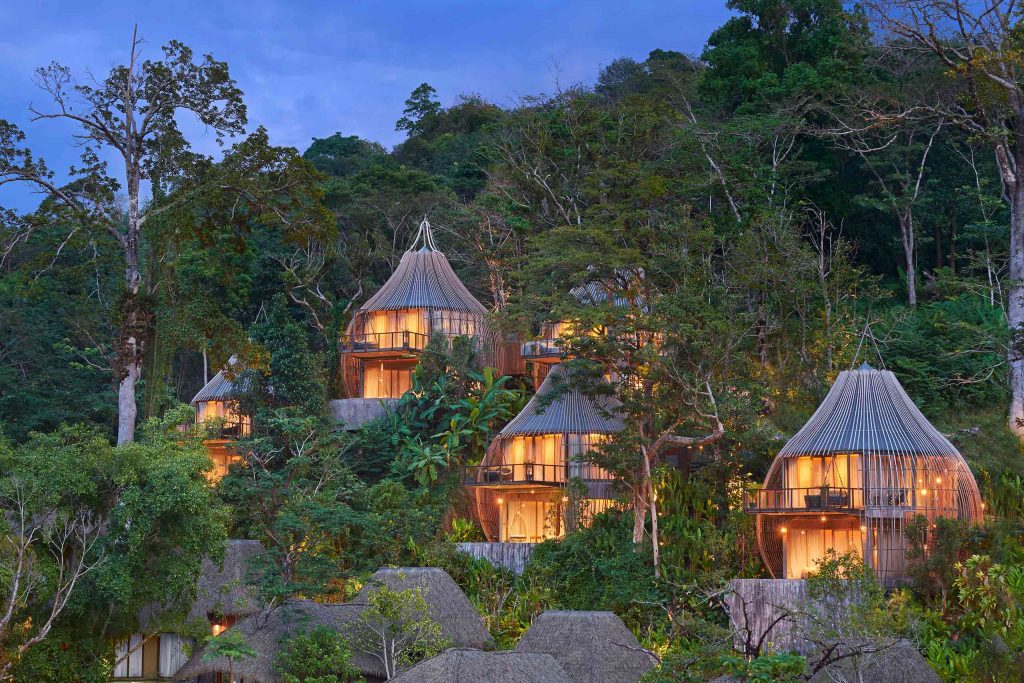 ---
Thai'd to inclusion
"Keemala is pleased to welcome LGBTQ+ travellers to our luxurious wonderland. Here, we believe that everyone has the right to feel safe and respected. As a member of the community, I am honoured to celebrate Keemala's commitment to inclusivity."
Thatarot (Noom) Chaimuena (he/him)
Duty Manager
---
It's OutThere
Thailand is easily one of the most OutThere countries in the world. A destination with an ever-welcoming, indiscriminate spirit, Thailand is a case study of mutual respect at play, with its doors open to all visitors, irrespective of their sexuality.
Embracing new influences has always been in the country's DNA, but in recent years, there have been exciting changes. A new, contemporary Thailand has emerged, one which embraces the global economy but retains a unique Thai identity and traditional values. Recently, a landmark civil partnership bill (alongside other improved rights for its LGBTQ+ citizens) was passed, making it the first country in South East Asia to do so.
And this extends beyond the capital Krung Thep Maha Nakhon (Bangkok), to its Southern Island outpost of Phuket… which is charming, beautiful and equally welcoming. With a real understanding of luxury travel (you'll find some of the world's best hotels and resorts here), breathtaking natural beauty and mouth-watering flavours, Phuket ticks all the boxes for the discerning LGBTQ+ traveller. It even has its own "gaybourhood" – Patong – a queer playground and beachside enclave that will fill you with awe and amazement, with its own Pride festival and dedicated LGBTQ+ events.
Just moments away from Patong is Keemala, a place that offers a guest experience that is 'Beyond Enchanting.' It's very different to other resorts in Phuket, both in its style and ethos. Keemala harnesses the history of the island, is inspired by its communities and integrates what has been there long before the island became known to holidaymakers into its design, in an effortlessly sustainable way.
Inclusivity, particularly that of the LGBTQ+ community is something that is also important to Keemala. Besides receiving many queer guests and employing many members of staff from the community, Keemala proactively courts and supports LGBTQ+ travellers through its marketing programmes and has long supported the Tourism Authority of Thailand's inclusive Go Thai Be Free initiative. It's no wonder that many LGBTQ+ couples come to holiday here. It's also incredibly romantic, making it perfect for an intimate 'love-nest' escape, honeymoon; and now… wedding.
---
The inside track
Besides all the obvious Thai-holiday trappings, you may be surprised to learn that Phuket punches well above its weight when it comes to OutThere experiences. Here are some of our recent discoveries.
---
You're INVITED
Small Luxury Hotels of the World encourages you to join SLH's complimentary loyalty club INVITED, to receive benefits such as 10% off each booking, breakfast included and room upgrades from your very first stay. Each night booked at Keemala with an INVITED Member Rate includes daily breakfast, minibar refilled daily, daily fresh tropical fruits and curated in-house activities, as well as personalised villa host service and one round-trip private airport transfer. On top of this, you will receive benefits according to your INVITED tier. Find out more at SLH.com today.
Photography courtesy of Small Luxury Hotels of the World
---
---