Since its inauguration in 1954, the Nagoya TV Tower in the Japanese city's 'Central Park' has become as iconic as the city itself. In 2020, it was transformed into The Tower Hotel Nagoya, a boutique hotel and urban auberge with just fifteen resplendent, contemporary rooms and suites, ensuring that the tower endures as a beacon of Nagoya's cultural history
The Tower Hotel Nagoya is the world's first TV Tower hotel. Intrinsically exclusive, its fifteen rooms have each been independently designed with a mix of paintings, photographs, videos, textiles and rare, steel structural artworks by local artists and artisans. The hotel is proud of its collaborations and artwork, featuring local names like Tomiyasu Osawa (who also runs a specialist dry-flower store "Aruhi"), caligrapher Hiroko Watanabe, furniture maker Yusuke Inaguma and neon framework and signboard artist Koji Muramatsu. The interiors, combined with the communal areas, showcase a living gallery that features ceramics from the Tokai region and contemporary Japanese artisanal artworks. ㅤ

So whether you choose a Park View or Forest Terrace Suite, you can expect a true sense of place (in some rooms, the steel support frames of the tower actually feature in the space), as well as clean lines and a pared-back Japanese, zen aesthetic. This sense of minimalism and creativity flows through the hotel's restaurants too. In Lily, you'll sample delicious Furuki-yoki and/or modern cuisine with a view, while Restaurant Glycine serves up new interpretations of local specialities. On the first floor, guests will find a bustling coffee shop and beer garden hybrid space.

Down below, the dynamic Nagoya city is right on your doorstep. The hotel's neighbouring Central Park is a brilliant place to kick off your adventure, before exploring Nagoya City Science Museum and the Tokugawa Art Museum. Petrol heads will love the Toyota museum too, the global motoring brand was founded nearby in Aichi nearly a hundred years ago. But it's not all modern, there are also old shrines and temples in the city too, offering the best of all worlds. Then there's also the downright quirky: Nagoya is home to the World Cosplay Summit and unexpectedly, the World Curry Summit.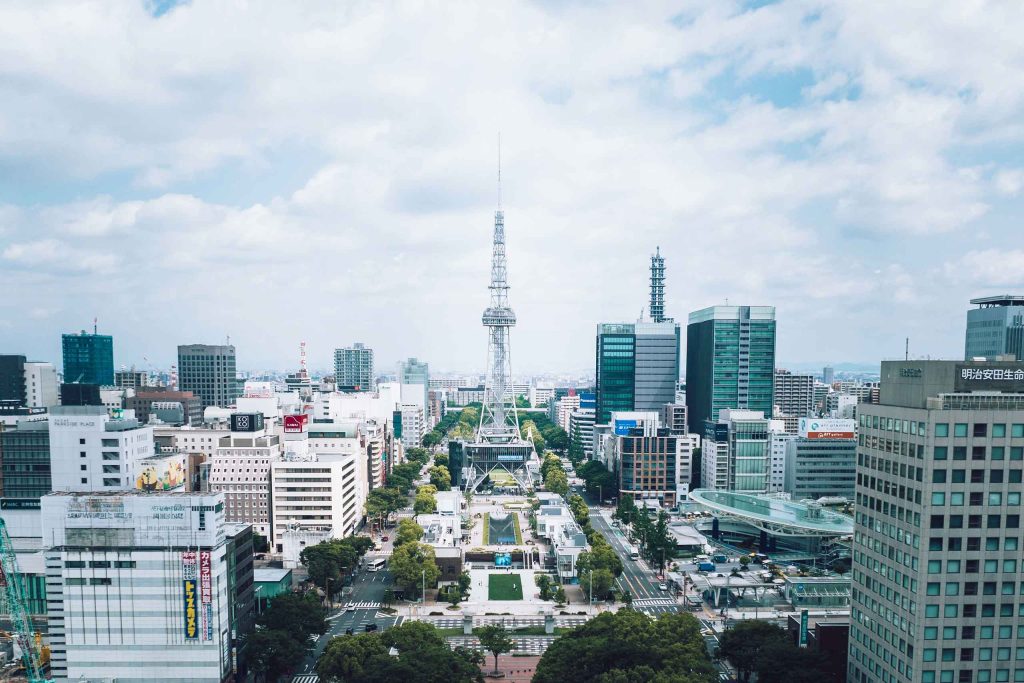 www.slh.com/hotels/the-tower-hotel-nagoya
---
Respectfully inclusive
"We celebrate all our LGBTQ+ guests at the Tower Hotel Nagoya with the respect and welcome they deserve. We are all about welcoming travellers regardless of their backgrounds, in a way that ensures a memorable and unforgettable stay."
Ryokko Toyoda (she/her)
Hotel Manager
---
It's OutThere
Despite being one of Japan's secondary cities, Nagoya packs quite a punch. Inherently quirky, it is famed for being the birthplace of Toyota and the addictive Japanese pastime of pachinko. It has also been known to have a unique fashion scene and has of late, risen in notoriety as the home for Ghibli Park, Studio Ghibli's (of My Neighbour Totoro fame among many other animated delights) brand new theme park, on the grounds of Aichi Commemorative Park.
A thriving and vocal LGBTQ+ community exists in the city. And recently, the Aichi Prefecture Legislature has also ruled that not allowing same-sex marriage is unconstitutional by law, paving the way for more robust LGBTQ+ rights in the region. The city also has its own Pride festival, Nagoya Rainbow Pride and there's an LGBTQ+ Community Centre, called Angel Life Nagoya.
Nagoya's LGBTQ+ scene is vibrant, particularly its nightlife. It is also said that locals are known to be very open and friendly, in contrast to the scene in Tokyo or Osaka. Bars and clubs like Chuck, Maruhey and King Diamond are good places to start. There are also a number of LGBTQ+-friendly cafes, not too far from the hotel. With the city being extremely well connected, nothing is really ever too far away.
During the Nagoya Rainbow Pride, The Tower Hotel Nagoya lights up in rainbow colours in celebration and their food and beverage outlets serve special pride cocktails! "Sugoi!" (Wow!)
---
The inside track
Nagoya is a very accessible city, begging to be explored. Brimming in personality, not to mention an amazing food culture, it's not short of things to see and do. Here are a number of ideas to help you navigate Nagoya…
---
You're INVITED
Small Luxury Hotels of the World encourages you to join SLH's complimentary loyalty club INVITED, to receive benefits such as 10% off each booking, breakfast included and room upgrades from your very first stay. Each night booked at The Tower Hotel Nagoya with an INVITED Member Rate includes daily breakfast, WiFi, welcome amenities and welcome drink, as well as benefits according to your INVITED tier. Find out more at SLH.com today.
Photography courtesy of Small Luxury Hotels of the World
---
---