Hidden in the jungles of Bali, fronted by the majestic ocean and set among ancient temples, is LOST LINDENBERG: an exotic slice of paradise and an escape where unpretentious design and craftmanship fuse seamlessly with sustainability and wild nature, not to mention a very warm welcome.
LOST LINDERBERG features treehouse-style accommodation, each lovingly built and perched on wooden towers above a canopy of palm trees, where a soundtrack of birds, insects and the crashing ocean waves keep you company, as does a view of stars in the clear night skies.

The property promises quintessential and authentic Balinese experiences: delicious, seasonal plant-based meals shared 'family and friends' style around a communal table, surfing at the legendary Medewi point, yoga poolside or by its volcanic, black sand beach, or a ride in the property's own vintage VW Camper in search of Balinese waterfalls, hidden coves and folklore.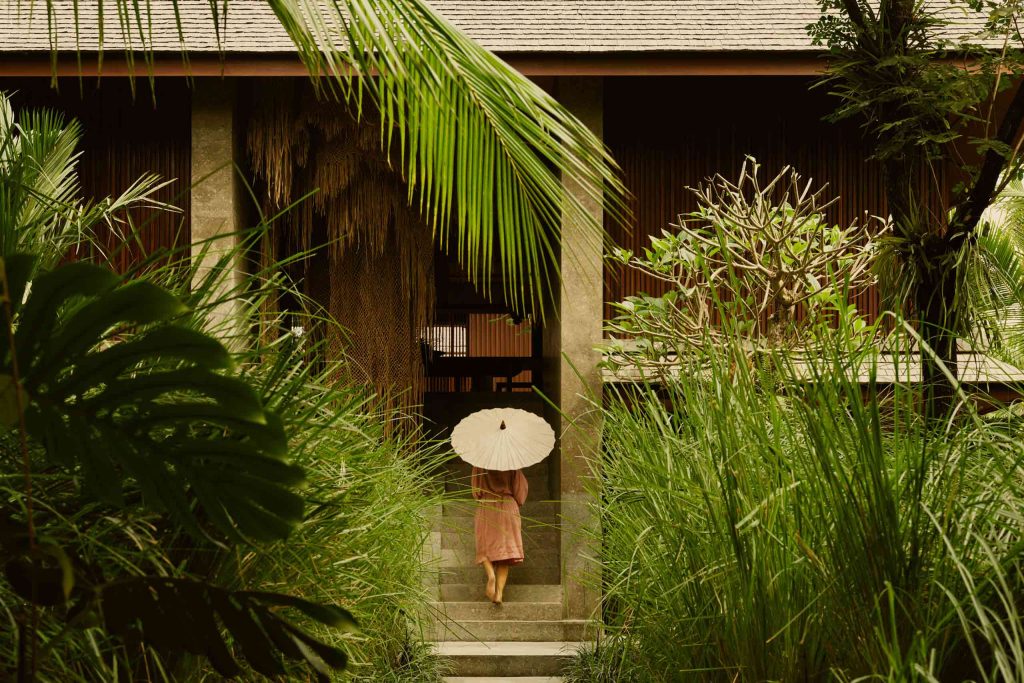 www.slh.com/hotels/lost-lindenberg
---
Welcome to paradise
"At LOST LINDENBERG, we are proud to be uncompromising when it comes to supporting the LGBTQ+ community. That extends from the way we nurture and champion our LGBTQ+ employees, to the way we welcome and celebrate our guests."
Denise Umurca (she/her)
Managing Director
---
It's OutThere
There is undoubtedly something magical about Bali – a feast for the eyes and also the soul – the "Island of the Gods" will touch you in so many ways. Bali has been, for centuries, popular among travellers of all backgrounds – each looking to explore and connect with its spiritual aura. Some are so taken by it, they don't leave. Ask its inhabitants what heaven is like and they'll tell you it is just like Bali. Locals walk around drunk on its vitality and physical beauty.
Bali has a unique identity that is rooted deeply in its religious beliefs. Its Hindu-meets-animism heritage dares to be different in the largely Islamic Indonesia – and with that, doing good for the greater good, 'karma' makes it generally accepting of everything – foreign influences and cultures, homosexuality; all just deemed to be part of the cycle of life.
Besides being a sublime property with a true sense of place, what we loved most about LOST LINDENBERG is that the brand behind it, LINDENBERG HOTELS, puts attitude first. This includes taking a public and vocal stance on political issues, human rights and – sure to resonate with LGBTQ+ travellers – an explicit welcome for members of the community through their recent "LOVE IS EQUAL" campaign. This is a landmark step for a property in Indonesia, but campaigns aside, you'll see it across their imagery throughout the year, where people of all backgrounds, specifically from the LGBTQ+ community – guests and hotel employees alike – are represented.
---
The inside track
Bali plays out every fantasy and delivers something so rich that it's addictive. Visit for yourself, and take a little bit of what you learn home with you – the world would be a better place if everyone did. Bali is, without a doubt, OutThere. Here are some tips to get you started.
---
You're INVITED
Small Luxury Hotels of the World encourages you to join SLH's complimentary loyalty club INVITED, to receive benefits such as 10% off each booking, breakfast included and room upgrades from your very first stay. Each night booked at LOST LINDENBERG with an INVITED Member Rate includes daily breakfast, WiFi, welcome amenities and welcome drink, as well as benefits according to your INVITED tier, surf sessions with one of the hotel's local surf instructors at the Lost Beach and complimentary shuttles to other surf spots upon request. Find out more at SLH.com today.
Photography courtesy of Small Luxury Hotels of the World
---
---